It's out.
Giving USA has released its annual report highlighting the state of American philanthropy. And the news ain't good. Giving overall declined by 1.7%. Some other key highlights include:
Total giving was virtually flat compared to the preceding year
Giving by foundations and corporations saw healthy growth
Bequests were flat, and
Contributions from individuals declined.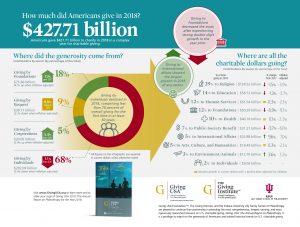 Giving USA attributed the shifts to new giving strategies, increased investment in donor-advised funds, and a growing use of technology.
And a big takeaway from this year's report pointed to the need for fundraisers to step up and lead.
Here's the breakdown:
Of a total of $427.71 billion given in 2018, individuals gave $292.09 billion (3.4% down when inflation adjusted) or roughly 68%. Giving USA noted that this is the first time "giving by individuals has fallen below 70 percent of overall giving since at least 1954."
Bequests $39.71 billion (2.3% down when inflation adjusted) 0%
Foundations $75.86 billion (an increase of 4.7% up when adjusted for inflation) 18%
Corporations $20.05 billion (2.9% up when adjusted for inflation)
So, what can you do to prosper in these unsettling times?
1.  Stay the course. Develop a balanced, thoughtful budget. One that includes realistic goals for grants and corporate support, individual support, program support and events. Invest in donor stewardship and good data.
2. Retain staff. This one is key. I have worked with nonprofit organizations who've had – seriously – five development directors in three years! How can an organization have any kind of continuity with donors with that kind of record? Staff your organization with quality individuals and do your level best to keep them. If you're not sending your development staff to workshops, classes, and seminars, you're doing your organization a grave disservice. Download Encouraging Longevity in Nonprofit Development to discover the secrets behind employee retention.
3.  When it comes to foundation grants, stay on top of your research. Foundation giving showed an increase in 2018. Make it a practice to routinely scope out new sources of foundation funding. I was recently asked, "well after so many years, don't you run out of new potential foundation funders?"  The answer is a resounding "no!"  Not if you keep your eyes and ears peeled and engage in consistent research.
Develop a system where you're sending out proposals or letters of inquiry to new foundations on a weekly basis. Build relationships.
4. Start a Monthly Giving Program. Online giving is down, but online monthly giving is up. Stanford Business noted that "Every Business Will Soon Be a Subscription Business." And Jeff Bezos built Amazon on the Prime membership model. With Mastering Monthly Giving | Basics & More™, you'll discover how to launch and grow your organization's monthly giving program.
5.  Refine (or Define) Your Story. Benevon calls it your organization's "emotional hook." It's your nonprofit's "story" – what makes donors give to you. The most compelling stories bring on the crocodile tears. Talk to your board members, talk to your clients, talk to your staff, talk to foundation funders and individual funders to find your emotional hook. Enroll in Nonprofit Storytelling | Basics & More, the first and most comprehensive storytelling class created specifically for the nonprofit sector.
6.  Invest in donor care and consistent stewardship. Now is the time to set aside an hour, two hours – whatever you can spare – every week to both phone and visit key donors one-on-one.  Don't make that age-old mistake of only querying your donor database for your largest donors – pull up your most loyal donors and thank them, profusely.  Focus on your organization's most loyal donors – take them to lunch. Don't omit your thank you letters because it's cheaper not to send them.
7. Focus on your organization's data health. All donors are not created equal. How can you use data to show all your donors love, while still being strategic? Check out our Motivate Monday recording. T. Clay Buck, CFRE, joins us to present Focus on What Matters (A data-inspired look at setting fundraising priorities). Once you discover the power of deep segmentation, you'll want to go on and on.
8. Commit to new donor retention. What happens when a first-time donor makes a gift to your organization? The research shows that the vast majority of major donors arrive via an initial $25 gift. What kind of reception are they getting?  We've got a free timeline to help you figure out your best strategy. Download it here. No opt-in required.