Giving USA 2015, The Annual Report on Philanthropy that shows us, year after year, where the "big money" in nonprofit fundraising really is, has just been released. The good news:
Total estimated US charitable giving increased by 7.1% – to $358.38 billion!
Individual giving increased by 5.7%
Giving by foundations increased by 8.2%
Giving by bequest is estimated to have increased by 15.5%
Even corporate giving increased by 13.7%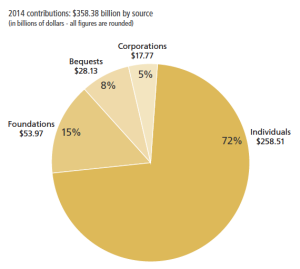 The breakdown between vehicles for giving hasn't changed since last year. Individual giving still comprises a full 80% of the pie (factoring in 8% for bequest giving). Corporate giving, while showing considerable gains, still only makes up 5% of overall giving.
So where should smart fundraisers (like you) be spending your most time?
Individual Donors
Focus in on your individual donors with a laser-like intensity. That means having a plan in place for donor retention, embracing new donors, creating a monthly giving program (and working it), creating your portfolio of stories, loving on all your donors (for your free download, click here), communicating consistently and well through all channels, and developing your major donors. Commit to mastering donor-centricity.
Pay attention to Giving Tuesday. Giving USA notes:
"#GivingTuesday continued to grow strong in 2014, as do regional giving campaigns. In 2014. the #GivingTuesday movement gained traction, growing by an estimated 63  percent in the total amount of donations received over 2013."
But do ensure that your back-end processes are in place to keep and grow those newly acquired donors. Consider enrolling in Power of Thank You | Basics & More™, my four-week stewardship training.
Giving USA reports that online giving continues to see strong growth. Human service organizations, in particular saw a 9.1% increase in online giving in 2014 over 2013. Make sure that your organization has the basics in place. Continue to tweak and refine your online donation processes. Look for Online Fundraising | The Basics & More™ co-produced with John Haydon, to launch in July, 2015.
Don't have a bequest program? You're missing out.
Bequest programs are clearly a no-brainer. In his webinar presented for Simple Development Systems members, Marketing Bequests: The Delicate Art of Asking for That Final Gift,  Tom Ahern noted the number one reason your donors don't make a charitable bequest is that "It never occurred to me." And global legacy expert Richard Radcliffe says "Without a clear "legacy vision" you will not give yourself the best chance to succeed. Without a vision there is little to grab hold of to enable a great donor experience." Don't over-think it. But do start now.
Foundations
The share of foundation grant making totaled $53.97 billion. According to Giving USA "small, private foundations awarded at least 30 percent of grant dollars for general support." Since 2001, I've made it a point to build up a core base of support from small to mid-sized regional foundations. Why small to mid-sized foundations? Simple: their guidelines are typically not nearly as onerous as the larger foundations and they're far easier to build personal relationships with. What's more, small foundations typically exceed the five-percent mandated payout.
Was there any bad news? Giving USA also notes:
International giving declined in 2014 – and was the only category to do so. The $15.10 billion donated last year was 2 percent less than 2013's revised estimate of $15.41 billion. This marks the third year since 2010 where giving dropped.
---
Offering courses in nonprofit storytelling, direct mail fundraising, online giving, planned giving, monthly giving, and more, Basics & More™ multi-media ecourses were created to guide fundraisers in mastering the fundamentals of how America gives.
Resources
The Power of Nonprofit Storytelling | Planned Giving Donor Stories
Are you calling first time donors?
The Do's and Don'ts of Donor Thank You Calls (includes a sample script)
The Donor Love Toolkit (Learn how organizations just like yours are 'loving' their donors. Free download.)
I've been saying it for years: Nonprofit donor retention | The cheapest way to fundraise
The best thing your nonprofit can do to increase individual giving (but you need to start now!)
How are you welcoming new donors? New Donor Welcome Kits | Your Next Gift Strategy
The most important component of major gifts fundraising? For fundraising success: Listen, don't ask
A step-by-step four-week process for developing your monthly giving program: Monthly Giving | The Basics & More™