Mastering Monthly Giving | Basics & More™
Imagine a predictable monthly revenue stream for your nonprofit.
What about lowering your fundraising costs while simultaneously reducing donor attrition?
Monthly giving is your answer.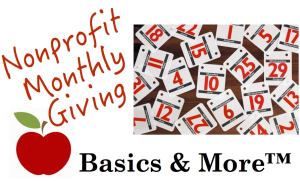 Long a staple of fundraising programs worldwide, monthly giving is just starting to be discovered as the gold mine it can be, particularly for small nonprofit organizations.
Whether you're not quite sure how to go about creating and growing your organization's monthly giving program, or you've got a program that has stagnated, Mastering Monthly Giving | Basics & More™ is your answer.
"Everyone should be doing it."

Harvey McKinnon
Developed jointly by me and Fundraising Authority Joe Garecht, Mastering Monthly Giving | Basics & More™ is a four-week masterclass  where you'll be guided, step-by-step in the creation of your organization's monthly sustainer program.

You'll discover:
What monthly giving is and how it works
Developing a theme for your monthly giving program
Who to target for your best results
Why your monthly giving program should never be an "add on"
How to create an online monthly giving campaign
How to get staff and board buy-in
Ways to grow your monthly giving program
and much more!
If you're one of my regular followers, you know that I believe monthly giving is the best thing since sliced bread!  Now you can develop and launch your own monthly giving program over the course of four weeks with Mastering Monthly Giving | Basics & More™.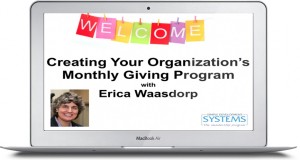 Added Bonus: Recorded Webinar
Monthly giving is the holy grail of fundraising. So why aren't more organizations, particularly American organizations, using it? Could it be that they simply don't know how to get started? Direct mail expert, Erica Waasdorp, author of the monthly giving standard, Monthly Giving: The Sleeping Giant leads you through the nuts and bolts of starting your organization's monthly giving program.  Loaded with goodies, including a sample thank you letter template and examples of both direct mail and email monthly giving campaigns, this webinar is a must for organizations looking to create or grow their monthly giving program.
Here's how it works:
Once you enroll, you'll receive (via email) the first module covering the topic of the week that you can read on your computer, smartphone, tablet or e-reader, or print out to read at your convenience.  Each guide contains 5-15 pages and presents everything you need to know to build and grow your organization's monthly giving program.  You'll be receiving a number of bonuses, including our book of email and direct mail examples from organizations just like yours.
"I had great success with the last course I took with you. My first EOY appeal campaign (sent mid December, a 4 page letter and lots of "yous":) came in 38% higher than the previous year so far! And envelopes are still coming in. Very exciting!"
Margo Reveil
Cook Inletkeeper
Here are the course modules you'll be receiving for Mastering Monthly Giving | Basics & More:
Week 1:  Why monthly giving?  The numbers, the benefits, getting staff and board buy-in, and more.
Bonus:  "Sounds great, but my board won't go for this!"  Recorded podcast featuring Joe Garech outlining, step by step, how to get board buy-in for your monthly giving program.
Week 2:  Developing your organization's monthly giving program (including branding, ask amounts including impact ties, benefits, targeting)
Week 3:  Writing and designing your monthly giving direct mail or email campaign appeal.
Bonus:  Monthly Giving Direct Mail Letter Template and our Monthly Giving Example booklet, loaded with direct mail and email examples.
Week 4: Stewarding and growing your monthly giving program.  What are the best ways to say "thank you?"  How do you add new donors to your monthly giving program – and increase gifts from your current members?
We have really loved being a part of your program and learned a ton!! Please know you are a big part of our development team here at the Intervale Center, and we not just achieved but exceeded our community fundraising goals by $24,000 in 2013 thanks for great advice and support from Simple Development Systems!!

Mandy Fischer, Development Manager, Intervale Center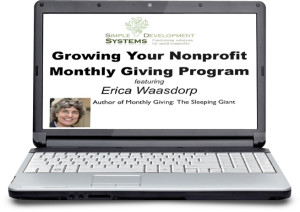 New Bonus:
Course registrants will also receive the recorded version of Erica Waasdorp's Premium webinar, Growing Your Monthly Giving Program, filled with tips on skyrocketing your monthly giving year after year. And once your monthly giving program is established, you'll use Growing Your Monthly Giving Program from Good to GREATER, featuring Erica Waasdorp to ramp it up to the next level!

Have Your Whole Team Participate!
Want your ED, board members or volunteers to participate in Monthly Giving | The Basics and More!?
If you want your entire development team or board of directors to have access to the class, simply register for the class and let us know.  We'll will send the electronic class materials to as many members of your team as you would like.
Ask Questions / Get Answers!
All participants in this course will have direct e-mail access for questions about the course materials and how they apply to your non-profit.  Ask one question or one hundred questions… I'm  here to help your organization succeed.
Private Facebook Group
Join the *private* Facebook Group created especially for this course to get feedback from your colleagues. 

Just $179!