Direct Mail Fundraising | The Basics and More!
Are you ready to make your spring appeal a winner?
"Hi Pamela

I just wanted to thank you again for your help with our Annual Appeal. This year, we almost doubled the amount we have ever received from one appeal. Amazing!"

Curran Streett, MPH
Executive Director
The Pride Center of the Capital Region
Albany, NY
Direct Mail Fundraising | The Basics and More! is a six-week e-course created to make your organization's spring direct mail appeal your best ever.  The course runs from Monday, March 11th through Friday, April 16th.  This is an online class, delivered via email.  In addition to the course syllabus and bonuses, you'll also gain access to our Private Facebook Group where you can ask questions, share your own examples, and get feedback.
Learning was never so much fun!
Every Monday  morning, you'll receive comprehensive guides to the topic of the week that you can read on your computer, smartphone, tablet or e-reader, or print out to read at your convenience.  Each guide contains 5-10 pages and presents everything you need to know to dramatically increase your organization's direct mail fundraising revenue.  Several weeks include bonuses, such as my recorded interview with legendary direct mail master Mal Warwick.
The Class Modules: Direct Mail Fundraising | The Basics and More!
Here are the course modules you'll be receiving:
Week #1:  Why Direct Mail Fundraising? (March 11)
Guide:  Direct Mail Fundraising, More Relevant Now than Ever!
Bonus:  Direct Mail on a Shoestring Budget.  Listen in on my 30 minute teleseminar with direct mail guru Mal Warwick.
Week #2:  Raise More Money With Your Case Statement (March 18)
Guide:  Writing a Case Statement That Reels 'Em In!
Week #3:  More than a Letter | Designing a Direct Mail Package (March 25)
Guide:  Successful Direct Mail Design on a Budget
Bonus:  Free and Low Cost Design Resources

Week #4:  It's in the List! | Secrets of Segmentation (April 1)
Guide:  The Complete Guide to Donor Segmentation
Bonus:  Nonprofit Bulk Mail: Do-it-yourself Versus Outsource from Blase Ciabaton, the Direct Mail Man
Week #5:  Yes, Virginia, You Can Write Compelling Fundraising Copy (April 8)
Guide:  The Secrets to Writing a Donor Centric Appeal Letter
Bonus:  Cheat Sheet:  20 power phrases that that will make your donor feel like the hero of your fundraising direct mail

Week #6:  Is that all there is? | Getting Your Website "Donation Ready" (April 15)
Guide:  Strategies to Bringing Your Direct Mail Donors Online

BONUS:  Is your organization's print newsletter raising money?  Registrants for Direct Mail Fundraising | The Basics and More! will receive access to the recorded Tom Ahern Webinar, Profitable Donor Newsletters, a $70 value!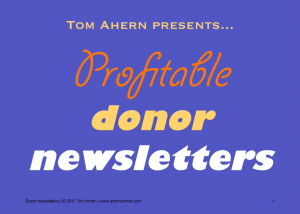 With Direct Mail Fundraising | The Basics and More! you'll learn by doing.  And you'll have lifetime access to the class materials!  So even if you're not able to attend to the classes as they arrive in your inbox, you can read at your leisure.  There are no tests or quizzes, only solid information that you can review whenever you're ready and worksheets created to guide you every step of the way.
Have Your Entire Team Participate!
Got a team of people working with your non-profit and you would like them all to participate in Direct Mail Fundraising | The Basics and More?  Not a problem.  There's no extra charge for additional team members.  If you want your entire development team or board of directors to have access to the class, all you need is one class registration, and we will send the electronic class materials to as many members of your team as you would like.
Your Investment in a More Effective Direct Mail Fundraising Program
A full-day seminar on direct mail fundraising can cost anywhere from $250-$500 (not including travel expenses), and yet not offer anywhere near the amount or quality of materials that is included in this class…
And when was the last time you were offered a guarantee?
When you register before March 3, you can participate in the entire class, including all of the course materials, guides and bonuses for the early bird special rate of just $67.  After March 3, the cost of the course goes up to $97.  This course comes with a 30 Day Money Back Guarantee if you're not satisfied.
Your new direct mail course was very helpful and beneficial to me. In this course, you simplified something that has become so complicated at times.

Everyone is looking for a way to stand out. Everyone wants their direct mail campaign to make a BIG difference. Your course provides easy-to follow steps of how to accomplish this. I especially liked that the course was broken up over six weeks and focused on a new component of direct mail each week. By including actions to complete each week you also forced us to sit down and really understand what you were teaching while working toward the goal of our end of the year appeal—Thank you!

Tyler D. Wilson, Executive Director, The Ricky Proehl P.O.W.E.R. of Play Foundation