Free eBook | Lifetime Donor Attraction System!
Did you know that eight of 10 first-time donors do NOT make a second gift?
Download the Lifetime Donor Attraction System today and you'll discover:
The Two Biggest Mistakes You Can Make in a Thank You Letter (besides not sending one!)
How Your First Communication with a Donor Following a Gift Sets the Stage for Future Gifts
Why You Need to Change Your Thank You Letters and How Often (and why you should include a P.S.)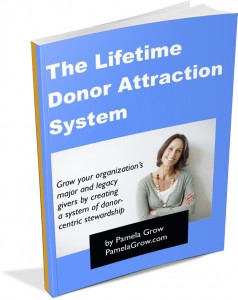 Readers write:
"Oh my gosh Pamela, whenever I read something of yours I get all fired up and want to do it all TODAY!  Anyway, I am a one person development department and am slowly trying to implement a new database, new stewardship program etc into existence.  When I came to this job all we had were excel sheets and everything else was in our Founders head
Your writing on stewardship was just affirmation for me that I am headed in the right direction – however it does seem as if you are going to have wonderful ideas on the different touches you can make to your donors.  I LOVED the calendar!"
Jacqueline Normand
Ministry Development Director
www.christianhelp.org
Get your free copy today!
"Thanks for pointing out that my prompt "thank you" letters are NOT enough.  Although I am getting out the letters and making calls, I am not doing enough to make them personal.  I run a national nonprofit from my home office with board members situated across the country.  I had started to have them contact new members (local/regional organizations) as they joined our trade association as a way to help my efforts in retention.  But I had not given them the job of thanking our donors as I should have.
The idea of a donor 'welcome kit' is awesome.  I've done 'welcome kits' for new families in my old job and new members in my new job – but had not made the connection to giving one to donors! And the little extras in the book are phenomenal – the links to other articles in the mentions give me tons of research/resource material to go through.
I am going to implement MANY things – too many to mention.  But I will say that sending out cards for other occasions is genius!  How wonderful for donors to get a card on Thanksgiving before the holiday rush.  We have a great communication plan and I have a contact strategy, but your WOW calendar gives me a great tool to merge the two.  Keep up the good work!  Thanks a million for the free book!"
Deanna Tharpe
Executive Director
Down Syndrome Affiliates in Action