Your Monthly Giving Coaching Program
When You Need More Than a Class
Are you stuck in old school raffle and event-driven fundraising mode? Do you want to make the move to something more reliable, like a strong individual fundraising program? Maybe your organization even already has a monthly giving program, but it's shown little growth, and you know it's not all it can be.
A strong monthly giving program gives your organization the protection it needs against economic shortfalls and loss of funding. So what does your monthly giving look like?
The Secret
I want to let you in on something new that I'm doing for the first time this year. It's called a Monthly Giving Coaching Package. In it, you'll receive access to all four modules of Monthly Giving | Basics & More, as well as one 45-minute coaching call to brainstorm ways to start or grow your monthly giving program, and one copy review (direct mail, webpage, or email sequence). You'll emerge with a step-by-step road map, created especially for you and your nonprofit team, that will empower you with the tools you need to gain amazing fundraising results through your monthly giving program, guaranteed.
It's more than a recurring income. You'll be gaining donor relationships — the kind that are built to last — for the long term.
One-on-One Coaching with Pamela
The Monthly Giving Coaching Package includes one personal 45-minute coaching call. In addition, you and up to seven team members will gain access to Mastering Monthly Giving | Basics & More™.
You may schedule your call at any time within one year from the time you enroll. Together, you and I will establish goals and a strategy for your monthly giving program.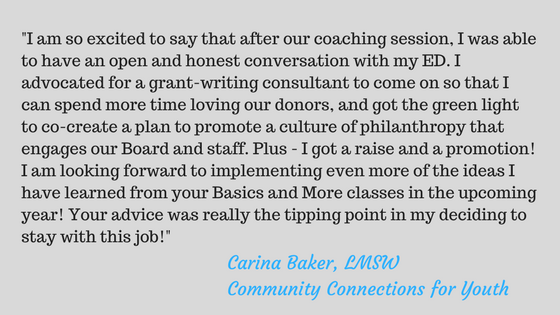 This opportunity is perfect for you if…
You've got some kind of monthly giving program in place, but you know it could be better.
Your organization hasn't started their monthly giving program yet.
Your monthly program is good, but you want it to be outstanding.
What you can expect
I guarantee that together, we will have built a strong, secure monthly giving program that will keep on growing, long after our one-on-one session.
About Pamela
Pamela has raised hundreds of millions through her consultancy, her weekly Grow Report enewsletter (over 35,000 subscribers), her donor-focused Basics & More classes, and the Simple Development Systems coaching program. Pam's overriding goal is to provide law of attraction fundraising training to small nonprofit organizations — at prices they can afford.
A pioneer in creating online training for nonprofit professionals, Pamela created the first online nonprofit storytelling class in 2010, as well as the first online nonprofit stewardship training. Partnering with Chris Davenport of the Nonprofit Storytelling Conference, she created the landmark program, 100 Donors in 90 Days, and The Donor Retention Project. In 2016, Pam developed the curriculum, branding, and launch for the Veritus Group's Major Gift Academy, the seminal online training for nonprofit major gift officers. In 2010, Pamela was named one of the 50 Most Influential Fundraisers by Civil Society magazine, and in 2016, she was named one of the Top 25 Fundraising Experts by the Michael Chatman Giving Show. Her blog, PamelaGrow.com was named one of 25 Must-Read Nonprofit IT Blogs 2016, and she recently came in at #2 on the Top 75 Fundraising Websites and Blogs For Fundraisers.
Enrollment
So that I can give you my undivided time and attention, this opportunity is limited to just ten organizations. If you'd like to schedule a call to determine if Monthly Giving Coaching is right for you, click here. Or enroll now.

$350 Includes access to all four modules of Monthly Giving | Basics & More and one 45 minute coaching call.