Nonprofit Newsletters | The Basics & More!
Online or print newsletters:  Are you confused over which one is best for your organization?
Do you want to start an effective communications program for your nonprofit, but you just don't know where to start?
Are you looking for the secrets to a print newsletter that shares impact — and raises money?
Does your enewsletter subscriber list consist of a few hardcore fans and your board members?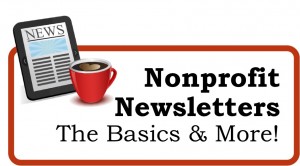 "Trust is built with consistency."
Lincoln Chafee
Communicating regularly with your organization's supporters is key to building a lifetime relationship with them.  Yet too far too many organizations' communications plans consist of an appeal and one halfhearted, jargon-laden newsletter.
You know that no one is reading your enews or print newsletters, but you don't know how to fix it and get on a system of regular communications — communications that delight, capture the imagination and, most importantly, inspires your supporters to give.
If you're not quite sure how to go about creating your organization's newsletters, Nonprofit Newsletters | The Basics and More! is your answer.
In this six-week eCourse you'll learn:
What's the best email service provider for you — and which one to avoid like the plague
How to make your newsletters all about the donor
How to make money with your print and email newsletters
How to grow your enews list quickly — and ethically
How to condition your supporters to look forward to your emails in their inbox
Why and how to kill your "letter from the Executive Director"
How to repurpose stories for both your online and print newsletters
How to keep your reader on the edge of their seat
…and more.
Who Should Attend?
Chief Development Officers and professional fundraisers
Executive Directors
Communications directors and staff members, including online community managers
Here's how it works:
The Basics & More! eCourses are structured, self-paced, learn-by-doing experiences.  Every Monday  morning, you'll receive (via email) comprehensive guides and worksheets covering the topic of the week that you can read on your computer, smartphone, tablet or e-reader, or print out to read at your convenience.  Each guide contains 5-10 pages and presents everything you need to know to develop your organization's newsletter communication strategy.
"Breaking down the process into segments takes away the 'overwhelm factor' of a workshop or a webinar and guides you incrementally into achieving what you thought was impossible! You provided valuable insight into all angles of how to write a meaningful piece to insight reaction from donors. Great work!"

Class Participant, Direct Mail Fundraising | The Basics & More!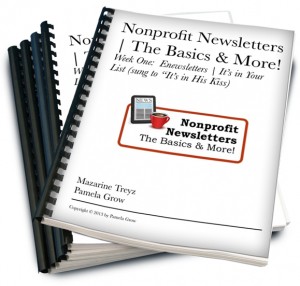 Rather than a one-off webinar or workshop, the Basics & More eCourses have been designed to fit into your schedule on your time.   You'll always have the materials to refer back to and as these courses evolve, you'll always have access to the latest edition.
Here are the course modules you'll be receiving for Nonprofit Newsletters | The Basics & More:
Week One (June 17):            Enewsletters | It's in Your List (sung to "It's in His Kiss)
Simple tips for growing your list quickly and ethically
Offline ways to get more subscribers to your enews
22 subject lines guaranteed to get subscribers to open your emails
Bonus guide:  Your secret weapon:  how to create an email autoresponder welcome series to build engagement and commitment
Week Two (June 24):            Enewsletters | Getting Down to Basics
Choosing your best enewsletter platform — beyond pricing
Designing an effective enewsletter, including formatting rules for html and text based emails
Get it read!  40% of your peeps will open your enews on their phone.  How to test how your enews will look
The five reasons people share your enews
Bonus:  Free and low-cost design resources cheat sheet
Week Three (July 1):              Enewsletters | Long-term Engagement & Design
Four simple emails that lead people to take action
Innovations in enewsletters
Case studies of incredible enewsletters
What kinds of photos to use
How knowing where to put your "donate" button will increase clicks — and donations!
Week Four (July 8):            Surveying | Your Secret Weapon Online and Off
Sample surveys to help you segment your enews subscribers
Survey questions to engage both online and off
Potent calls to action for your enews
How regular surveying can practically write your content for you
Week Five (July 15):  Print Newsletters Are Still Relevant | Making Yours Pay Off
Why you need both online and print newsletters
Writing for your donors:  what they really care about
Why you need to kill your "letter from the Executive Director"
How to write news stories
How to incorporate the numbers — without putting your readers to sleep
Bonus:  Tom Ahern's Profitable Donor Newsletters, a two-hour recorded webinar guiding you, step-by-step through the proven principles of a money-making print newsletter.

Week Six (July 22):  Print Newsletters | Designing and Mailing on a Budget
How and why to get rid of Microsoft Publisher once and for all
Captions, photographs, and statistics oh my!
Headlines that sell
Bonus:  45 minute webinar with Mazarine Treyz and Pamela Grow featuring before and after examples of your newsletters — and answering your questions.
"I loved being able to control my time better, so that I could keep up with the materials as they came."
Even better?  You can register as many individuals from your organization as you'd like.  That way everyone, from your ED to your board members to program staff will be "on board," learning about the importance of effective newsletters and how they can contribute to make it happen!
"I found the substance as well as the form of presentation very compelling.  I intend to recommend it to some of my clients who desperately need annual fund enhancement.  Also, I will use it with my graduate students at Brandeis University where I teach fundraising management—and have for the past 22 years."

David A. Mersky, Mersky, Jaffe & Associates (Monthly Giving | The Basics & More!)
Ask Questions — Get Answers!
All participants in this course will have direct email access to course leaders Mazarine Treyz and Pamela Grow for questions about the course materials and how they apply to your non-profit.  Ask one question or one hundred questions…we're here to help your organization succeed.
BONUS:  Get feedback from your peers.  As a registrant of Nonprofit Newsletters | The Basics & More! you'll have lifetime access to our private Facebook group, where you can engage with me and special guest, Tom Ahern, for answers to your newsletter questions.
Once you register for Nonprofit Newsletters | The Basics & More! the materials are yours to keep, to re-use when you need a refresher, or to share with a new volunteer or staff member.
Questions?  Email me.