The Power of Thank You | The Basics & More!

Are your organization's thank you letters uninspired or worse yet,  falling through the cracks altogether?
Does your organization have a "next gift" system in place for first-time donors?
Are you making your monthly donors feel like the special partners that they are? 
What happens when a donor makes an online gift to your organization?

How do you get your board, staff and volunteers involved in the process of thanking donors? 
When you're responsible for "doing it all" in a one-person marketing and development department, how do you set up the systems tp ensure that every donor feels appreciated…and continues to give?
"I've been sending them donations for two years…and never received a thank you – let alone any indication of what my money is actually accomplishing!"
Is this what your donors are saying about your organization behind your back?  We focus so much attention on new donor acquisition that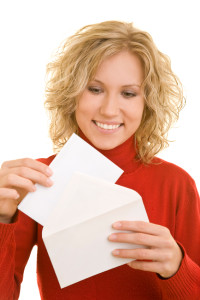 many nonprofits forget that, for many donors that first gift is often the last.  According to donor retention expert Penelope Burk, "90% of donors who start contributing to a particular cause stop giving by the fifth renewal request."  And fundraising expert Dr. Adrian Sargeant has noted that "Eight of 10 first-time donors do not make a second gift."
If you're ignoring donor retention, you're ignoring your organization's future.
How would you like to create a system to:
write inspiring thank you letters — and get them out the door within 48 hours
get your board members involved in the gratitude process
create the kind of culture of philanthropy in your workplace that enables everyone, from your CEO to your board to your program staff to your volunteers to share in the thanking process
use social media to embrace your supporters
create a "next gift" strategy for new donors
engage event donors…beyond the event
If you know that you need to do more to engage your supporters, if you know that donor loyalty is the "holy grail" of fundraising, and if you know that you could be doing it better, The Power of Thank You | The Basics & More! was created for you.
"Breaking down the process into segments takes away the 'overwhelm factor' of a workshop or a webinar and guides you incrementally into achieving what you thought was impossible! You provided valuable insight into all angles of how to write a meaningful piece to encite reaction from donors. Great work!"

Class Participant, Direct Mail Fundraising | The Basics & More!
Here's How It Works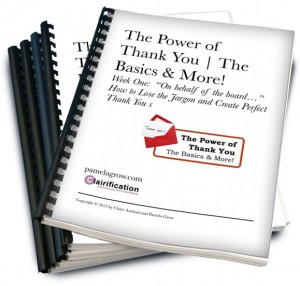 The Power of Thank You | The Basics & More! is a four-week eCourse which includes written content, video tutorials and recorded webinars created to guide your organization. step-by-step, towards instituting the processes and policies that your organization needs to foster donor loyalty.  Every Tuesday for four weeks, beginning on September 3rd, you will receive an email containing the week's course materials (in PDF format).
September 3, Week One: "On behalf of the board…"
How to Lose the Jargon and Create Perfect Thank You s
Why Perfect Thank-You s Will Make or Break Your Fundraising Over Time
Top 10 Things to Avoid When Thanking Donors
15 Key Elements of Effective Donor Thank You Letters + Sample Templates
Key Elements of an Effective Donor E-Thanks + Sample Template
First-Time Donor Welcome Protocol and Welcome Package Checklist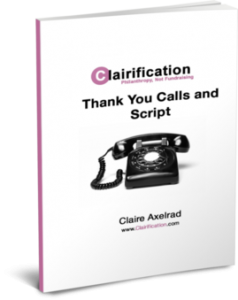 Bonus: Clairification Thank You Calls Ebook and Script
by Claire Axelrad
September 9, Week Two:
The Dao of Donor Retention:  How to Cultivate an Attitude of Gratitude
Getting Your Board and Staff  Engaged and On Board
Turning Event Attendees into Donors:  Putting Your System into Place
Making Gratitude a Priority:  One Organization's Answer
Understanding the Importance of Every Gift (for CEO's and Board members)
Bonus:  Recorded 40 minute Simple Development Systems Teleseminar with renowned donor retention expert Lisa Sargent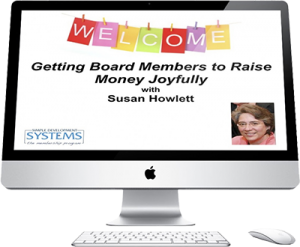 BONUS: Course registrants will receive access to the Simple Development Systems webinar…
Getting Board Members to Raise Money Joyfully with Susan Howlett 
Susan Howlett, author of Boards on Fire, will guide you step-by-step to developing your organization's board stewardship system in this special "members only" Simple Development Systems recorded webinar.
September 17, Week Three: How to Develop and Implement  Your Acknowledgment Systems
Assuring Thanks are Delivered Within 48 Hours
Donor Acknowledgment Policies & Procedures
The Value of Mapping the Donor's Experience
Creating Redirect Thank You Pages
Managing the Process
Keeping Track of Your Acknowledgment Activity
Bonus: Using PayPal?  Create a fabulous thank you page redirect to ensure that every donor gets an instant thank you (video tutorial)
September 24, Week Four:
How to Layer on the Thanks: Inspired Ways to Show Gratitude
22 Creative Ways to Rock Your Donor Acknowledgment Program
Creative Thank You Brainstorming Exercise
Sample Donor Thank You Greetings Calendar – More Ways to Get Creative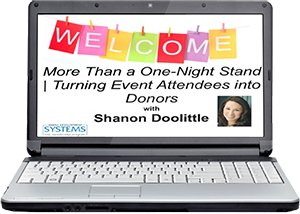 BONUS: Course registrants will receive access to the Simple Development Systems webinar…
More Than a One-Night Stand | Turning Event Attendees into Donors
Do your event attendees limit their involvement with your organization to buying a ticket? Event fundraising and donor engagement strategist Shanon Doolittle shares fun, creative ways to engage your event donors for life in this bonus "members only" Simple Development Systems training.
What's In the Class?
The Power of Thank You | The Basics & More! will run from Tuesday, September 3rd through Friday, September, 27th.  This course runs completely online, and all materials will be delivered electronically.
You and your team members (board, program staff, volunteers, etc.) will receive class materials every Tuesday morning via email.  This class includes four informative class modules (including worksheets and templates), two one-hour recorded webinars and one recorded teleseminar. Don't worry – we'll include information on how to download and read/listen to the course materials and provide technical support to make sure you can access all of the course materials and webinars.
Hi Pam,

Thanks for [the] "Power of Thank You" class. I just revamped the thank you letter for an organization I just started working with and the ED loved it.

Ade Omotade
Who is this Course For?
This course is for
CEOs and Executive Directors
Board Members
Development Staff
Program Staff
Volunteers
Even better? You can register as many individuals from your organization as you'd like for one low price. That way everyone, from your ED to your board members to program staff will truly be "on board," learning about the importance of solid donor retention by focusing on an "attitude of gratitude."
"I found the substance as well as the form of presentation very compelling. I intend to recommend it to some of my clients who desperately need annual fund enhancement. Also, I will use it with my graduate students at Brandeis University where I teach fundraising management—and have for the past 22 years."

David A. Mersky, Mersky, Jaffe & Associates (Monthly Giving | The Basics & More!)
Ask Questions — Get Answers!
This course is taught by Pamela Grow, the author of Five Days to Foundation Grants and the creator of Simple Development Systems | The Membership Program, and Claire Axelrad, J.D., CFRE, founder of FundRaising Success Magazine's Best Fundraising Blog of 2013.
Claire has helped nonprofits raise hundreds of millions over a career inspiring volunteers and professionals to implement innovative

fundraising and marketing strategies that advance the mission, vision and values of causes addressing society's most pressing problems.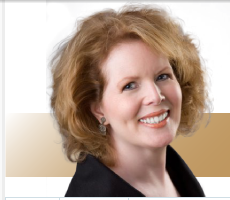 Pamela has raised millions through her consultancy, her widely-read weekly Grow Report ezine, her affordable and popular Basics & More eCourses, and her membership program.  Her over-riding goal is to provide exceptional donor-centered fundraising training to small nonprofit organizations — at prices they can afford.  With Chris Davenport, Pamela created The Donor Retention Project, a series of interviews with the world's leading donor retention experts.  In 2010 Pamela was named one of the 50 Most Influential Fundraisers by the influential Civil Society magazine, and in 2013 she was named one of the Top 50 Most Effective Fundraising Consultants by the Michael Chatman Giving Show.  She's been featured by the Chronicle of Philanthropy, the Foundation Center and co-hosts Little Shop a regular column of FundRaising Success Magazine. She is a regular contributor to SOFII, the showcase of fundraising innovation and inspiration, and Charity Channel.
All participants in this course will have direct email access to both Claire and Pamela for questions about the course materials and how they apply to your non-profit. Ask one question or one hundred questions…we're here to help your organization succeed.
What Does It Cost?
The registration price of $67 includes you – and every member of your team, including board members, staff, and volunteers.