Your Fundraising Plan & Case for Support | The Basics & More!
Are you looking to build a bigger and better fundraising program at your nonprofit?
Do you wish you had a clear plan for the strategies and tactics you need to use to raise more money and thrive?
Would you like to have a compelling case for support that explains your mission to donors in a way that makes them want to give?
If the answer to any of these questions is "yes," then I invite you to join me for the next four weeks to learn how to write Your Fundraising Plan & Case for Support | The Basics & More!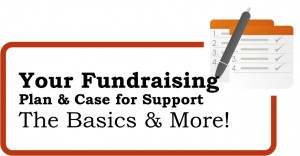 Why Are Your Fundraising Plan and Case for Support So Important?
Your plan and your case statement are two of the most important items you will ever create for your organization.  Your fundraising plan maps out your development strategy for the next one, two, three or more years… and sets the direction your development program will take as you raise the money you need to thrive.
Your case for support/case statement paints an emotionally compelling picture for your donors.  Your nonprofit should rely on your case statement as the basis for all of your fundraising communications, using language and messaging drawn straight from the case to convince your donors to give more money, more often, to support your mission.
Use this class to write a plan and case statement that produces exceptional results for your nonprofit.
What's in this Class?
Your Fundraising Plan & Case for Support | The Basics & More! will run from Monday, January 6th through Friday, January 31.  This class runs completely online, and all materials will be delivered electronically.  Even bonus webinars and podcasts are pre-recorded, so you can progress at your own pace and complete the materials on your own schedule.
Every Monday, you'll receive (via email) comprehensive class guides covering that week's topic.  You can read the guides on your computer, smartphone, tablet or e-reader, or print them out to read at your convenience.
Each guide contains 7-10 pages and presents everything you need to know about how to write a successful fundraising plan and compelling case statement for your nonprofit.
"Breaking down the process into segments takes away the 'overwhelm factor' of a workshop or a webinar and guides you incrementally into achieving what you thought was impossible! You provided valuable insight into all angles of how to write a meaningful piece to insight reaction from donors. Great work!"

Class Participant, Direct Mail Fundraising | The Basics & More!
The Class Modules: Your Fundraising Plan & Case for Support | The Basics & More!
Here are the weekly course modules you'll be receiving:
Week #1:  The Fundamentals of Writing Your Case for Support  Taught by Pamela Grow
Know why and when your nonprofit needs a case statement
Find out what's missing in most case statements, and where you need to start
Learn what questions need to ask and who you need to talk to when preparing to write your case for support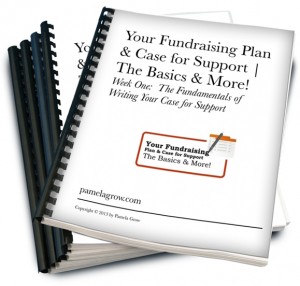 Week #2:  Writing a Compelling Case for Support  Taught by Pamela Grow
Understand how to tell your organization's story quickly and effectively
Use the included checklist to see what materials you need to have on hand to write a great case
Learn a simple procedure for the case writing process
Week #2 Bonus:  You'll receive a complete sample case for support that you can use as a template for your organization
Week #3:  The Fundamentals of Writing a Strong Fundraising Plan  Taught by Joe Garecht
Know why your nonprofit needs a written fundraising plan
Understand what goes in to a successful fundraising plan and how to get your board and staff committed to the process
Learn a simple, step-by-step process for writing a plan that works
Week #3 Bonus Podcast: How to Figure Out Which Fundraising Strategies will Work for You
Week #4:  Making Your Fundraising Plan Successful  Taught by Joe Garecht
This week, receive Joe's one hour recorded webinar How to Write a Successful Fundraising Plan
Week #4 Bonus:  You'll also receive a complete sample fundraising plan, written by Joe, that you can use as a template for your own organization's plan
Writing a strong fundraising plan and amazing case for support may be the two most important things you can do to get your nonprofit on the right track.  This course will show you how.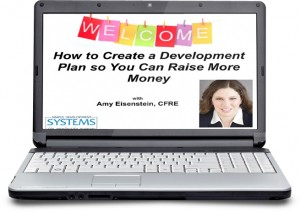 Bonus Recorded WebinarHow to Create a Development Plan so You Can Raise More Money
Presented by Amy Eisenstein, ACFRE
According to the CompassPoint report UnderDeveloped: A National Study of Challenges Facing Nonprofit Fundraising, more than one in five nonprofits (23%) – and 31% of organizations with operating budgets of under $1 million – have no fundraising plan in place. Are you relying on "spray and pray" tactics? You'll gain clarity and develop your organization's development plan, as fundraising speaker, consultant, coach and author of the CharityChannel Press book, Raising More With Less, Amy Eisenstein, ACFRE guides you through crafting a fundraising plan for your organization in this recorded webinar.
"I loved being able to control my time better, so that I could keep up with the materials as they came."
Who is This Class For?
Your Fundraising Plan & Case for Support | The Basics & More! is for both those new to writing development plans and case statements as well as seasoned development pros who want to know how to strengthen what they already have in place.  Nonprofit founders, Executive Directors, Development Directors, fundraising staff, board members and volunteers will all benefit from this four week class.
Learn When You Want and Where You Want
One of the best things about this class is that you can read the guides and listen to the podcasts/webinars from the comfort of your own home, office or car.  Instead of having to take time off to go to a full day seminar, you can learn everything you need to know about creating your organization's development plan and case for support — right where you are.
And – you have lifetime access to the class materials!  So even if you can't go through all of the class materials right now, you can read and listen at your leisure.  There are no tests or quizzes, only solid information that you can review whenever you are ready, with lifetime access to the course pages.
Learn from the Best in the Business
How to Your Fundraising Plan & Case for Support | The Basics & More! for Your Nonprofit is being co-presented by Joe Garecht and Pamela Grow.
Joe is the founder of The Fundraising Authority and has spent the past 12 years helping organizations raise more money.  He has personally raised tens of millions of dollars to support causes worldwide.  He is the author of Raising Money Without Going Crazy and The Nonprofit Fundraising Formula.
Pamela is a well-known fundraising author and consultant, author of Simple Development Systems and founder of Simple Development Systems | The Membership Program.  She has been helping nonprofits raise dramatically more money for over 15 years, and was named one of the 30 most effective fundraising consultants by The Michael Chatman Giving Show.
Together, Joe and Pam want to help your nonprofit create a fundraising plan and case for support that will raise the money your organization needs to thrive.
"I found the substance as well as the form of presentation very compelling.  I intend to recommend it to some of my clients who desperately need annual fund enhancement.  Also, I will use it with my graduate students at Brandeis University where I teach fundraising management—and have for the past 22 years."

David A. Mersky, Mersky, Jaffe & Associates (Monthly Giving | The Basics & More!)
Have Your Whole Team Participate!
If you have a team of people working with your nonprofit and you would like them all to participate in How to Your Fundraising Plan & Case for Support | The Basics & More! for Your Nonprofit, there is no extra charge for additional team members.
If you want your entire development team or board of directors to have access to the class, all you need is one class registration, and we will send the electronic class materials to as many members of your team as you would like.
Ask Questions / Get Answers!
All participants in this course will have direct email access to Pamela Grow for questions about the course materials and how they apply to your nonprofit.  Ask one question or one hundred questions… I'm here to help your organization succeed.
The total investment for this class, including all of the course guides as well as direct email access to Pam, is just $67.
We just registered for the eCourse – Your Fundraising Plan & Case for Support. Thank you for sharing this amazing opportunity at so reasonable a cost for tiny nonprofits like ours.

Heidi Jones
Sign-up today!
Our Guarantee to You
We know that How to Your Fundraising Plan & Case for Support | The Basics & More! for Your Nonprofit is the single best course available on how to develop a strong fundraising plan and amazing case for support for your organization.  Not only will you be satisfied with this course, you will be raving about it to your colleagues and friends at other organizations.
If, for any reason, you are not satisfied with the course, you can stop taking the class at any time and receive a full, 100%, no questions asked refund.   That's our guarantee to you.  You will love this class, and it will make a huge difference for your nonprofit organization.
Sign-Up and Get Started on a Stronger Fundraising Plan and Case Statement Today!