Simple Development Systems – Grow Report Subscribers' Private Sale

Do you always find yourself stretched too thin?
Are you constantly engaged in 'busy' work (lining up free silent auction items and tying those goody bags has to get done!), but never getting ahead?
Are you being micro-managed by board members who don't understand fundraising?
Dear Amazing Nonprofit do-gooder,
I've been where you're at right now:
Struggling with ways to empower your board members to fundraise
Trying to figure out how you can increase your services to meet your community's overwhelming need
Wondering how to prioritize when everything seems to be in crisis mode
Knowing that you need help with fundraising but you just don't have the time or money to attend workshops or seminars. And hiring a consultant? Forget about it.That's why I wrote Simple Development Systems — to give you the tools to finally focus on what matters in nonprofit fundraising. Beyond a traditional nonprofit fundraising book, Simple Development Systems is a plan for smart fundraising. Readers loved it:
"I just purchased your Simple Development Systems last week – I wish I would have found it 5 years ago when I took this job. It's wonderful! One of the most challenging aspects of working in a very small development department is focusing your efforts in the places that will have the largest impact. There can be a lot of distractions and "fires" that gobble up your day. This easy-to-read and implement guide has helped me to fine tune my plan for next year. The chapter on Grants and the information on writing effective newsletters were my favorite sections, but it's all worthwhile. I'm confident that this is a resource that I will grab again and again in the future."

Heidi Mayer, Lutheran Home Foundation
This is my true story:
In 2001, I quit my job with one of the Philadelphia region's largest grantmaking foundations to take on a development position with a small community health agency .
My task? To create a development department from the ground up.
I don't need to tell you that it was challenging!
Thanks to a local businessman, the organization had run a successful capital campaign just five years prior, raising over $5 million for a new facility.
And what had they done since?
Absolutely nothing.
Major donors ignored.
Not a single foundation grant proposal written in five years.
The organization had memberships with a number of key community organizations such as the Chamber of Commerce and the Rotary Club, yet hadn't had any contact with any of them in years.
The businessman who had spearheaded the capital campaign was deceased and none of the data from that campaign was available to me.
The organization had no website.
The organization's annual membership campaign had been outsourced to a succession of different mail-houses. The resulting product was a hot mess and donors had left in droves.
And the more I dug, the worse things looked.
The closest I'd come to fundraising experience was reviewing grant proposals at my old job.
Frankly, I thought that I'd taken on more – much more – than I could handle.
I can still recall today how, two weeks after starting and close to tears, I called my best friend and mentor to share with him all the challenges I was uncovering on a daily basis.
I had no idea where to start. Talk about a pity party.
His response?
"How many people get to create their own job????"
That was a light bulb moment for me and I got started.
The very next day I sat down at my desk and mapped out my very first fundraising plan. I made:
A plan for grants,
A plan for public relations
A plan for our first website, and
A plan for growing individual donors.
And then I did one of the smartest things I've ever done – something that I continue to do ten years later.
It's not something that you'll ever find in a typical "development" course or workshop.
But it will make a major difference in your fundraising as you use it in the next year. It's just one of many ideas that will leave you shaking your head, wondering why you hadn't learned this years ago.
So what happened? Fast forward a short 12 months and we had:
raised nearly $150,000 in foundation support alone, the majority of it general operating support (who's got time for all those grant reports?),
increased our individual giving by a full 25% – and reduced costs by 31% (without an acquisition budget),
begun successful outreach to local businesses, bringing on corporate sponsors like Whole Foods, Trader Joe's and more
implemented a number of successful community health initiatives,
established a weekly column in our local newspaper,
launched our first website fully equipped for online giving AND
begun a major gifts program!
All in only 15-20 hours a week!
If you're feeling overwhelmed in your job right now, Simple Development Systems is the tool that will cut to the chase, leaving you with the framework to develop a successful donor-centered fundraising plan for your organization. Why donor-centric? You're looking to build lifetime donors and raise the money your organization needs now – and in the years to come – aren't you?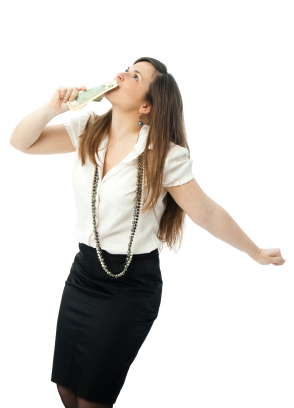 Here's just some of what you'll be learning:
How shifting your focus from money to building relationships will take the stress out of fundraising (and raise more money!)
How to tell an emotional story that engages your supporters at their deepest core
Who your best donor is – and why knowing matters
What donor-centricity really means (you only think you know)
How to create a marketing mix so you're always in your supporters' hearts
How to create a donor newsletter that brings in money all year long
How to create your organization's monthly giving program – and how to grow it!
How to write direct mail appeals that touch the heart – and reel in the dollars!
How to use email to build relationships
How to streamline your grants program with general operating support
How to select the database that's right for your organization – now and five years from now
How to create a manageable strategy for social media
How to create a bequest program
You get…
Hate to write? SDS includes templates such as:
Thank You Letter Template
Appeal Letter Template
Monthly Giving Letter Template
Email Welcome series example and Template
Since 2011, Simple Development Systems has sold thousands of copies. And, now to thank you for being a subscriber to The Grow Report, I'm offering the revised version of Simple Development Systems at a SUPER discount.
And I do mean SUPER…
Normally SDS goes for $49 (on sale).
But, as a brand new Grow Report subscriber, I'm inviting you to click here to grab your copy of the Second Edition of Simple Development Systems for just $37 AND get the bonuses, including templates, worksheets, recorded webinars and more — FREE.

Yes, you read that right. Just $37 for BOTH Simple Development Systems 2nd Edition, AND all the bonuses.
"Pamela's book focuses on donor-centric fundraising. She covers what to do in your first 100 days as a development director, donor profiles, newsletters, direct mail, how to thank donors, monthly giving programs, grant seeking, building a website, choosing a donor database, and social media.

The result is a road map to success that can take the scary out and bring in a sense of comfort, self-confidence, and focus about what can and should be done."

Joanne Fritz
About.com Nonprofit
As a regular reader of The Grow Report, you know that I'm a huge believer in sharing the best resources out there.  That's why you'll benefit not only from my expertise but from the guidance of a host of seasoned experts who have contributed to Simple Development Systems Fundraising.  People like:
Ken Burnett, Author of such classics as Relationship Fundraising, Tiny Essentials of an Effective Volunteer Board and The Zen of Fundraising, and founder of SOFII,
John Haydon, Author of Facebook for Dummies and nonprofit marketer extraordinaire,
Nancy Schwartz, Nonprofit marketer, creator of "The Nonprofit Tagline Report" and writer at the Getting Attention blog,
Jules Brown, direct mail copywriter for some of the biggest charities in New Zealand and Australia,
Lucy Gower, Fundraising Innovator and UK fundraising expert,
Erica Waasdorp, Author of Monthly Giving. The Sleeping Giant. How Small Gifts Can Be Powerful Tools to Support Any Organization
Gail Perry, Author of Fired Up Fundraising, Turning Board Passion into Action,
Robert Weiner, host of TechSoup's Technology for Fundraising online,
And many others who have come together to offer their expertise to you in Simple Development Systems!
You'll also get…
My Fund Development Plan Worksheet
The Lifetime Value Calculation Worksheet
Creating Your Donor Profile Worksheet
Social Media Strategy Worksheet
"Simple Development Systems is fantastic. I'm about to be a new ED and I am excited to lead the organization into a new era of donor centric activities."

Michael Faith, MSW, Executive Director, Living Yoga
You can raise exponentially more money for your nonprofit. And Simple Development Systems can help you get it done, by giving you the steps to raise money now and well into the future. And it's right here, right at your fingertips, waiting for you to take that next step.