Sitting in the warm comfort of my grandmother's farm kitchen many years ago, surrounded by the smells of Christmas, a  group of us older cousins were catching up on each other's lives when Kurt made the surprising statement.
"I've always known that I'm grandma's favorite," he said, going on to detail with assurance all the little things Gram did to show Kurt just how special he was.
Seriously?  I stared at him in surprise.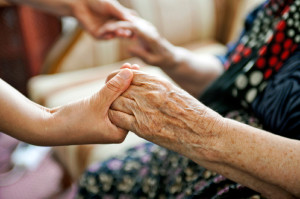 Of her 25 grandchildren and countless great-grandchildren, I'd always carried within me the secret knowledge that I was my grandmother's favorite.  Didn't she always save the few 'fudgies' from the bag of Kraft caramels, just for me?  In a house with many vying for the use of one television set, didn't she always somehow ensure that I never missed my favorite show?  Didn't she always find the time to make my favorite noodles when I came to visit?
It turned out that every one of us had grown up, secure in the knowledge that we were Grandma's special favorite.
You've probably known someone in your life with that special gift.  The gift of making you feel like you matter.  Like you're their "favorite."
That's what donor-centered fundraising is all about.
Your donors know that you couldn't do it without them, that their support matters.  That they are your "favorite" donor.
Here's the deal:  there are plenty of consultants and big agencies who've been in the field for a lot longer than I have who don't *get* it.  Can they raise money?  Of course.  I recall a certain LinkedIn conversation where one consultant bragged about all the money he was raking in for clients by using an ask in a thank you letter.
But you're not looking to crash and burn.
You get it.  You're here for the long-term and you want donors who will be too.
Donor-centricity means more than throwing a few "you's" in your next appeal letter.  Master it and all else flows.  Here are just a few resources to get you started:
Websites
Books
Relationship Fundraising by Ken Burnett
How to Win Friends and Influence People by Dale Carnegie.  Dated yes, but a book to re-read every year.
Keep Your Donors by Tom Ahern and Simone Joyaux
Oh, one last thing.  If you find yourself facing a lot of distractions, all you need to do is stop — and approach whatever you're doing from the perspective of your donor.
I'm a proud member of the cult of donor-centricity.  You should be too.
{ 0 comments }