---
I'm a monthly donor to Mr. Holland's Opus Foundation,   a nonprofit organization that "keeps music alive in our schools by donating musical instruments to under-funded music programs, giving youngsters the many benefits of music education, helping them to be better students and inspiring creativity and expression through playing music." You can learn more about them by checking out the video on their homepage or liking them on Facebook.  Better yet, join their email list.
Their Spring print newsletter has some stellar take-aways:
I loved the first-hand story of Jose Cortes, a "proud guitar player in Vince Womack's Jazz Band" and his meeting with Eddie Van Halen.
Their 'Donor Love' section just jumped out at me. Featuring testimonials and short stories directly from donors, they proved to be a gentle reminder of the heart and soul of good fundraising: your donors.
My minor quibble had to do with how the newsletter arrived (as a self-mailer). Kathryn Benjamin, Director of Development for Somerville Homeless Coalition and a recent graduate of our Nonprofit Newsletters course noted that:
"One of the key improvements I made due to your training was to put the newsletter in an envelope and not make it a self-mailer — very counter intuitive, but the research presented was compelling.  It arrived in people's homes starting on Saturday, and the first gifts arrived in today's mail!"
It's surprising how a simple tweak can make all the difference. Remember, your print newsletter can and should be both a stewardship device – and a revenue generator.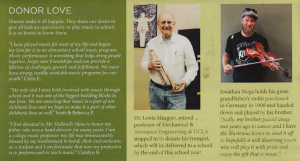 ---
Keep your donors front and center with Simple Development Systems, a super easy 'rinse and repeat' methodology of expressing gratitude and sharing stories across all channels to grow your nonprofit's fundraising exponentially. Join us every week for Power of Nonprofit Storytelling(Mondays), What's in my Inbox (Tuesdays), and What's in my Mailbox(Wednesdays).
{ 0 comments }