How are small nonprofit organizations using the power of direct mail to love their donors? Join us every Wednesday for What's in my Mailbox.
---
When I mention a minimum of 12 'touches' per year to clients and Grow Report readers, I'm often met with slack-jawed dismay.
"Twelve touches??? We can't afford 12 newsletters a year!"
Yes, if your donors are true partners, if you're thinking of them as the 'friends' that they are to your work, 12 touches a year is the minimum. Several of those touches will be thank you's. And, yes, some will be newsletters, both print and electronic.
Simple Development Systems member, OneJustice has developed a calendar of communications that makes their donors feel both valued and informed. This one-page Impact Report arrived in my mailbox recently.
What I liked…
Profuse appreciation and focus on you and what you, the donor, are accomplishing. "You are one of those amazing people, and we simply cannot thank you enough.'  'Thank you so much for your generous support , and for making all the difference for Californians in need.'  'This past year, you brought vital legal services to 117 low-income veterans living in rural California.'
I love the client testimonials and how OneJustice, a legal organization, explains their work in terms the donor can understand.  Click the image below to read the PDF.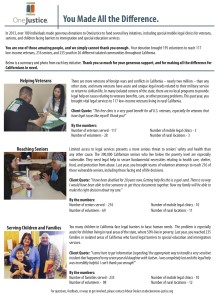 ---
SDS Member,  Planned Parenthood of Southwestern Oregon has created a personalized in-house Impact Update, where numbers come alive — and the donor is given all the credit.  Click the image to read the 2-page Update.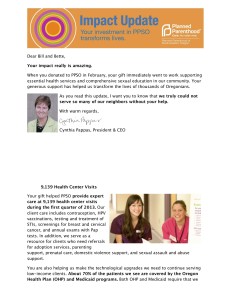 { 0 comments }