The small community based nonprofit organization can learn from and emulate some of the best practices of larger charities.
Case in point, this marvelous thank you letter from Best Friends Animal Sanctuary.  The letter arrived in an over-sized, windowed envelope proclaiming "IMPORTANT YEAR-END DOCUMENTS ENCLOSED."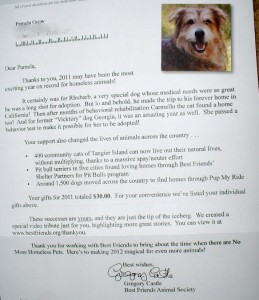 What's right (click on photo to read letter):
Personalized
The letter highlights me, the donor, and the work made possible by my donation.
It paints a joyous visual with the photograph and story of "Rhubarb" (even the name makes you smile, no?)
It directs the reader to a special thank you video

What's more, the PS, which mentions the enclosed reply envelope, creates further engagement by again directing the reader to the video, and soliciting comments, questions or suggestions by way of the envelope.  Oh, and let's not forget the opportunity to use the envelope to "get a head start on your gifts for 2012."
What do you think?