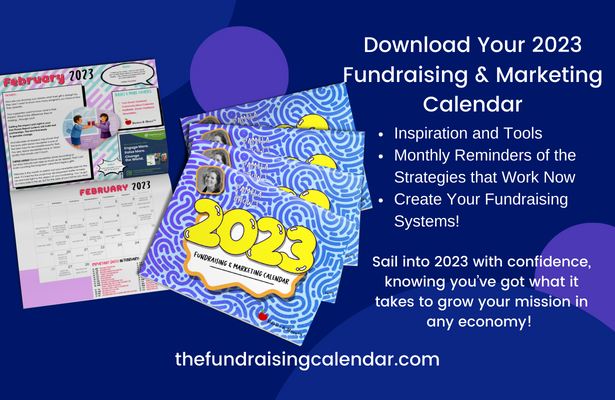 ---
Are we living the new normal?
First, a pandemic and too many nonprofits left scrambling, trying to pick up the pieces. Wondering how they were going to replace the $600k their spring gala typically raises. Often left afraid to fundraise, and disempowered by well-meaning boards and directors. And now an invasion of idiocracy that knows no bounds and the changing landscape of fundraising and the nonprofit sector.
But the good news is, when it comes to individual fundraising, we've got the data and we know what works.
The better news is, donors stepped up. Big time.
Thanks to the disruptions of the past three years, we know what works. Even in times of crisis.
The best news of all? When you implement what works, your donors will always come through for you. After all, they love you and want to see you succeed.
As we move into 2023, know that, while digital fundraising will continue to grow, in the end, relationships matter most. Keeping on top of the basics, with an awareness of the trends that matter most will keep you continue to serve you best.
Here are my predictions — as well as several trusted colleagues — on what will serve nonprofits in 2023:
Focus on Individual Giving
Individual donors continue to make up close to 80% of all philanthropic giving.
Begin with an understanding of the fundamentals of permission-based marketing. No, you cannot "force" offline donors to give online. "Subscribe to our Enewsletter" is not a compelling reason for someone to give you their email address.
As Beth Ann Locke notes, "donors remain eager to give to solve problems, lend a hand, and create lasting change. The fundraiser must tell the story, involve, ASK + report. That creates relationships + life-long givers. Or they give elsewhere."
Communicate better, and more frequently. Make a plan for how you'll be engaging and attracting more diverse donors in 2022. Of all racial or ethnic groups' giving, black families have contributed the largest proportion of their wealth.
Your Plan and Case for Support
Your fundraising plan and case for support is more important than ever before. T. Clay Buck said it best.

"Your fundraising plan is your commitment to your organization, your community, & your donors on how you'll fulfill mission."
Click To Tweet
Your emotional case for support drives all donor communications, from grant proposals to web copy to fundraising appeals.
Stewardship is Key
Make 2023 the year of stewardship. Do what we've been recommending for decades and make a daily habit of calling one donor. Just to say thank you. 
Copywriter Julie Cooper recommends re-writing your thank you letters.

Make your donors feel they're part of a community.
The Basics. Implemented Well
Our subscribers and students with strong "Ask/Thank/Report" systems in place not only weathered the past two years, but their fundraising also thrived!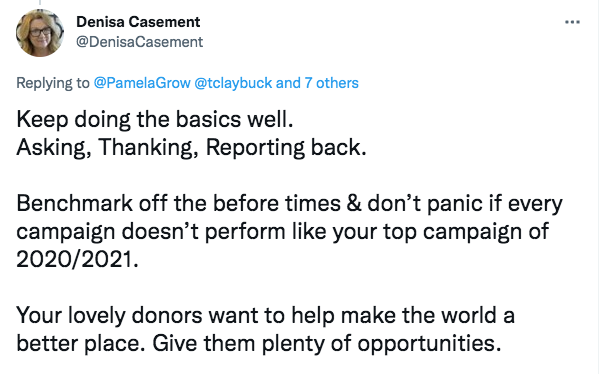 "Your lovely donors want to help make the world a better place. Give them plenty of opportunities." @DenisaCasement Click To Tweet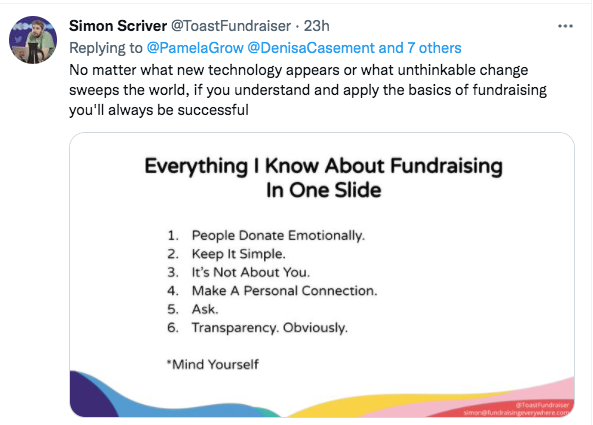 Continuing Education

Understand Your Donor's Big WHY
All donors are not created equal and capacity does not equal commitment.
In 2023, make a point of knowing why your donor gives. Ryan Levesque, author of Ask: The Counterintuitive Online Formula to Discover Exactly What Your Customers Want to Buy…Create a Mass of Raving Fans…and Take Any Business to the Next Level, notes that "the right way to use surveys is counterintuitive." Raise More Money with Your Donor Surveys from Basics & More provides fundraisers with the right way to implement a supporter survey. And it includes ways you can engage and create feedback opportunities throughout the year.
Your Organizational Culture
An inclusive culture is made not born. Incorporate a plan for your culture into your fundraising plan and implement it.
Grants
If you're a one-person shop, consider engaging the services of a grant professional so you can focus on growing individual giving. If you don't believe you have the funds to hire a grant professional, develop a strong case for general operating support and put your focus on unreserved funding.
Planned Giving
Roughly 5% of people leave a gift to a nonprofit in their will, but research shows that up 33% would consider leaving a gift if they were properly asked.
No time for creating a planned giving program in 2022? Create your organization's tagline and ensure that every staff member and board member use it.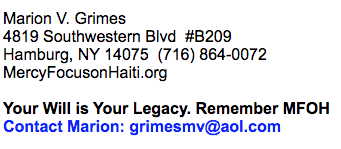 For Small Nonprofits, Outsourcing Rules
Nonprofits are facing a staffing crisis with organizations across the country reporting significant difficulties retaining staff and filling vacancies. Focus on staff retention.
Small to mid-sized nonprofits: rather than hiring your fifth development director in three years, consider outsourcing your creative and/or grants, freeing up your fundraiser's time for growing relationships. A good consultant can build your Ask+Thank+Report+Repeat systems, allowing your staff the time for stewardship and data.
Keep Putting One Foot in Front of the Other
My last piece of advice comes by way of Grow Report subscriber, Jennifer Janus:
"My win this month is more of: I'm managing to keep showing up one day at a time without losing my shizzle kind of win right now. I have three kids, two of them twin boys who are on the cusp of driving themselves places but for now I am the primary chauffeur, and my work is about to start a new $3 million capital campaign and I am feeling really burned out and exhausted. So my win is that I keep coming back and most days have a relatively positive outlook. People are so amazing — they just need to be cared for and told they're good! So that belief sustains me! That, and faith that things will get better even when they feel rough."
---
Lastly, download your own 2023 Fundraising & Marketing Calendar for monthly reminders of what's working now.
(You'll also receive your personal subscription to The Grow Report, the weekly newsletter for smart nonprofit professionals like you.)
{ Comments on this entry are closed }