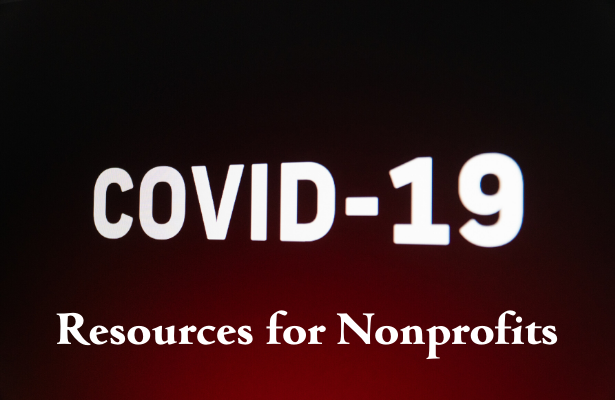 ---
This page is updated regularly to include new resources. If you have a resource that you've found helpful, please email me at pamela@pamelagrow.com.
General
Nonprofits and the CARE Act | A Motivate Monday Webinar (direct link)
Facebook: COVID 19 Charity Preparedness Group: A private Facebook group of nonprofit organizations around the world
Covid-19 Nonprofit & Philanthropy Resources. A Google document curated by Beth Kanter.
A Novel Opportunity to Strengthen Public Trust in the Nonprofit World (Opinion)
Nonprofit guide to COVID planning. From the Georgia Center for Nonprofits.reso
A Huge Mistake Nonprofits Make in Preparing for COVID-19
Lessons from Motivate Monday | How Nonprofits Can Navigate COVID-19. Beth Kanter with lessons on self-care and working from home (30-minute presentation)
Advice and Resources for Nonprofits – COVID-19 / Coronavirus | Recession | Remote Work. From Motivate Monday's sponsor, Bloomerang.
Meet Nana Murphy: lessons in donor care from Merchants Quay Ireland. Download this case study to discover how one tiny charity grew exponentially during one of the worst economic periods in history.
New to virtual meetings? Here's how to make yours successful right out of the gate. Lessons From Motivate Monday | Making Your Meetings Virtually In-Person
Can you transition your gala to virtual? Sherry Truhlar tells you how to do it in this engaging MotivateMonday chat.
The Impact of COVID-19 on Key Compliance Deadlines
Mental Health Wellness Tips for Quarantine. From Eileen M Feliciano, Psychologist, PsyD, MSEd. 
Nonprofit Crisis Management: A Checklist. From The Chronicle of Philanthropy.
U.S. Nonprofits and Suppliers: What You Need to Get an Emergency Forgivable Covid-19 Loan
CDC Centers for Disease Control & Prevention
During these times of uncertainty, you can be certain that American Addiction Centers (AAC) cares about your recovery journey and we understand that attending in-person meetings over the coming weeks will be difficult. We're here to support you with Virtual Support Meetings.
Telehealth and Online Mental Health Resources During COVID-19 Pandemic. The COVID-19 pandemic threatens not only health, life, and the economy. It threatens a recovery from substance abuse. When an individual is ready to tackle their substance use disorder, time is of the essence. Any delay might derail their willingness or desire to abstain from alcohol or drugs. Once treatment has started, any interruption might derail the rehab process. And even after rehab, aftercare services such as therapy and support groups are needed to help prevent relapse.
Fundraising and Donor Communications
FUNDRAISING IN THE TIME OF COVID-19
WHAT TO DO NOW!
During COVID-19: The Supporter Experience is More Important than Ever. A free downloadable call script for communicating with your donors.
Free resources for creating a coronavirus appeal Excellent templates from Mark Phillips of BlueFrog.
Essential Advice and Resources for Nonprofits – COVID-19 / Coronavirus | Recession | Remote Work
40+ Examples of COVID-19 Response From Charities & NPOs
What We Have Learned From Crises and Can Use in Coronavirus Age
The rise of altruism. A must-read from Richard Turner.
Julia Campbell has created a Google drive curation of nonprofit communications during COVID-19. 
What's In My Inbox | A B&M Alum shows how to communicate with your donors right now. An excellent supporter update. 
Retaining and Growing Your Monthly Donor Program During COVID-19  A Motivate Monday webinar.
Fundraising from home during COVID-19: Nine Tips 
COVID-19 Nonprofit Communications | Building Community in a Pandemic. Discover how one local arts organization is keeping their supporters engaged — and raising money!
Fundraising in a time of crisis: SOFII's guide to navigating tough times
Should we send our scheduled appeal/newsletter/annual report in the midst of COVID-19? A free downloadable Template for COVID-19 updates to accompany a scheduled direct mail appeal, newsletter, etc.
Lessons from Motivate Monday | Funding your organization's coronavirus "story" and talking to major donors right now. What is your organization's story around COVID-19 and how knowing will help to frame your next ask.
For small nonprofits who may not have attempted digital yet. Nonprofit Communications in COVID-19 | Grow your digital skills with an emergency appeal
Digital Mobilisation During the Covid Outbreak – Messaging and Tier 1 Tactics
Nonprofit Fundraising Data to Help You Respond During the COVID-19 Crisis
A comprehensive listing of COVID-19 related grants for 501c3 nonprofits, thanks to Instrumentl
{ 1 comment }