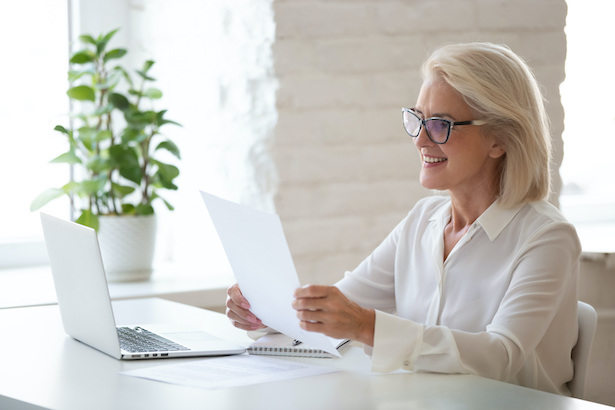 ---
Have you ever cringed in embarrassment after writing a fundraising appeal letter that fell flat?
We've all been there. It's a common challenge faced by many nonprofit organizations. Crafting compelling letters is an art, one that requires finesse and skill.
Unfortunately, even an AI prompt is likely to bring up something like this…
Dear Fill in Name,

Now in existence for over insert number of years, fill in name of organization continues to strive to expand its programs and offerings to the community. We hope that you will be able to take part in one or more of the many exciting events that we are offering this year and experience firsthand the pride we take in supporting our cause.

It is our mission to Insert Mission Statement. In order to meet our mission and provide services in our community, we rely on the generosity of individuals and businesses for support. Without the assistance of community-minded individuals just like you, we wouldn't be able to serve those in our community each year.

We ask that you make a commitment to support our annual appeal by making a cash donation. This year our goal is $ enter amount here, and we hope that you will be able to make a contribution. Your generosity will make a difference in our community by allowing us to continue in our work.

We have enclosed a donor envelope for your convenience. Remember that every donation makes a difference, regardless of size.

Thank you in advance for your support!

Sincerely,
Argh! In other words, all about how great your organization is — and nothing about what your supporter's gift makes possible.
But we've got the solution you've been waiting for – a donor-centered appeal letter template that will resonate with your supporters and drive real results. All you have to do is fill-in-the-blanks!
Download your Template below and follow along: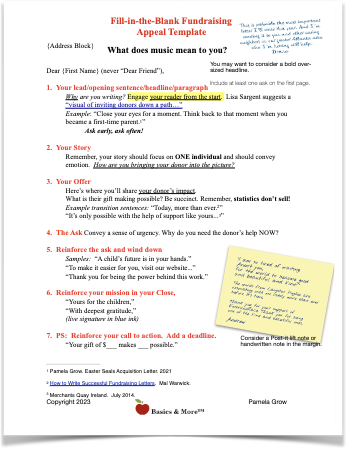 1. Create a Powerful Opening:
Hook your reader from the very beginning. Draw inspiration from impactful introductions like the one crafted by Jules Brown for an acquisition piece for Women's Aid: "Could you picture, for a moment, a woman on the brink of making the hardest decision of her life?" Find your own dramatic and exciting angle to captivate your audience.
2. Tell a Compelling Story:
As Jeff Brooks emphasizes in his book, "The Fundraiser's Guide to Irresistible Communications," stories are key. Instead of overwhelming your readers with statistics, focus on one individual's story that evokes emotion. Whether it's a sick child or a struggling family, stories humanize your cause and make it relatable.
3. Place Your Donor at the Center:
Your donor is the hero of your narrative. Show them how their contribution makes a difference. Paint a vivid picture of what their support achieves through your organization. Make them feel integral to the cause, reinforcing the notion that they are actively changing lives.
4. Highlight Impact:
Share your organization's impact, but remember, be concise. Avoid drowning your readers in statistics; instead, express your gratitude for your donor's support and emphasize the collective change they are making in the world. Personalize the impact to make it more tangible and heartfelt.
5. Reinforce the Ask and Close with Conviction:
Be specific and assertive in your ask. Clearly state what you need and how their contribution will create a meaningful impact. Avoid vague requests; instead, use language that assures donors of the direct effect their donation will have. For example, "Pamela, your gift of $20 will multiply more than 6 times to save starving children" (Food for the Poor, Inc.).
6. Don't Forget Your PS:
Your postscript is crucial. Studies show that over 90 percent of readers read the PS before the letter. Use this space wisely. Reinforce your message, restate the urgency of the cause, or express gratitude once more. Consider it the first paragraph, not the last, as Professor Siegfried Vogele suggests.
With this step-by-step guide and the accompanying resources, you are well-equipped to craft an exceptional fundraising letter. By focusing on powerful storytelling, donor centrality, and impactful communication, you can create letters that not only avoid embarrassment but also inspire action and make a genuine difference. Happy fundraising!
Additional Resources:
Need more? The following resources will guide you on the journey.
20 Ways to Make Your Donor the Hero: Stuck for phrases? Download this resource for creative ways to spotlight your donor as the hero.
1-Sheet Swipables: Need ways to thank your donor or infuse your close with donor love? Download Lisa Sargent's 1-Sheet Swipables, a copywriter's gratitude grab bag for you to steal with abandon.
Direct Mail Fundraising Masterclass: The most comprehensive direct mail fundraising class available online for nonprofits wanting to increase revenue and grow relationships by mail. Contains all new material on segmentation and personalization.