One of the tenets of Simple Development Systems is "you can't do it alone."  A successful fundraising program is built around a culture of philanthropy – and that means that everyone in your organization has a role to play.  But this isn't a "have to" or an obligation.  Quite the contrary, building a culture of philanthropy can and should be fun, and inspirational!
So when I learned about the Cara Program's daily "Motivations," I asked their Communications and Individual Giving Manager, Sarah Mansberger, to pen a guest post.   You'll love reading about how students, staff and guests share their stories about Cara's programs.  And it might give you an idea of how your own organization can practice a daily ritual of gratitude.
---
Hey there, small shop folks, neck sore from wearing too many hats?  Take a load off by working with your colleagues to build a strong culture of philanthropy within your organization.
Fundraising is a funny business.  Within social purpose organizations especially, fundraisers are often charged with the task of persuading individuals who do not benefit directly from the services their organizations provide to invest in their work.  Armed with stats and stories, we fire up our laptops, pull out our heaviest pens, pick up the phone, head to lunch, sit down for coffee and connect with individuals and institutions whose particular blends of social concern and business acumen marry well with our own.
As many healthy npo balance sheets attest, strong arguments for a compelling cause and a good story or two can go a long way to attracting donors.  But imagine what can happen to the health of your network and your bottom line when you catapult fundraising out of the realm of persuasion and into the realm of visceral, first-hand experience.
An experiential culture of philanthropy can take you there.
A culture of philanthropy is a product of organizational values, practices and communication patterns that create an environment where an organization's entire community – from donors, to clients, to staff, to partners– has ample opportunities to engage with the mission in authentic and meaningful ways.
My own organization, The Cara Program, is focused on building an experiential culture of philanthropy and welcoming our network into our training facility to participate in our mission.  The Cara Program is a Chicago-based workforce development organization that provides adults affected by homelessness and poverty with rigorous life- and careers-skills training, permanent job placement, and employment retention support.
We are known for our focus on metrics, but what resonates most deeply with people about our work is the life transformations that occur here as our 'students' (working-age adults affected by homelessness and poverty) progress through our training curriculum.
These life transformations are made visible during morning 'Motivations', a unique ritual that begins the day at The Cara Program.  Each morning, students, staff and guests gather in a circle in our Great Room and answer a question of the day, such as Who or what gives you great joy and why?  Or Talk about a time when your life took on a new beginning.  What positive impact did this have on your family?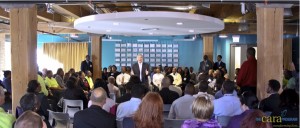 Students, staff, and guests alike dig deep and share incredible stories of personal growth and change.  At Motivations, you feel what we mean when we say "The Cara Program transforms lives."  You laugh.  You reflect.   You get choked up.  You jump in the circle yourself, become part of what happens at 'our house', and leave adrenalized by the sheer potential, hope, and resilience of the men and women you meet.
Motivations is the lifeblood of our organization and a reflection of the core lessons of our program philosophy and theory of change.  The ritual has evolved organically over The Cara Program's 21-year history and happens every day, regardless of whether donors are in house for a visit.  By opening Motivations to guests and supporters, The Cara Program has leveraged an existing element of our program to create an authentic way for supporters to engage with our mission.  In the process, Motivations has become the defining experiential element of The Cara Program's cultural of philanthropy.  Guests fondly recount their experiences in the Motivations circle.  They, too, are transformed by the experience and get motivated to get involved and bring others to see what this place is all about.
In an environment where many philanthropically-supported organizations find themselves in need of more effective and efficient ways to engage donors and donor prospects, a strong culture of philanthropy is essential, particularly in small development shops where resources, both human and capital, are already stretched thin.  Every organization has a ritual, program element, or practice that showcases what they do best and that could be reimagined as a vehicle for the organization's entire community – supporters, clients, and staff alike – to share in the most inspiring, transformative, beautifully human elements of their mission at work.  'Look with new eyes,' as we like to say at The Cara Program, and create opportunities for authentic engagement.  You'll set the stage for an 'ask' that will be hard to refuse.
Join The Cara Program for morning 'Motivations' any Monday-Thursday at 8:25 am at 237 S. Desplaines, Chicago, IL.  Send Sarah Mansberger a note (smansberger (at) thecaraprogram.org) and get ready to dig deep.  Visit www.thecaraprogram.org or check out The Cara Program's 20th Anniversary video to learn more.