Unless you're in the midst of it, it's hard to fathom the skill set required of a one-person nonprofit development and marketing department.  My own career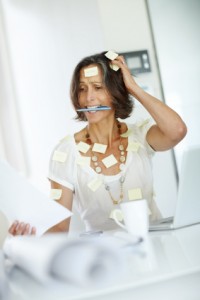 path has led me to positions where I was responsible for:
all content creation, including donor appeals, print newsletters, web copy, email campaigns, annual reports and more
website development and maintenance
graphic design
grant proposal writing and reportingmajor gifts
event planning
database management
and, of course getting those donor thank you letters out the door within the recommended 48 hours. 
Relax.  If there's one thing being a one-person development department (or a business owner, for that matter) has taught me, it's that everything — but everything — is figure-out-able.
Let that be your mantra.  Everything is figure-out-able (hat tip to Marie Forleo).
If you're doing it all, and cobbling together systems that include using excel for a database (horrors, we won't go there) and PayPal for accepting donations AND trying to get out your thank you letters within 48 hours, this tip can help you issue a prompt and heartfelt online thank you immediately following a gift (and maybe buy you an extra day or two to get your letters out).
Follow these instructions for creating a url that will redirect your donors to a custom thank you page once a donor has made a gift via PayPal.  Get creative — use video, staff or client photographs — make it heartfelt and genuine.