I'm a Food Network junkie and one of my favorite Food Network Stars has always been Paula Deen.  Paula's the Southern charmer who begins every recipe with either stick of butter or a cup of mayonnaise, throwing in plenty of "ya'alls" for good measure.
Why am I telling you this?
There's a great marketing lesson to be extracted from her story so a little bit of background –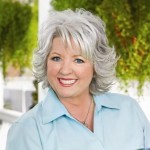 Already into her 40's when she got divorced – and agoraphobic to boot – Paula took her two sons and moved from Albany, Ga. to Savannah.  After a lot of fits and starts, including wrestling with some personal demons and learning how to leave the house, Paula become a self-made success story.  Starting with a tiny catering business providing lunches to businesses in Savanah, she eventually self-published a cookbook which caught the eye of a big-name NY publisher.
The rest is history.
What does this have to do with marketing??  Particularly marketing for my nonprofit? I'm getting there 🙂
Having an affinity for everything Paula, I subscribed to her email newsletter one day.
And then, bam!   Total disappointment…I felt bamboozled.
You see, nothing of Paula's charm, none of her "story" comes through in the emails.  Oh sure, there's her picture and usually a recipe (one that you have to click through to get), but, overall, the emails just scream out "buy my stuff!!!"
Hey, I'm not critiquing Paula.  On the contrary, I love her and her recipes and admire how she has bullheadedly built her business and her brand, starting out with literally nothing.  No doubt her loyal legions of followers are buying her stuff based upon her emails and that credit goes to Paula's sheer force of personality alone.
But, that's the point – Paula's bubbly, down-home personality and humor is nowhere to be found.  There's no "story" (the very thing that got me hooked and engaged) in any one of the emails.  Just a header featuring "Paula Deen's Store" and the latest pricey cooking tools giving one the impression that a "bait and switch" has just occurred.
Do you do that with your emails, letters and communications??
How much better would it be to open an email from Paula to get:
"Hey Pam:

Ya'all just know that the first recipe I got really famous for was blah blah blah.  The boys were little then and blah blah blah.

They were rough times.

I was working from 5 am until midnight.  Every day.  I wasn't around much and the boys were getting into some trouble.  Sometimes it felt like I was spinning my wheels.

But ya know, I look back on those days and I am laughin' so hard.  They were the best times – just like every day is the "best times" – when you make it so.

One of the recipes I made every day was blah blah blah.  Every single day.  To say that I got right tired of blah blah would be an understatement.  And it's the very recipe that everyone asks me about …"
Then the email would segue into a recipe, leading into the product/s of the month.
She could still make the sale while maintaining the relationship with her fans.
Big lesson – Your story is a vital component of the relationship you have with your donors. Any financial investments follow the emotional investments they make in that story!
Few businesses can exist without good marketing if they're NOT big enough.  How many abysmal television or print advertisements have you seen?  Even nonprofit organizations, when they're big enough, can prosper, with lousy marketing.  They've got an 85-year name brand behind them.
Several years back I worked with a national consulting firm, one with clients all over the country.  They had a contract with an organization national in scope with separate 501(3)3 local offices scattered throughout the country.
Talk about name recognition.
Bequest letters arrived with some regularity, even from individuals who had never appeared in our database.  Events were well-attended and received considerable press.
The consulting firm prepared an annual appeal for this organization.  It was just barely up-to-par with the standard "101 Fundraising Letters" prose.  A bunch of cut-and-paste phrases having scarcely anything in relationship to either the donor or the organization.  It was all "I, me, mine" and nothing about the donor.  Not one single story about any of the thousands of young people served.  No monthly giving mention.
Nevertheless it garnered a half-way decent return….based solely upon the organization's name recognition.  Imagine the results they could have received if they had put out an engaging, compelling appeal?
Chances are that you are one of the 83% of US nonprofits with budgets under $1 million.  You don't have the money for the same dry, didactic approached used by most nonprofit organizations.  Do you really want your annual appeal or web copy or email to go out sounding like 98.9% of the nonprofit organizations out there?  Or do you want to truly engage your donors to the point where they are sharing and reveling in your triumphs?  Would you waste the resources that you do have on tired old techniques that don't really work?
You've got to rise to the occasion.  You've got to be David and take on Goliath with this most powerful weapon in your arsenal – your story!