By Susan Schaefer and Bob Wittig, co-authors of Nonprofit Board Service for the GENIUS
---
We all have such lofty goals for our board. Some weeks, achieving a quorum might seem like an achievement! Small organizations have particular challenges since many board members are new to governance, and time or money may preclude formal training workshops or consultants. Thankfully, there are workarounds.
Grab Them While They're New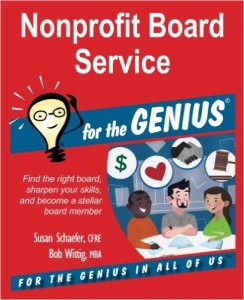 Think back to the first board you joined. If you attended an orientation at all, did it focus on governance broadly or topics specific to the organization, such as mission, programs and policies like "give or get"? Likely the latter. Most nonprofits make the assumption that incoming board members know what governance means. Yet, especially at small organizations, that is rarely the case.
Consider telling recruits during the interview phase that, should they be voted onto the board, they will be required to read a book about governance. Or watch a series of videos. Or view a webinar.
Ask that candidates read or watch your preferred choice before they attend orientation. At that point, they can ask questions about how your board executes its governance roles. The key is to state up front, during the interview process, that this self-education is a requirement for serving on the board. Set high expectations early.
Vet the Veterans
When you look around your board room, chances are that a good number of veteran members are also shaky about the group's governance responsibilities. In that case, consider reframing your board agenda to include 15 minutes per meeting dedicated to education. Early sessions can focus on an overview of governance. Ask your members to read or watch one of the same resources mentioned above. Later sessions can move on to more detailed topics such as risk management, executive performance evaluations or fundraising.
We have seen boards discuss chapters of books bit by bit, as a "board book club," or watch and discuss videos together. Conversations can include how the group can take what it has learned to strengthen its current work.
Don't Overlook Leadership
Let's face it, even some board chairs and chief executives can be shaky when it comes to the nitty gritty of governance. So, before your board peers begin the self-education suggested here, ensure that at least one champion of this issue can answer colleagues' questions and guide the conversation. If that person is not a board leader, then feel free to ask that person to facilitate. Otherwise, someone will need to dedicate time to brushing up on the material. The results will be worth it.