---
The wider adoption of monthly giving (also known as regular giving or sustained giving) in the United States could itself transform philanthropy.The lifetime value of supporters giving in this way is estimated to be 600 to 800 percent higher than the annual giving (also known as cash giving) (McKinnon, 1999).

    Growing Philanthropy in the United States, Adrian Sargeant and Jen Shang
Imagine that: monthly giving has the power to transform philanthropy! A longtime staple of fundraising programs in the UK, the word is out and monthly giving is beginning to take off in the United States. Hallelujah. If your organization has a branded monthly giving program, you're ahead of the game.
But establishing and growing your organization's monthly giving program goes beyond adding the option on your response device or online donation form. To truly grow your program takes a strategy, one that treats monthly giving as a program, rather than an afterthought. Are you factoring in at least one dedicated monthly giving asks in your yearly communication calendar?
I loved this direct mail monthly giving invitation from Save The Chimps. "Just $8 a month can buy bananas, vitamin supplements, and a soft, cuddly blanket for a chimp like Jaybee. Please help." Download the package, as well as my Monthly Giving Appeal Template from the Basics & More™ course, Nonprofit Monthly Giving by clicking the image below.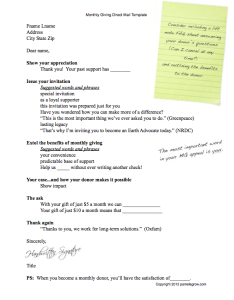 ---
Additional Resources
How to raise monthly donors on Facebook – yes, Facebook
Monthly Giving for the Small Shop – Interview with Harvey McKinnon
NonProfit Email Marketing: Is Your Organization Ready for an Email Monthly Giving Campaign?
On Demand Course – Monthly Giving | Basics & More™
Setting up your nonprofit's monthly giving? Start small, but DO START!
What's in my Inbox | Mercy Corps Monthly Giving Appeal
---