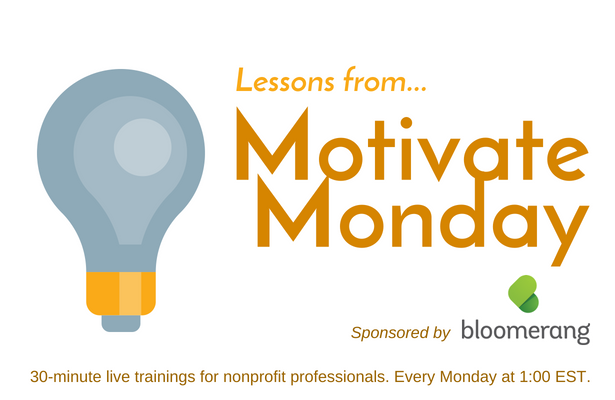 ---
When it comes to your donors, email is an amazing engagement tool. How are you creating a welcome email series for your new supporters? What steps are you taking? A carefully planned and executed series has the ability to not only create positive feelings but to encourage that a second gift.
In a Motivate Monday session digital marketing and fundraising expert (and all-around badass) John Haydon took center stage to share the how-to of this strategy. As a fundraiser, John has helped organizations raise big, including Komen Greater NYC and Twin Cities Habitat for Humanity, just to name a couple. He's the founder of Inbound Zombie, Inc., a social media marketing firm and consultancy, and he's the author of Facebook Marketing for Dummies, as well as a contributor to The Huffington Post. Over the course of a power half hour, John delivered his invaluable wisdom through his presentation, called Welcoming donors with email, which contains slides of an email welcome series he shares with all of his clients.
Like me, John is working with a retention mindset, and early on, he discusses seven key factors that influence donor retention. As you might imagine, a lot of it has to do with how the donor feels. You have the ability to inspire them to feel positively, and when you're successful in doing that, they'll stick it out with you. They'll feel inspired to keep on lending their support toward carrying out your mission.
So here's how it works, according to John: the first gift a donor makes should automatically trigger three emails that you've already created and set to launch. John goes through what each of those emails should look like in terms of the message's tone. He offers tips for timing in relation to when the gift was made, as well as guidelines for testing, so you can figure out what works best.
I highly recommend that you carve out a chunk of your day to listen to John's MoMon session in full, where you'll get all of the details. From the seven key factors of donor retention, to laying out your email series, to the question of whether you can actually thank your donors too often. It's all here, and then some. So grab your beverage of choice, sit back, and relax. You won't want to miss this one.
JohnHaydonWelcomeEmail
from
Pamela Grow
on
Vimeo
.