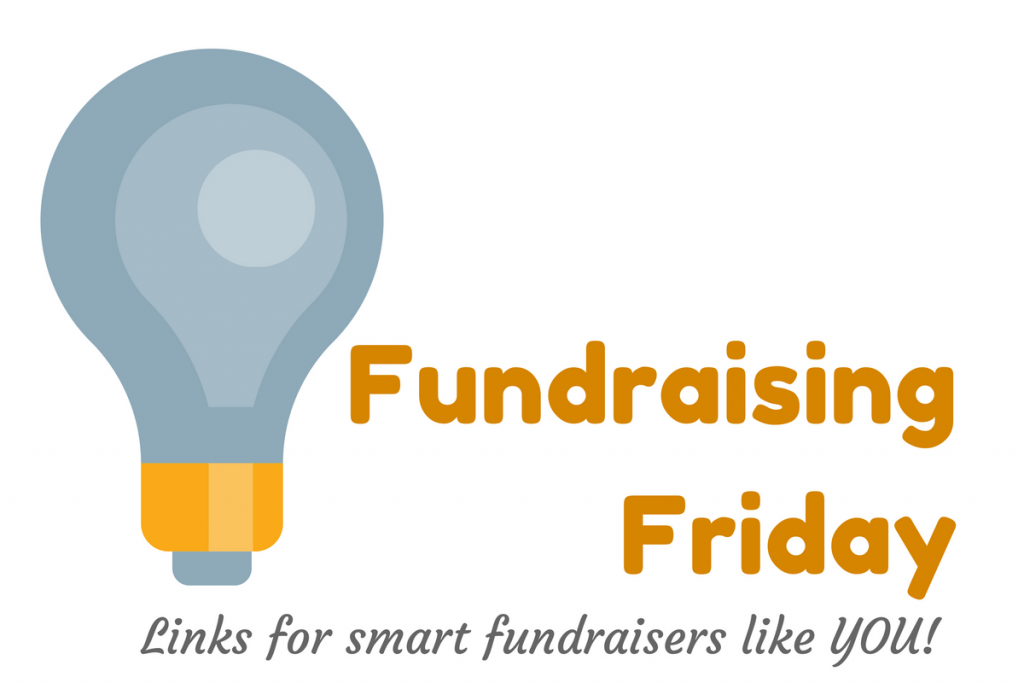 ---
Planning on doing a monthly giving email ask? See how one of my favorite organizations did it in this week's What's in My Inbox.
According to The Chronicle of Philanthropy, a shocking 51% of Fundraisers Plan to Leave Their Jobs by 2021. Why does it matter and how can you keep them? Download Encouraging Longevity in Nonprofit Development: What It Takes To Keep Your Development Director now.
This Outspoken Donor Says Philanthropy Must Change — Both Fundraisers and Donors. New from the Chronicle of Philanthropy.
The age-old question: should your major donors receive your regular direct mail fundraising appeals? New from Veritus.
Yesterday I had the great pleasure of meeting Twitter buddy Ephraim Gophin IRL In Modern Day Storytelling, Ephraim highlights some terrific takeaways from his Vegas AFP presentation and gives you a handy tipsheet too.
Our sector spends more time stepping over dollars to pick up pennies. Case in point: Amazon Smile. New from Jeff Brooks.
Archives
What if one of your organization's major donors turned out to be a pedophile? "Is all money good money?" On considering your gift acceptance policy…
Learning Opportunities
What really works in fundraising today? If you haven't reached your 2019 goals, how will you get there? A strong year-end campaign could do it, but only if you prepare and execute well. You can't do it as an afterthought.
In Foolproof Year-End Fundraising, you'll learn exactly what you need to do, when to do it, and how to it, to crush your year-end goals. We've brought together the absolute best of the best to deliver 10 premium webinars covering the basics (and more) of creating a kick-butt year-end campaign. You'll hear from a dynamic team, including Lisa Sargent, Denisa Casement, Erica Waasdorp, Robin Cabral, John Haydon and more, and they'll be talking topics and tactics that really matter…
From your organization's direct mail letter
To your online campaign and email series
To your social media campaign
To the followup that will bring your donors back — year after year
And much more!
And still, there's more! This year we're limiting enrollment for the Your Foolproof Year-End Fundraising program to only 100 organizations (and limited spots are left!). Why? Because I've joined forces with a team of the brightest experts in our sector. Together, we'll be focusing on each of you individually and giving you the kind of personal attention and feedback you need on critical issues like segmenting your data, writing your email series, and mastering your written appeals. Learn more and enroll now.
Free Downloadable Resources
Thank You Letter Template
Often copied, but never duplicated. Is your thank you letter doing all it should? The original Thank You Letter Template.
Monthly Giving Fundraising Appeal Template
You'll have your best success when you incorporate a strategic monthly giving ask to targeted donors by way of a direct mail or email campaign. To help you frame a donor-centered ask, download your Monthly Giving Ask Template.
100% Board Giving Letter Template
Easily attain 100% board giving with this easy to use guideline.
Donor Love 20 Ways Copywriting cheat sheet.
Fundraisers hear "put your donor in the picture." But how? Download this easy to use cheat sheet!
Mapping Your Donor Journey Template
What systems do YOU have in place to turn that new donor into a repeat donor? This handy little guide to designing your own new donor systems comes complete with examples. From writing the perfect thank you letter, to getting to know your new donor, to showing the impact of the donor's gift, and more, it's a roadmap — condensed and ultra-convenient.
Donor Communications Portfolio (12 touches)
Simple Development Systems recommends a minimum of 12 donor touches throughout the year. But for the busy nonprofit professional is that even achievable? Not only is it doable, it's surprisingly easy! Download our 12-Touch Portfolio to learn how.
Find more downloadable freebies by clicking here.