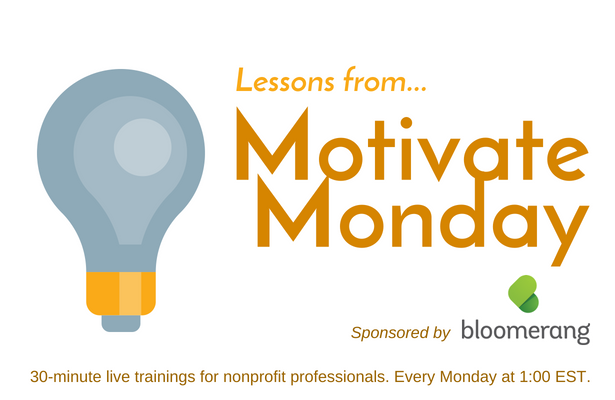 ---
Earlier this week, the incomparable Julie Cooper came through to deliver a jam-packed power half-hour for Motivate Monday. Julie is a copywriter who specializes in direct response fundraising writing. Her presentation comes as the perfect followup to Steven Shattuck's session about how to inspire first-time donors to give again.
Imagine a prospective supporter has learned about your organization, visited your website, and been intrigued enough to sign up for your organization's enewsletter. What comes next?
Well, if you've set things up right, your new subscriber will receive a Welcome email. But for many organizations, their new subscriber receives something like this:
Welcome to XYZ org. We are happy to have you as a member of our community. Your email address and interest preferences have been recorded in our database. In the future, you will receive periodic emails specific to your interests.

Privacy is important to us; therefore, we will not sell, rent, or give your name or address to anyone. At any point, you can select the link at the bottom of every email to unsubscribe.
Yikes. Not terribly inspiring, is it? 
Being the head of a small shop development and marketing department means that you need to seize every possible opportunity for relationship-building. But you've got this. And Julie's session is here to help you succeed. In it, she shows you how to greet your new email subscribers with a warm welcome, all by using a series of automated emails. Julie will give you a simple formula and template for writing the series. You'll inform, build trust, and encourage the new subscriber to take the natural next steps with your nonprofit…all on autopilot! 
Topics that Julie covers include:
What is an email nurture sequence?

Examples of email marketing services that provide automated sequences

A basic map of what a sequence should look like

How to deal with the reality of unsubscribers

A 9-Step Template for your Welcome Email

Lead magnets — what they are and how to use them

And more!
So carve a chunk out of your day, sit back and relax, and give this session your full attention. Gain access to Julie's template and her guide to writing an email welcome series by clicking here. To download the slides from this presentation, click here. Whether you feel you've got automated email sequences on lockdown or you're looking to get started, this Motivate Monday is one you won't want to miss!
Additional Resources
Why you need a new subscriber welcome email and examples of three great ones.
What's in my Inbox | A *before* and *after* welcome email
The late John Haydon shows you how to craft a welcome series following your donor's first gift.
Seven Communication Pieces Every Nonprofit Needs