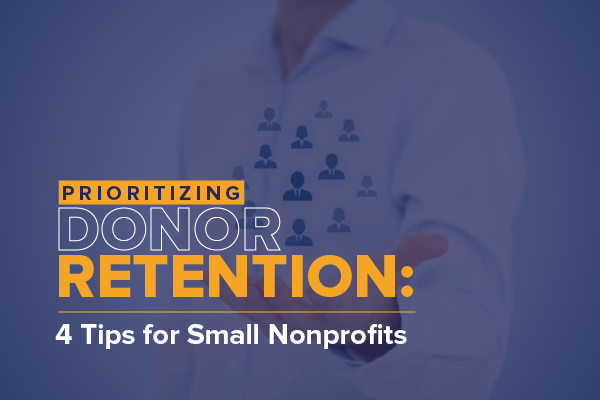 Almost every nonprofit is focused on growth. This means that fundraising professionals at small organizations often put a lot of time and energy into attracting new supporters, getting the organization's name out in the community, and otherwise working to expand the organization's brand recognition.
While this is a key aspect of growth, the other important part of effective growth is less widely discussed: donor retention. If you attract 50 people to give to your organization, but only 20 of them stick around for the future, your growth is pretty short-lived. This is especially true when you consider the fact that it can cost 50% to 100% more to acquire donors than the amount they end up giving.
Let's do some math to demonstrate this point.
Let's say you've amped up your acquisition strategy to attract 100 new supporters to give to your nonprofit. It costs about $75 to acquire each supporter and each one has donated $50 to your organization as their first gift. Then, 60 of these supporters lapse and 40 stay, increasing their gift amount to $75 each.
In the beginning, you've spent $7,500 on acquisition and earned $5,000. Then, you've retained 40 of these supporters and they've increased their gift amount, resulting in an additional $3,000 for your organization. At the end of the day, you've grown by $500. Now, imagine that you can increase that retention rate. If you retain 50 supporters, your growth jumps to $1,250!
As you can see, retention matters! It's the key to growth, especially for smaller organizations with a lot of potential. In this article, we'll dive into some of the top tips that can help your nonprofit increase its retention rate and continue growing. These tips include:
Emphasize relationships.
Explain the impact of donations.
Show appreciation for all contributions.
Provide additional engagement opportunities.
All of these strategies are backed by hard data. You'll find a number of statistics throughout this article that demonstrate how each of the strategies combats a common reason for donor lapse.
All of these strategies are backed by hard data from Bloomerang's donor retention guide. For a comprehensive look at donor retention and how to calculate it, read through that guide. For the purposes of this article, we've pulled out a few actionable strategies that small nonprofits can implement right now to start seeing results. Let's get started.
1. Emphasize relationships.
How many people do you call on the phone who you've only met one time? Would you write them a letter? Give them money? Chances are, you're much more likely to do all of those things for people you have an established relationship with.
It's the same for your nonprofit's supporters. Nonprofits that establish relationships with their supporters are more likely to maintain their engagement for the long-haul and earn their contributions, both now and in the future.
The best way to develop relationships with your supporters is to leverage the information you know about them to make better connections.
It's almost impossible to keep everyone's preferred name, contact information, and other relevant donor data tucked away in your brain, which is why a tool like a nonprofit CRM is so important for relationship-building. It stores all of the information you have about your supporters in a single location so that you can better leverage it to build connections. For instance, be sure to use this information to:
Include the preferred name of supporters in email salutations
Segment your supporters into groups and reach out to them with updates that are relevant to their interests
Track how often you reach out to your supporters to maintain consistent communications
When supporters don't have a connection with your organization or a relationship with your team, they are liable to start donating to another organization with the same mission (or another organization about which they're passionate). However, developing relationships with them will encourage supporters to come back again and again to your nonprofit.
2. Explain the impact of donations.
When supporters stop giving to a nonprofit, they do so for very specific reasons. A study by Dr. Adrian Sargeant determined reasons for supporter lapse. He found that 8% of donors stopped giving because they didn't know how the contributions were used and 36% because they thought others were more deserving.
To address this issue, your nonprofit should be sure to explain the impact of the donations made to your organization and how they relate to your mission.
Therefore, when supporters give to your organization and to specific campaigns, be sure to follow up with them to let them know the impact of those generous donations. Tell a story to show supporters how they've made a difference. For instance, consider the following:
Your contribution to the Swim with Dolphins campaign helped raise the $100,000 that makes our dolphin-assisted therapy program more accessible to kids like Timmy. Timmy found friendship with Flipper, our oldest and gentlest dolphin pal. By working together, Timmy has seen enormous strides in his therapy and can continue his treatment.
These messages are used to show your supporters what their gifts can do and shows the value of the organization, directly addressing two prominent reasons why donors stop giving to nonprofits.
You may decide to include this message as a part of your donor thank you letters to emphasize the direct impact of each specific donation. Your appreciation letters are a core aspect of your organization's retention efforts, as we'll discuss further in the next section.
3. Show appreciation for all contributions.
Another statistic pulled from Dr. Sargeant's study shows that 9% of supporters stop giving because they don't remember supporting and 13% because they were never thanked.
The first thank you message that donors receive from your nonprofit should be automatic, sent immediately after a contribution is made. However, a second follow up can stick out more to supporters, making it a more memorable experience for them to support your organization and showing genuine appreciation for their contributions.
There are plenty of opportunities to extend gratitude and show your supporters that you appreciate their contributions—you can find a great number of them in this guide. We've pulled together some of the best tips for smaller nonprofits like yours:
Write a letter. When you write a letter to your supporters, make the most of the opportunity. Leverage donor-centric writing styles to put your supporters at the heart of the message, showing them how much you care about their involvement.
Call your supporters. Your gut reaction may be to call this an outdated strategy. But in fact, nonprofits can stand out above the crowd by making simple phone calls after supporters give to say thank you and learn more about them. This is an especially effective strategy to reach brand new supporters.
Send additional information. Donors give to your nonprofit because they feel moved by your mission. Lean into this by further showing them just how important and impactful your mission is! In an appreciation email, send past newsletters, a welcome packet, or links out to relevant information about your mission so that they can learn more.
As a smaller organization, you might not be able to afford a major project like creating a donor wall or sending out large gift baskets full of expensive branded merchandise. However, that doesn't mean you can't communicate your appreciation with other equally significant strategies! Something as simple as a hand-written letter has the power to make someone's day.
4. Provide additional engagement opportunities.
The most common reason that supporters stop giving to nonprofits is because they simply can't afford it. Actually, 54% of supporters who stop contributing do so for this reason. But that doesn't mean they've run their race with your nonprofit!
Offer supporters multiple non-donation opportunities so that those who can't give right now can still stay involved and show their support. In the future, when they have some additional funds to contribute, you want to be the first organization they turn to donate to. Plus, their involvement with other activities can help support your mission in other ways. Consider the following:
Event attendance. Host events that are open to the public and encourage your supporters to attend. This increases brand recognition in the community and provides an opportunity for supporters to engage with your organization directly and learn about your cause.
Peer-to-peer fundraising. Even if a supporter can't give themselves, they can support your mission by raising funds from others! Ask your supporters to raise money on behalf of your organization in your next peer-to-peer campaign.
Advocacy participation. There are a number of opportunities and activities that can support your organization's mission. If you are involved with advocacy efforts, you might ask your donors to sign petitions, call legislators, and participate in social media movements.
Volunteering. Offer volunteer opportunities to engage your supporters and provide opportunities for them to give back without opening their wallets. Plus, these individuals may be eligible to receive volunteer grants from their employers. Double the Donation's volunteer grant guide explains that companies with these programs "provide monetary grants to organizations where employees regularly volunteer." That means you could still gain monetary support when eligible employees contribute their time!
By asking supporters to get involved with more than just donations, you'll drive their engagement with your organization and make them feel more connected to your mission as a whole. They'll feel more like an integrated part of your team than an ATM you use for funds.
While many nonprofits jump straight to their acquisition strategies when considering how to grow their organization, this is only half of the equation. You'll make a bigger splash if you're also able to retain the donors that you acquire.
You don't need fancy technology or a lot of resources to build an impactful retention strategy. These four tips are perfectly tailored to help small shop nonprofits increase their retention rate, build relationships, and grow as organizations. Good luck!
---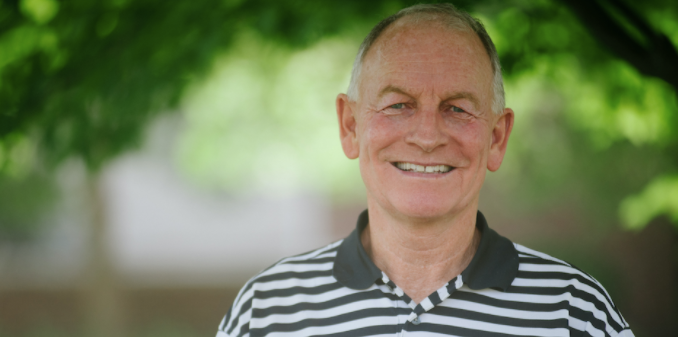 Author: Jay Love
Co-Founder and current Chief Relationship Officer at Bloomerang
He has served this sector for 33 years and is considered the most well-known senior statesman whose advice is sought constantly.
Prior to Bloomerang, he was the CEO and Co-Founder of eTapestry for 11 years, which at the time was the leading SaaS technology company serving the charity sector. Jay and his team grew the company to more than 10,000 nonprofit clients, charting a decade of record growth.
He is a graduate of Butler University with a B.S. in Business Administration. Over the years, he has given more than 2,500 speeches around the world for the charity sector and is often the voice of new technology for fundraisers.