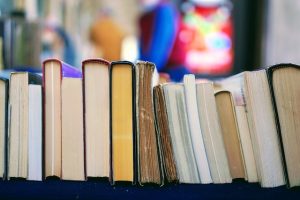 ---
What are the nonprofit fundraising and communications books you turn to, time and time again? Those books that may have brought about a shift in thinking or a new way of doing your work?
These are the books that line my bookcase. What's your favorite? And which books are missing from my shelf? (Note: contains affiliate links)
Fundraising for Introverts by Brian Saber
If you're an introvert and you've ever felt overwhelmed or anxious about the prospect of raising money for nonprofits, Fundraising for Introverts: Harnessing Our Powers for What Matters is an absolute game-changer. In this insightful and empowering guide, Brian Saber taps into the unique strengths of introverts, transforming what might seem like an intimidating task into a fulfilling and even enjoyable experience. Read my review.
Creative Deviations, How you can infuse your story-telling, fundraising and direct response with more creativity by John Lepp
For years, my go-to bible for direct response was Denny Hatch's Million Dollar Mailings. But that was before John Lepp's brilliant Creative Deviations available from Hilborn's Civil Sector Press.
In John's words, it's "an anecdotal and thoughtful how-to guide to help you become more creative. It's part graphic design, part design-thinking, part storytelling, part strategic thinking and part love note to you amazing humans who work so hard for your causes, your donors, your mission, and your desire to contribute and make positive change in our world."
I find it difficult to express in words how invaluable I know this book will be to every direct response fundraiser. And that's because it is so very unique. What I can tell you is that you'll be thinking differently about every aspect of your next mailing. From your envelope to your letterhead to your stamp to your signature. Creative Deviations isn't a book you read. It's a book you'll be referring to every day. See John talking about Creative Deviations in his MotivateMonday book launch.
Donor-Centered Leadership by Penelope Burk
Yes, donor-centered fundraising is the key to your organization's long-term sustainability. But how, exactly, do you get from point A to point Z? Burk shows you what it takes to hire, train, and retain top people and build healthy fully functioning nonprofits. Over the years I've purchased this book more than once for clients who are looking to build a robust individual giving program. It's more relevant now than ever before. Donor-Centered Leadership (Amazon link)
Train Your Board (and Everyone Else) to Raise Money: A Cookbook of Easy-to-Use Fundraising Exercises by Andrea Kihlstedt and Andy Robinson
Whining about our boards. It's become an Olympic sport. I hate to break it to you, but in a healthy organization it's the job of the executive director and development director to firmly, but gently, guide your board in the direction of good fundraising. That doesn't mean pulling in a consultant once a year for a pep talk at a board retreat. It doesn't mean asking your board members to share a list of contacts. What it does mean is creating a consistent plan to implement short trainings throughout the year to bring your board members (and everyone else) on board. Train Your Board gives you the tools and I'm thrilled to report that it's been reprinted and can now be found at Hilborn's Civil Sector Press.
Storytelling in the Digital Age: A Guide for Nonprofits. Julia Campbell
I love storytelling and I love Julia Campbell. Whether you're a seasoned storyteller or you're just beginning to test the waters, Julia Campbell's book, Storytelling in the Digital Age: A Guide for Nonprofits, is a necessary guide. She delves into the timeless concept of storytelling, an already invaluable tool for nonprofits from all walks of life, and then adds additional layers of both relevancy and usefulness by providing a reasonable roadmap for digital navigation.
Fundraisers Guide to Irresistible Communications by Jeff Brooks
I am a huge fan of Emerson & Church (now Hilborn's Civil Sector Press) for their no BS, succinct (most weigh in at around 100 pages), and eminently readable guides.  This one, from Jeff Brooks, is a gem that belongs on every fundraiser's bookshelf. Fundraisers Guide to Irresistible Communications. Oh, and if your organization is about to spend an insane amount of money on "re-branding," [insert major eye roll emoji here] do yourself a favor and read Jeff's The Money-Raising Nonprofit Brand: Motivating Donors to Give, Give Happily, and Keep on Giving before you do.
How to Write Fundraising Materials That Raise More Money: The Art, the Science, the Secrets by Tom Ahern
Writing persuasively. Losing the jargon. This is still my go-to book whenever I'm stuck.
Making Money with Donor Newsletters by Tom Ahern
There's real money to be made in mastering print donor newsletters. Before you deride print as old-fashion, know that print donor newsletters are the biggest contributors to legacy giving and retention. Master communicator Tom Ahern shows you you how.
Revolution in the Mailbox: Your Guide to Successful Direct Mail Fundraising by Mal Warwick
Still my bible for nonprofit direct mail fundraising. Revolution in the Mailbox.
Keep Your Donors: The Guide to Better Communications & Stronger Relationships by the late Simone Joyaux and Tom Ahern
Your guide to developing a plan of donor communications that takes you from the first gift to the final bequest gift.
Relationship Fundraising:  A Donor-Based Approach to the Business of Raising Money by Ken Burnett
Donor-centered fund-raising is the only honest way to sustainable fund-raising. Ken's book guides you gently toward understanding exactly what donor-centricity is and why it matters. A "must have" for your fund-raising library. Relationship Fundraising:  A Donor-Based Approach to the Business of Raising Money by Ken Burnett.
Monthly Giving:  The Sleeping Giant by  Erica Waasdorp
I was five pages into Erica's book when I picked up the phone to call her and rave about this book.  Monthly giving has the power to transform your fundraising. This book, and Erica's follow-up, Monthly Giving Made Easy: A How-To Guide, will guide you step-by-step through the processes of developing and growing your program.
Influence, New and Expanded: The Psychology of Persuasion and Pre-Suasion: Channeling Attention for Change by Robert B. Cialdini
Building a strong individual giving program by way of donor communications is your surest way to a strong core of general operating support. If I could only choose to keep two books in my library, I'd go with Influence and Pre-Suasion.