Are you in the midst of drafting your organization's year-end appeal?
I'm working on a number of  appeals right now – and, as you might imagine, my mailbox is filling up with year-end appeals as well.  Without fail every single letter (and one brochure) has made me throw up my hands and yell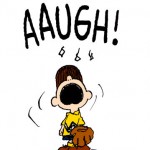 Why?  They're missing the basics.  As fundraisers, truly understanding donor centricity is key in everything we do, from our appeal letters to our foundation grant proposals to our web copy to, more importantly than ever, our social media.  

Don't mistake being donor-centric for tossing in a few "you's" here and there, like this letter from my local library did:

Dear Friend of the Library: (what? they don't know my name?  I've given every year for the past five years)
Have you been to the XXX Library lately?  It continues to be a busy and wonderful place, whether you are taking out books or DVDs using the computer, or just browsing.  Perhaps you enjoy relaxing with a magazine in our Reading Room or participating in one of our successful programs:
the XXX Poetry Contest for adults, teens and children,
diverse programs for children including multi-cultural events, the Science in the Summer Program, and Story Hour
adult education including one -on-one literacy tutoring, GED preparation, and English as a Second Language.

Have you met our new Head Librarian?  Jane Doe came on board a year ago.  Her creativity, knowledge, and experience as reference librarian have added immeasurably to our Library.  We are very fortunate to have a stable and dedicated staff working with Jane and our patrons.  Their warm, personal touch makes the XXX Library a place worth visiting again and again.
I won't continue, but I think that you get the gist.  They mean well, truly they do. But despite a few "you's" thrown in for good measure, this letter is still all about them, them, them.
Remember my mantra:  when your focus is on your donor the money will follow.
And don't forget emotion.  Today's SOFII news contained the following gem:
'I will always remember Indra Sinha's tip for copywriters : "Don't start by writing. Start by feeling. Feel, and feel passionately, and the emotion you feel will come through the spaces in between the words."
---
Struggling with your nonprofit's appeal?  Download Simple Development Systems and learn why one reader wrote:  I just purchased your Simple Development Systems last week–I wish I would have found it 5 years ago when I took this job.  It's wonderful!  One of the most challenging aspects of working in a very small development department is focusing your efforts in the places that will have the largest impact.  There can be a lot of distractions and "fires" that gobble up your day.  This easy-to-read and implement guide has helped me to fine tune my plan for next year.  I'm confident that this is a resource that I will grab again and again in the future.