Are you familiar with the Grimm's brothers tale, The Shoemaker and the Elves?
Once upon a time there was a shoemaker.  He was a hard-working, honest bloke, but he still couldn't earn enough to support himself and his wife.  He reached the point where his cupboards were bare and all he had left in the world was enough leather to make one pair of shoes.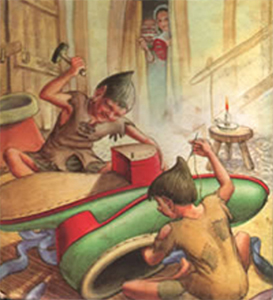 The shoemaker cuts the leather for a new pair of shoes to make in the morning and he and his wife say a prayer and retire for the night.  Miraculously, the next morning the pair awaken to find a beautifully made pair of shoes, so fine that the shoemaker is able to charge twice his asking price.  He's able to buy enough leather for two more pairs of shoes.
This continues for some time.  Whatever the shoemaker lays out the night before is transformed into exquisite shoes by the next morning, and his reputation gains far and wide.  Now, with Christmas approaching and the pair once again enjoying prosperity,  the shoemaker and his wife decide to learn who has been helping them.  That night, after cutting out the leather for several pairs of shoes, the pair hides and watch as two tiny naked elves arrive and set to work.
Deciding to pay it forward, the shoemaker and his wife decide to gift the elves and spend the next day stitching fine sets of tiny clothing.  They watch that night as the delighted elves try on their new clothes and dance out the door…never to be seen again.
Are you waiting for some magic elves to pay your organization a visit?  Perhaps a foundation to turn up with a large grant that will tide your programs through for another few months?  Or the major donor with the deep pockets who will miraculously fall in love with your mission, despite never having been cultivated in the first place?  Scraping by on a wing and a prayer, year after year, or hiring development director after development director and expecting her to perform miracles, without funding or collaboration from your staff and board, will only continue your starvation cycle.
Funding your mission doesn't happen by osmosis, or magic elves.  To develop the kind of funding base that allows you to accomplish and grow your mission, smart organizations must view fundraising as their number one priority.  That means that everyone, from the board members, to the CEO, to program staff, to volunteers participate in a high quality, consistent training program.  It means budgeting for training and funding your development department. It means understanding that your donor is front and center of all that you do.
If you're not committed to funding your mission, you're not committed to your mission.  No elves are coming to your rescue.