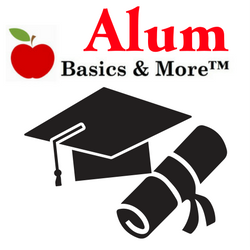 Recently I had the privilege of interviewing Michelle Brinson of Nashville Rescue Mission about the outstanding work she is doing on the organization's newsletter.  Michelle was a recent participant in our Nonprofit Newsletters | The Basics & More course — but she already knew the power of donor newsletters.
---
Q.  Michelle, tell us a little bit about Nashville Rescue Mission and your job. What's your background and when did you start? Tell us what the newsletter looked like when you came onto the picture.
A.  Nashville Rescue Mission opened in 1954 to provide food, clothing and shelter to homeless men in the city of Nashville. Over the years, the Mission expanded to provide more and more services to homeless men, while also adding services for homeless women and children. In 2012, the Mission served over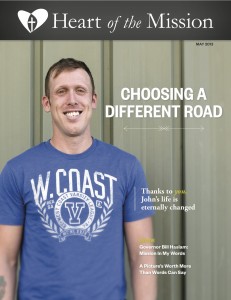 665,000 meals and provided over 220,000 nights of safe shelter to those in need. The Mission doesn't receive any government funds and in fact, over 85% of funds come from individual donors. The Mission exists simply through the generosity of donors.
I have over 20 years of experience in marketing. I've worked several different types of companies, including advertising agencies, publishing companies and nonprofits. Over time, I developed a passion for sharing stories. Everyone has a story. My desire is to share "the story" in the most compelling way possible. I truly believe this is what motivates most people to give or buy.
I started working for Nashville Rescue Mission in 2008. My focus then and still is, to tell the Mission's story. So what does that mean? Well, because of the support of donors, the Mission provides services that change people's lives. We are talking about lives changed from homeless to hopeful, from addicted to recovered, from broken to made whole. The people who support the work of Nashville Rescue Mission want to know, and need to know their gifts make a difference in the lives of people who are hungry, homeless, hurting and in need. My job is to make sure these stories are told in newsletters, annual reports and any other marketing communication pieces (including press releases, emails and on the web).
When I first started working for Nashville Rescue Mission, the newsletter was mailed out monthly to around 40,000 donors. It was black and white with one color, typically used in the masthead and headlines. In those days, many believed if the newsletter looked too good, donors wouldn't give. Over time, we added more color, updated the look, increased visuals, told stories in a more compelling way and really focused on thanking our donors. It definitely is a donor-centered piece and not necessarily a fundraising piece. All calls to action are soft. This newsletter is a team effort involving myself as the writer, an extremely talented graphic designer, good data and lots of proofing and input from others in our organization. We strive for excellence in everything we do.
Q.  You've shared some pretty impressive numbers. My understanding is that Nashville Rescue Mission's newsletter brings in around $2 million a year. Can you tell us about who your audience is, how you mail your newsletter, if you have a set formula, how often you mail, etc.?
A.  Nashville Rescue Mission's print newsletter is an 8-page, 4-color with full-bleed newsletter that is mailed monthly to donors who give frequently and consistently to the Mission.
This year, the newsletter will likely break $2M in revenue. In total, cash revenue for the Mission is a little over $9M. There's a lot at stake with the print newsletter. I can't say it's a science really, but over time, we have refined the process.
In terms of audience, the Mission's database administrator could give more in depth details, but what I can tell you about the audience is it is mailed to those who give on a consistent basis. The mailing averages from 55K to 75K donors, depending on the month. The quantity is increased during the major holiday cycles, which are typically Easter, Thanksgiving and Christmas. These are the times of year when most people generally think about helping the homeless.
The Mission used to do a lot of things in house in terms of mailing, response cards, envelopes and things like that, but now a local printing company does the printing and mailing from start to finish. The Mission provide them with the data to create customized response cards prefilled with the donor's information and suggested amounts based on previous amounts given.
Q.  How do you find the stories for NRM's newsletter? How many stories are used in each newsletter, and do you have any sort of system to repurpose the stories on your website, enews or on your social media accounts?
A.  Stories are certainly not in short supply at the Mission. Lives are changed daily at Nashville Rescue Mission. Since each newsletter typically has a focus, for example, August would likely focus on back to school and November would focus on Thanksgiving… I like to look for stories, which are somehow tied to the theme or focus for that month. I depend on everyone who works with the Mission's guests, clients and volunteers to be my "eyes and ears." I'm constantly in communication with numerous staff members who can help me find specific stories.
The Mission's newsletter does follow somewhat of a set structure. The front cover and center spread are the lead story. It's typically 800 to 900 words, has lots of photos and pull quotes. Page two is a letter from our President and CEO, Glenn Cranfield. There is usually a special message or call out below his letter… whether it's a need for water in summer or a quote from a graduate. This area changes each month.
Page three is an article entitled "Mission In My Words." This article is from the perspective of someone who has notoriety, celebrity-status and/or is well known and respected in the community. Past examples would include the Mayor of Nashville, the Governor of Tennessee, TV Anchors, Phil Keaggy, Scott Hamilton and Dave Ramsey, just to name a few. In many cases, I will interview the person in order to capture their voice, then ghost write the article for them, which they then approve.
Page six is used in a couple of different ways. Sometimes it's a special focus on what's happening in the homeless community. For example, in the summer, there is always a need for water. We also present the community with actionable things they can do to help the homeless during the hot summer season or the cold winter months. This page has also been used to share short success stories. Recently, we featured a story on Martin, who at 49 received his GED while participating on the Mission's program for those dealing with addiction. It changes from month to month.
Page seven is usually a volunteer story. While the majority of volunteers serve in the kitchen, I will frequently share stories of people who volunteer in other areas using their specific gifts in different ways. For example, the Mission has a strong education program and there are several volunteers who teach and tutor students on a regular basis. There are other volunteers who teach computer classes or lead Bible studies. These stories are a great way to connect donors with the things going on at the Mission outside of feeding the homeless.
The back cover is more visual and frequently focuses on upcoming events. If it doesn't feature an event, then we'll use the space to share specific needs. For example, at Thanksgiving, the space is used to list the food items needed for the Great Thanksgiving Banquet.
I'd also like to add that the mailing envelope has a black and white photo of whatever cover image is used, along with the lead story headline. Printed at the bottom on the outside of the mailing envelope are the words "Newsletter Enclosed" to distinguish it from regular mailings.
In terms of repurposing content, I will edit several of the stories down for use online. These stories are then featured on the Mission's home page with a large visual linking to the story. I've been adding a call to action at the bottom of the story, since the website is geared more towards those who are new to the Mission.
I will usually pull two stories from that month's newsletter for the monthly email blast. We have a solid list, but I'd really like to see it grow. We are looking at ways to grow the list and considering increasing frequency.
We have a full-time person who started working at the Mission about five months ago who handles all social media efforts. She repurposes the content for use in the social media world.
Q.  What types of reactions do you receive from your donors on your donor newsletter?
A.  This is one of the most rewarding parts of my job. I love it when we get a letter from someone who has read a story and was so affected by it, they took the time to not only send in a donation, but also share something about the story or person that touched them. I've had churches send me copies of their newsletters or bulletins, where they've pulled stories from the Mission's newsletter to share with their congregation.
Just recently, I received an email from a local health and wellness magazine letting us know they were including a story in their upcoming magazine. I've even had some of the men and women featured in a story come back and tell me someone who got the newsletter and sent in a donation recognized them in a store or on the city bus. It's really exciting because I realize some people might think these stories are made up and that we use stock photos. This couldn't be further from the truth. Every story is someone's story. The hardest part for me, is editing the story down. I want to tell everything.
Q.  Do you work with an outside designer? Do you have any tips for our readers on photographs or printing?
A.  We do everything in-house, except for the printing and mailing. The Mission's marketing team consists of a graphic designer, a writer (me) and a social media specialist. We are dedicated to sharing the success stories of the lives changed through Nashville Rescue Mission.
In terms of tips for photographs… I strongly recommend a great camera. While none of us are professional photographers, we all have strong photography skills and know what types of pictures we are looking for. Photos are usually taken after I've drafted a story so we know what types of photos to take. The graphic designer is normally the one who takes the photos, since she's the one who will visually layout the newsletter. She will consider placement of headlines and such when taking the photo to allow proper space.
In terms of printing, I haven't been as involved in that process as I would like to be. The graphic designer is the one who manages that relationship, but I have gotten more involved over time. Based on what I know and past experiences, it's imperative to have a good working relationship with your printer. Many times they can provide you with great ideas, ways to improve or save money. It's a valuable relationship. I know one of the things I really like about the current printing situation is the fact they can custom print our reply cards based on data given to them. I don't know the nitty-gritty details, but I do believe it helps tremendously with improving donations when the lowest amount on the card is based on past giving history as opposed to generic numbers.
Q.  Anything else you'd like to share with our readers?
A.  I think it's critical to have a passion for the story you're telling. If you don't, the reader won't feel it, be inspired by it or moved to do something about it. It will fall flat.
Don't be afraid of editing. I used to take it very personally when someone suggested changes to the story. I had invested time in the interview, with the person and felt obligated to share their story. But once I took a step back and realized the purpose behind the story is to compel the reader to act, it helped me regain focus on how I should approach storytelling. It's not important for the reader to know every single detail. My goal is to paint a picture of what this person's life was like before they came to the Mission, what happened that changed their life while staying at the Mission and what their life is like today. Seeing a progression from homeless to hopeful is inspiring.
In terms of success stories, you won't read stories I've written that say "We did this," or "We did that," or "Nashville Rescue Mission did this." Instead, you'll read stories that talk about the lives that are changed as a result of gifts from donors. Donors are the life-blood of the Mission's organization and probably almost every nonprofit unless they live off grants or federal funds. The Mission does have some strong grants, but again, 85% of donations come from individual donors.
I think the reward of giving is knowing someone's life is changed by the gift. I believe I have an awesome responsibility to share the story and it is unbelievably rewarding. I am truly blessed to get to do what I do for a living.
---
Michelle was a student in our Donor Newsletters | Basics & More™ class. Learn more and enroll here.
---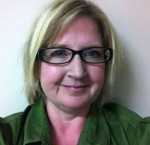 Michelle Sanders Brinson is a compelling writer and marketing communications expert. Utilizing interactive, digital and traditional media, she has mastered the art of storytelling—successfully sharing the stories of publishing companies, record labels, service-based businesses, nonprofits and advertising agencies with audiences across the country.
Brinson works in marketing communications as a writer for Nashville Rescue Mission, a nonprofit organization dedicated to helping the hungry, homeless and hurting in Middle Tennessee. She has a passion for those in need of hope and enjoys sharing the inspiring stories of lives transformed through the work of the Mission.
Brinson has over 20 years of experience spearheading result-driven marketing, advertising, communications, promotions and customer relation's campaigns and holds a bachelor's degree from Middle Tennessee State University. She is a freelance writer, author and editor. She has written for several magazines, publications and blogs and is currently working on her first book.