December is just around the corner: Are you ready for #GivingTuesday?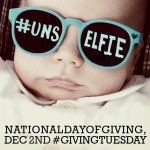 Since its inception in 2012, this annual event on the Tuesday after Thanksgiving (December 2nd in 2014) reminds donors to give back with gratitude. While the idea behind Giving Tuesday is simple — a day set aside for individuals, families, and businesses to give generously to those in need — ensuring that this relatively new event is a successful one for your organization takes a bit of preparation and planning, especially when it comes to your online giving.
Online Giving: Six Percent?
Considering that 88 percent of Americans talk with friends online, 78 percent read the news online, and 61 percent do their banking online, you might think that non-profit organizations get most of their donations online… right? Well, not exactly.
In fact, the Online Fundraising Scorecard, a 2014 study by Dunham+Company, found that despite widespread Internet use, only 50 percent of Americans had donated online — meaning that online giving adds up to less than 10 percent of total charitable giving, or a mere 6 percent of most charities' income. Why?
A few common reasons stand out from the survey, notably:
• Providing email sign-up offers that aren't exclusive or that are of little interest to potential donors
• Not personalizing the "to" line of emails with first and last names
• Not following up with new subscriptions/leads within 30 days
• Not making an ask within 90 days of sign-up
• Not optimizing donations sites for mobile viewing
The good news? All of these issues can be solved! Learn more about how your non-profit can benefit from the information gathered through the study in my free recorded Simple Development Systems webinar.
Mystery Shopping
I decided to do a bit of reconnaissance on my own, as well. In March, 2014, I started making bi-weekly online donations to random organizations in my database in order to test donor experiences; for each transaction, I recorded a few observations, such as ease of transaction, how many clicks it took to make a donation, and what happened (or didn't happen) after I made a gift.
I gleaned some interesting best practices through my "mystery shopping" experiment; for instance, the most successful transactions were those that:
• Customized the donation process to make it simple and seamless
• Offered a quick, personalized response, like a thank-you call or email within hours or days
• Made it easy for donors to choose gift options (recurring? one-time?) and sign-up for continued engagement, such as a monthly newsletter
You can read more about my "mystery shopping" here.
Lessons Learned
When put into practice, the lessons obtained from the Online Fundraising Scorecard study and my own experiment can significantly impact online donations. Case in point: Brittany's Hope Foundation, a Simple Development Systems member.  When this non-profit, that works to facilitate the adoption of special needs children around the world, put these best practices into play and increased online donations by 1400 percent (yes, you read that right!) over a two-year period. Watch the free video here.
Though #GivingTuesday is just around the corner, you still have time to implement some of the lessons learned and increase your organization's online giving. Want to learn more? Watch for my next Basics & More course, Target Your Year-End Goals, when you'll learn how to maximize #GivingTuesday and your year-end giving. Coming next week.