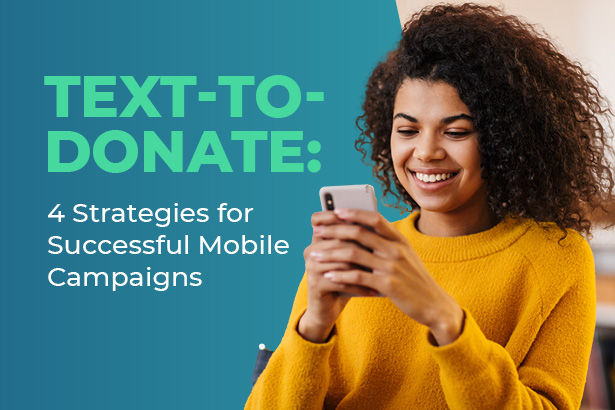 ---
Text-to-donate is a powerful fundraising tool that thousands of nonprofits are using to overcome the physical distance between them and their donors. In 2019, mobile giving accounted for 33% of online donation transactions, and three years later, this number is continuing to rise thanks to convenient giving methods like text donations.
If you're looking to break past your nonprofit tech barriers and enter the mobile giving realm, we've got you covered! Text-to-donate allows your supporters to give directly from their smartphones, and the process is incredibly straightforward. 
You select a text-to-donate platform, which will assign your organization a unique phone number. Choose a keyword and share this information with your supporters. Donors will then text the keyword to your designated phone number and receive a link to your mobile-responsive donation form, where they safely submit their gifts. It's that simple!
While the process is straightforward, there's a lot of work that goes into these campaigns. Text giving has the power to supercharge your current fundraising efforts — but only when implemented effectively. So you can head into your next text-to-donate campaign with confidence, we'll cover four easy tips that will make your strategy successful:
Create a donation form that stands out.

Proactively share your text-to-donate information.

Combine text-to-donate with other fundraisers.

Follow up post-donation.
Text-to-donate can be wildly beneficial if you put it to good use. Ready to master the process and reach your donors in an exciting new way? Let's dive in.
1. Create a donation form that stands out.
First and foremost, you need a mobile-responsive donation form that drives conversions. Submitting the donation is the point in the process when donor engagement is at its highest, and the last thing you want is to drive prospects away in the final few moments leading up to a gift.
Donately's guide to online donation tools and best practices explores several strategies any organization can implement, including:
Keep it simple.

A minimalist design will eliminate distractions and help prospective donors focus on the task at hand. Generally, you'll want to limit the number of fields to only capture the most essential information. This includes details like contact information and payment details. You'll also want to cut down on the number of visual elements. Not only will more elements distract the user, but they'll generally slow down the page, which makes for a frustrating user experience.

Brand it to your organization.

Customize your donation form so that it effectively conveys your brand. Use an original banner image and your organization's color scheme, and place your logo in a prominent location (such as the upper lefthand corner). If users think they've somehow ended up on an untrustworthy external website, they won't want to submit their private payment information and will likely abandon their donations altogether.

Capture long-term support with recurring gifts.

Recurring gifts are one of the best ways to encourage deeper involvement through your text-to-donate campaigns.

Double the Donation's nonprofit fundraising statistics

indicate that recurring donations grew 40% over the past year as nonprofits are increasingly adopting this method. Prominently display the option on your form by allowing prospects to opt-in for

yearly or monthly giving

with a single click. Those who feel strongly about your cause will appreciate the convenience of not needing to resubmit their information regularly.
There are a number of ways you can optimize your giving form and ensure your prospects complete the text-to-donate process. While this is the final stage before securing a donation, it's arguably the most important and should be your first priority before kicking off your campaign. A mobile-responsive form is certainly an effective start, but going the extra mile will make your donation form stand out and keep donors invested until they hit "donate."
2. Proactively share your text-to-donate information.
There's no one "right" way to market your text-to-donate campaign. Like all other initiatives, effective outreach methods vary across organizations and depend on your unique audience's preferences.
Your best bet is to develop a multichannel approach where you combine various platforms to reach a wider audience. A few cornerstone platforms to consider include email, social media, and direct mail. Pay special attention to communication platforms that have been historically effective—whether traditional or digital. 
Then, develop effective promotional announcements by taking these tips into account:
Outline the process for donors.

Whether this is your first text-to-donate campaign or your tenth, you should share how it works with your donors. Supporters who aren't tech-savvy might be intimidated by the process or may think it's unsafe, so taking the time to outline it step-by-step can ease their concerns.

Ask supporters to share your keyword and number.

Nothing quite matches up to the effectiveness of word-of-mouth marketing. Encourage your board members to add your text fundraising keyword and phone number to their email signatures, and ask supporters to share this information with their friends and families. Even something as simple as hitting "share" on your posts can make a huge difference.
Regardless of the types of promotional messages you share, make sure to add your designated phone number and keyword to all messages to increase campaign awareness. Emphasize the simplicity of the process. By sharing this convenient new way of accepting donations, more donors will be inspired to give to your cause.
3. Combine text-to-donate with other fundraisers.
One of the incredible benefits of text-to-donate is that it can be hosted as a standalone fundraiser or joined with another campaign. Pairing it with other fundraisers enables your team to capitalize on the natural excitement of other campaigns (like peer-to-peer fundraisers) and events (like galas or races). In other words, you have the potential to drive even more donations than you would without text giving.
While many of your events may still be held online right now, there's a handful of ways you can effectively tie text-to-donate into your other fundraisers. For instance, try out the following:
Use text-to-donate as a form of registration for your event.

Promote your phone number and keyword during the event for additional donations.

Ask your volunteer fundraisers to advertise your text-to-donate information when promoting your peer-to-peer campaigns.

Add your phone number and shortcode to other donation appeals, such as your fundraising letters.

Offer it as an

easy way to donate

during your larger fundraising initiatives, like Giving Tuesday.
Getting creative with combining fundraisers enables your team to capture more donations and drive deeper donor engagement. Just keep in mind that simplicity and convenience are key. It can be as simple as mentioning your text fundraising opportunities in your event invites and promotional emails. That way, your donors can give whenever it's most convenient and won't be at a loss when they forget their wallets in the car at your event.
4. Follow up post-donation.
If the last thing your donors receive from you is a tax receipt, they won't be compelled to stick around. Take the time to proactively thank them for their gift, and you'll be much more likely to kickstart lasting relationships. 
Some easy ways to show appreciation and stay in touch post-donation include:
Sending a follow-up text to thank them for their generous contribution

Posting to social media to thank new donors

Mailing personalized

thank you letters

Setting up thank-you emails that are automatically sent out each time someone donates

Calling those who make large gifts
Now is your opportunity to show your gratitude. Otherwise, your donors may feel like their contribution didn't mean all that much to your nonprofit and take their support to a different organization. 
Timeliness plays a big role in post-donation outreach, so as a general rule of thumb, don't wait more than 48 hours. Waiting can convey that you're putting donors on the back burner and don't truly value their contributions. The sooner you reach out, the better for retention.
Luckily, many fundraising software providers allow you to customize an automated thank-you email to express the donor's impact and celebrate their contribution. This makes your communication team's job simpler when they don't have to reach out to every donor on a one-on-one basis. Plus, you also get the benefit of timely follow-up without the worry of forgetting to reach out.
Wrapping Up
Text-to-give is a powerful fundraising method that enables donors to give to their favorite causes whenever the mood strikes. In an increasingly digital society, combining our collective obsession with texting and our natural desire to do good in the world will work wonders for your donations. Not to mention, this fundraising method is highly cost-effective and works for nonprofits big and small. 
Remember, an effective text-to-donate campaign all starts with a compelling donation form and doesn't end until you thank each and every one of your donors. Keep the donor experience front of mind during the whole process, and you're sure to maximize your text-to-donate potential.
---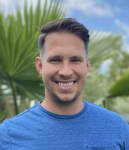 Author: Jacob Spencer, Customer Success / Account Manager
Bio: I strive to make every step of our customer journey as enjoyable as possible. My goal is to turn everyone that trusts Donately into a raving fan! Raising funds can be daunting, but we know that with the right tools, it can and should be easy.