Happy New Year!
Welcome to a brand new year, ripe with opportunity.  You're probably entering 2015 with fresh eyes and goals. Just as mothers soon forget the pain of childbirth, in the nonprofit world there's a tendency to forget the past year's mad scrambling to meet deadlines, the crazy stress of 12-hour days to plan your last gala, and the insanity of year-end fundraising.
And then…before you know it, you're bogged down in busy-work, buried in the five events you have every year because 'that's the way we always do it,' laboring over that grant proposal that nets you a lousy $5,000, scattered, distracted, and unfocused.

It doesn't have to be that way.

 
Make a plan for how you're going to do 2015 better than 2014.
In 2015 let your focus be gratitude.  
When you think about it, the practice of gratitude and generosity go hand in hand. The Dalai Lama said "Generosity is the most natural outward expression of inner attitude of compassion and loving kindness.  When One desires to alleviate the suffering of others and to promote their well-being, then generosity – in action, word and thought – is this desire put into practice. It is important to recognize the 'generosity' here refers not just to giving in a material sense, but to generosity of the heart.'
How can you better love the donors you already have and empower them as partners in your mission?  How can you communicate more – and more effectively – with those wonderful individuals (and foundations) who make your work possible? How can you appreciate your staff members, board members and volunteers on a daily basis?
The 2015 Donor Love Calendar is your guide to scheduling a year filled with gratitude!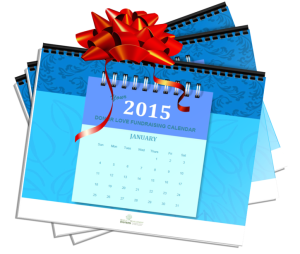 How to use this calendar: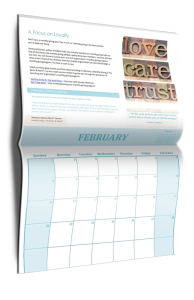 Each month of the calendar features a different focus for your development department. For instance, January's focus in planning:
"Time management guru Alan Lakein said "Failing to plan is planning to fail."  January is the month to get a firm handle on your organization's fundraising plan and figure out where you're going in the upcoming year.  How will you be growing your individual giving?  Starting or growing your major gifts program?  Communicating with your donors?

Great fundraising – as opposed to solidly mediocre fundraising – starts with developing a wholly donor-focused development department.  Develop an 'attitude of gratitude' and appreciate the donors you do have for the wonderful work they're enabling you to do."
Additional areas of focus include nonprofit storytelling, monthly giving, planned giving, and more. 
Within the pages of this calendar, you'll also find specific, actionable examples from nonprofit organizations just like yours on steps they are taking to deepen the relationships with their donors.  And, to keep your focus front and center, you'll get a monthly 'gratitude reminder.'
Begin by reading through the monthly 'Donor Love Tips.'  What techniques can you begin incorporating in 2015 to show donor appreciation? Can you create a one-page impact report two or four times a year to send to key donors? How are you reporting back to your monthly donors? When it comes to your staff and volunteers are you focusing in on what's right – and remembering to give pats on the back (and more)?
Spend time every morning reflecting on gratitude. Gratitude for your donors, gratitude for your clients, gratitude for your hard-working staff.  One of the best ways to start your day in the office, before you do anything else, is to call at least three donors, just to say thank you.  The Cara Program in Chicago makes a regular practice of gratitude with their Monday through Thursday morning "Motivations" (read more here).
You'll also find that each month will highlight that month's focus with a Basics & More™ fundraising fundamentals course to keep you on track.
Download your free 2015 Donor Love Fundraising Calendar today, and make gratitude your focus in 2015.