How are nonprofit organizations using the power of direct mail to love their donors? Join us every Wednesday for What's in my Mailbox.
---
In 2014, as part of my continuing 'being a donor' experiment, I made a number of monthly gifts. The response to one $10 gift was silence (read the article here).
But my $10 monthly gift to Brittany's Hope Foundation has been met with grateful appreciation. And their recent thank you packet exemplifies donor love. When I opened the lumpy hand-addressed envelope, I was delighted by what I found inside:
 This thank you letter documenting my ten gifts in 2014 oozes donor love. Executive Director Mai-Lynn Abel Sahd ramps the donor love up a notch with her hand-written notation (click to read):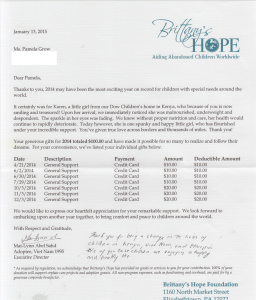 A colorful, hand-painted thank you from one of the children of Brittany's Hope:
This terrific refrigerator magnet (brought tears):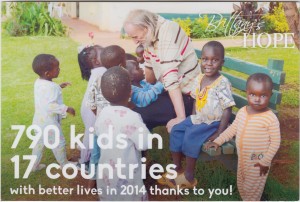 A charming fish purse, "hand-made by special needs young adults living at the vocational training center in Viet Nam:"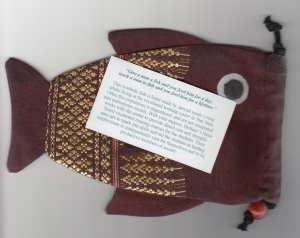 In the past, I've sponsored children with international organizations and haven't received anywhere near the kind of personal attention I've received from Brittany's Hope.  My last child sponsorship – $35 a month, with an agency with a staff numbering in the thousands – ended after nearly eight months of silence.  I received my original sponsorship packet, and then…nothing. Brittany's Hope, an SDS member, is a small organization with a staff of four. Donor love doesn't need to be expensive or contain the 'right' language…it just needs to be sincere and come from the heart.