---
There were a number of things I liked about today's What's in my Mailbox, the spring direct mail appeal from the Coalition for Sonoran Desert Protection:
Real, warm, personal. There's a genuine sense, reading this letter, that I'm a valued partner and a true insider (for more, read here and here)
The donor love is palpable (check out the fabulous staff notes!)
Terrific PS stressing urgency – and why
The Coalition created an integrated campaign with their followup email series as well. Kathleen Kennedy, Program and Development Coordinator, says:
"This campaign featured a $15,000 1:1 matching gift from one of our major donors (our goal was to raise $30,000 total) and focused on our work helping to pass a bond package in the coming November election that includes new funding for protecting natural open space in our area. Our campaign was really successful – we ended up raising $30,861! I've learned a lot from you about donor-love, simply from receiving your communications for a while and noting how they make me feel personally. Even though I know they are merged and you aren't writing directly to me in The Grow Report and other emails, they still make me feel good. :)"
Click the image below to download the letter and emails from the campaign.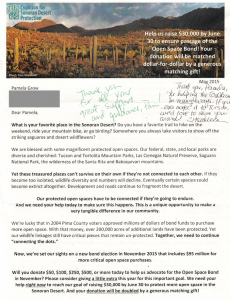 ---
In both Simple Development Systems: Successful Fundraising for the One-Person Shop, and my membership program, the focus is on creating a sustainable fundraising program by always keeping your donors front and center. We do it by sharing our stories – online, through email, and through direct mail – on a consistent basis. Join us every week for Power of Nonprofit Storytelling (Mondays), What's in my Inbox (Tuesdays), and What's in my Mailbox (Wednesdays).