---
We're big fans of both the work and the marketing of Food for the Poor (read more here and here). Today's What's in my Mailbox comes to you courtesy of Simple Development Systems' member, Rachel Ramjattan .
---
You probably know that Food for the Poor, Inc. is a direct mail champion! Like many fundraising consultants I enjoy studying direct mail campaigns. After reading so many, it takes a lot to bring me to tears. This campaign did.
The "A Bag like this Filled with Food Could Save a Life" campaign had me at, "Hello".
The mail caught my eye. I've never received a brown paper bag in the mail. It reminded me of brown bag lunches I took to school as a child.
The note on the back of the mailer begged me to open it. "$3 + YOU = 50 starving children fed." How could I turn my back on 50 children when my $3 could prevent them from starving?
A colorful card insert tugged my heart strings.
The meal on the left, is a meal I've prepared for my own children thousands of times. The one on the right, a starchy rice bowl with a tiny amount of protein, is guaranteed to fill the stomachs and ease the hunger pangs of 50 innocent children.
There's an urgent request for me to give now because a matching gift means they can feed even more children.
And the emotional grenade – a picture of a sweet little girl in her mother's arms, looking straight at ME. "Frail and malnourished, one-year-old Meilin is very sick. Her struggling parents have no means to provide the food she needs. But you can."
How can I turn my back on little Meilin and 49 other children when all it takes is my $3 to feed them?
A clever reply device reminds me I'm more than a donor. I'm a friend.
At the top, another photo of Meilin with a space for me to invite Food for the Poor staff to pray for my loved ones while I pray for malnourished children. I'm worth more than the check I write. I'm worth someone's prayers. They'll even call to pray with me if I provide my telephone number (and they do!)
A pre-addressed envelope reminds me of their good financial stewardship, excellent charity ratings, and a quote to answer potential objections to mailing costs. "Our mailings cost so little, but they do so much…"
There's also an invitation to remember Food for the Poor in my Will.
The final component is a letter from, Robin G. Mahfood, Chief Executive Officer.
More photos of Meilin with her mom and an extended version of her story remind me that these are real children from real families experiencing real pain. My heart aches just imagining my own family being in that situation.
The P.S. contained a reminder that my $3 is all it takes to provide more 50 children with a life-saving meal. I better act now. Not only is the need urgent but my gift will unlock additional funding to help more children.
Finally, this letter was signed by, Robin, "a servant of the poor", a real person, who is as concerned about these children as I am. There's no mention of his job title or administrative position so the letter feels very personal. This is not an official letter from a distant CEO. It's a direct appeal from someone who tries to help people in poverty as much as I want to.
There are two things prevented this direct mail package from being perfect.
My name is misspelled.
The "Dear Caring Friend" salutation would have been more powerful if it had said, "Dear Romell & Rachel". After all, they already know our names.
How reassuring to know that even the direct mail champions miss a detail every now and then! Click the image below to download the entire package.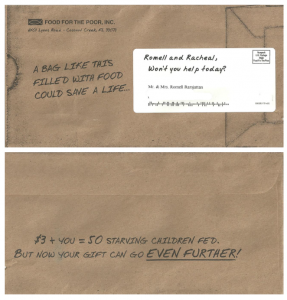 If you want to see first class direct mail in action, make a gift to Food for the Poor and watch your mailbox.
---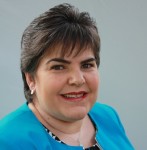 Rachel Ramjattan, CFRE has worked in the nonprofit sector for more than 20 years. She is the founder and principal of Nonprofit Plus, LLC. You can connect with her online at:
www.nonprofitplusteam.com
www.facebook.com/nonprofitplusteam
www.pinterest.com/rachelNPP
www.linkedin.com/in/rachelramjattan
Tweet @RachelNPP
---
What the heck is What's in my Inbox, What's in my Mailbox, and the Power of Storytelling? Glad you asked. Simple Development Systems is all about creating your sustainable fundraising program by always keeping your donors front and center. It's a simple rinse-and-repeat system of sharing your gratitude, and your stories – online and off – on a consistent basis. Join us every week for Power of Nonprofit Storytelling (Mondays), What's in my Inbox (Tuesdays), and What's in my Mailbox (Wednesdays).