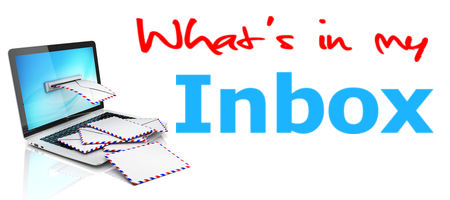 ---
 Save the Chimps is a master at email communications and today's What's in my Inbox submission from Rachel  Ramjattan is no exception. Rachel writes:
"You know that sinking feeling you get when you've been away on vacation and come back to hundreds of emails in your inbox? Junk mail, To Do emails, endless sales pitches…it's enough to drive you crazy.

That's why one email caught my attention immediately.

Subject: News you'll want to share

Without looking at the sender I opened it, happy for the momentary distraction promised. Inside, the news of a summer matching gift donation and an invitation to give.

This is a subject line done right. Any other subject and I'd almost certainly have deleted it right away given the hundreds of other emails competing for my attention.

Well done Save the Chimps!"
Another reminder, when it comes to email communications, keep it short, keep it fun, and keep it engaging.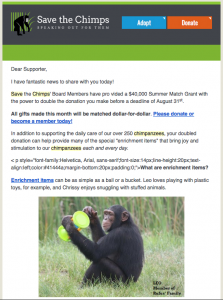 ---
What the heck is What's in my Inbox, What's in my Mailbox, and the Power of Storytelling? Glad you asked. Simple Development Systems is a program for creating your sustainable fundraising by always keeping your donors front and center. It's a super simple simple rinse-and-repeat system of sharing your gratitude, and your stories – online and off – on a consistent basis. Join us every week for Power of Nonprofit Storytelling (Mondays), What's in my Inbox (Tuesdays), and What's in my Mailbox (Wednesdays).