I'm a lifelong learner. And I read a lot of books every year that are related to what I do. In addition to industry-specific books, I read quite a few business, marketing and teaching texts. If I were to be brutally honest with you, I've often found that I get more out of non-fundraising books than I do with those specifically written with fundraising in mind. I imagine this is so for the simple reason that we have a tendency of being rather insular in this industry. Sometimes, it's hard to look beyond "just" the fundraising.
Know what I mean?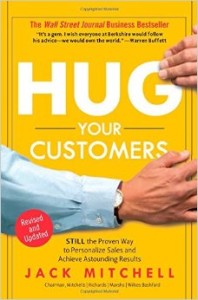 My reading practice has evolved over the years. When I started out in business, I made it my goal to read one to three profession-related books each month. I realized it was tough to stick to this early on. When I found the time to read, I wanted to relax with Liane Moriarty and other fictional pursuits.
I wasn't even coming close to meeting the goal I'd set for myself.
Enter Audible. Through trial and error, I found that I much preferred listening to non-fiction than reading it. Now, whenever I'm driving the car, or walking around my neighborhood, or even making dinner, I'm usually listening to the latest business or marketing tomes.
There have been hits. And there have definitely been some misses.
But I adored Hug Your Customers: The Proven Way to Personalize Sales and Achieve Astounding Results by Jack Mitchell. The fact is, I can't remember the last time I got so excited about the potential applications for our industry.
Mitchell owns a high end clothing store in Westport, Connecticut. Like most brick and mortar businesses, his business was hit hard by the recession. But by switching to a customer-based business model (rather than transaction-based), Mitchell's not only survived, they thrived! Warren Buffett refers to Hug Your Customers as "a gem … I wish everyone at Berkshire would follow [Jack Mitchell's] advice — we would own the world."
In case you're wondering whether this is all a bit too sentimental and touchy-feely, remember this: in Jack's world, a hug isn't literal — it's a stand-in. Some of the ways Jack and his employees "hug" customers include offering someone a beverage or snack, sending a birthday or anniversary card, making reservations for a customer at a restaurant, getting tickets to a ball game or the theater, giving them a smile, lending an ear to listen…and always, always, providing exemplary customer service. They go above and beyond in ways that are truly memorable, not to mention inspiring.
In our industry, some ways you might hug your donors include:
Something as simple as sending out an anniversary email or card celebrating the date of their first gift
Rewriting your thank you email to make your donors feel wonderful about their gift
Maybe, just maybe, you might even send some of your favorite donors a small gift
Whether you like it or not, you're in the relationship business. And, as both a fundraiser and a donor, I'm not gonna sugarcoat this: a lot of you make it really hard for donors to like you. We go to make an online donation, only to encounter obstacles right and left in the process. We never hear back from you on the impact of our gifts. We make the commitment of becoming a monthly donor…only to fall into a deep, dark black hole.
Your job is to provide exemplary donor service. It's as simple as that. Hug Your Customers just begins to name the many ways.
Pick up Hug Your Customers here.