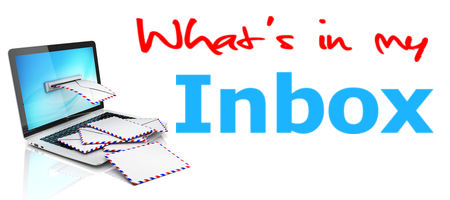 ---
Why should your nonprofit be regularly communicating with your supporters via email? Well, the reasons are legion:
it's fast,
it's cheap (while not free, email must be one of the cheapest acquisition tools available),
when done right, it's got a terrific return on investment,
unlike social media, email provides you with the opportunity to create a one-on-one relationship with your subscriber/supporter
…and best of all: IT WORKS.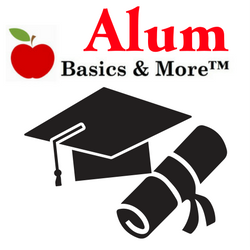 But, getting back to that 'when done right' point: are you creating the kind of email newsletters your supporters love? Are they joyful? Donor-centered? Engaging?
Could you find a more perfect example of a non-profit donor enewsletter than this one, from Feeding America?
The subject line, More Baby Boomers Struggling with Hunger | Hunger's Hope, is to the point
The copy for each section is brief, providing enough enticement that you, the reader, wants to click and learn more
The photos tell a story. "Meet Lesly: Budget-Savvy Mom of Four"
Feeding America provides plenty of opportunities to engage, without donating, such as signing up for the Feeding America Hunger Action Day, and advocating with Congress to pass a child nutrition bill.
Act Now encourages a gift to meet the $25,000 Nationwide Foundation matching challenge.
Download this email and screenshots of the accompanying web pages by clicking the image below. Enrollment for Nonprofit Newsletters | Basics & More™, where you'll learn how to produce your own engaging, revenue-producing print and email newsletters ends this Friday.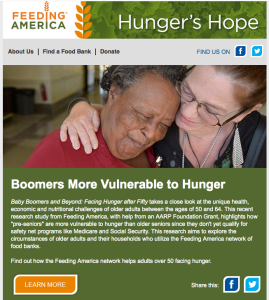 ---
What the heck is What's in my Inbox, What's in my Mailbox, and the Power of Storytelling? Glad you asked. Simple Development Systems is a program for creating your sustainable fundraising by always keeping your donors front and center. It's a super simple simple rinse-and-repeat system of sharing your gratitude, and your stories – online and off – on a consistent basis. Join us every week for Power of Nonprofit Storytelling (Mondays), What's in my Inbox (Tuesdays), and What's in my Mailbox (Wednesdays).