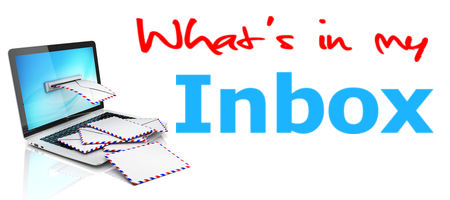 ---
In all the time I've been doing what I do, I don't believe I've ever seen a handwritten thank you email. And at this point, I thought I'd seen it all). So while the sheer idea of a handwritten thank you email in itself is novel and pretty intriguing, this particular note has extra touches to help it make the grade. It's a powerful piece that delighted me, inspired me, and motivated me to want to give more to The Sandy Hook Promise Foundation.
First off, it's a handwritten thank you email from Nicole Hockley, mother of six-year-old Dylan. With this information alone, I can almost put a face to a name, and I can relate to her, because I'm a mom, too.
Additionally, this thank you note is very personal, and that goes beyond its inherent nature as a handwritten piece. That oh-so special (and sometimes elusive) "y-word" makes many appearances within a relatively short letter. Nicole really made this letter about me and how my donation helped SHPF continue the wonderful work that they do. The organization received nearly 16,000 donations from their supporters, and yet Nicole reaches out to the donors in a deeply personal way.
This "little extra" from SHPF is far from little, and it truly sheds some light on who my donations are helping. Have you ever received an emailed handwritten thank you note before? Which organization sent it your way, and what did you think of it? I don't only want to remember Nicole and her note fondly — this one is going straight into my swipe file.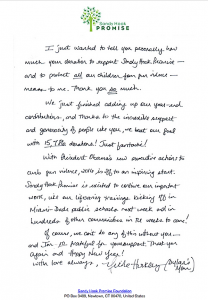 ---
Sandy Hook Promise is a national non-profit organization founded and led by several family members whose loved ones were killed at Sandy Hook Elementary School on December 14, 2012.
Based in Newtown, Connecticut, our intent is to honor all victims of gun violence by turning our tragedy into a moment of transformation by providing programs and practices that protect children and prevent the senseless, tragic loss of life. Learn more and make a donation here.