'Tis the season!
My inbox is filling up with auto responder away messages, and by the looks of it many of you are closing your office doors during the festive week between Christmas and New Years.
But here's the thing…
12% OF ALL GIVING HAPPENS IN THE LAST THREE DAYS OF THE YEAR.
Have you done all you could to maximize your year-end fundraising before shuttering your office doors?
Read on for three things you can still implement this week:
1.Home page takeover. It's a given that when donors pay a visit to your website this week, they're not landing on your site to learn about your programs. They're there to make a gift, plain and simple.
Why not make it easy on 'em?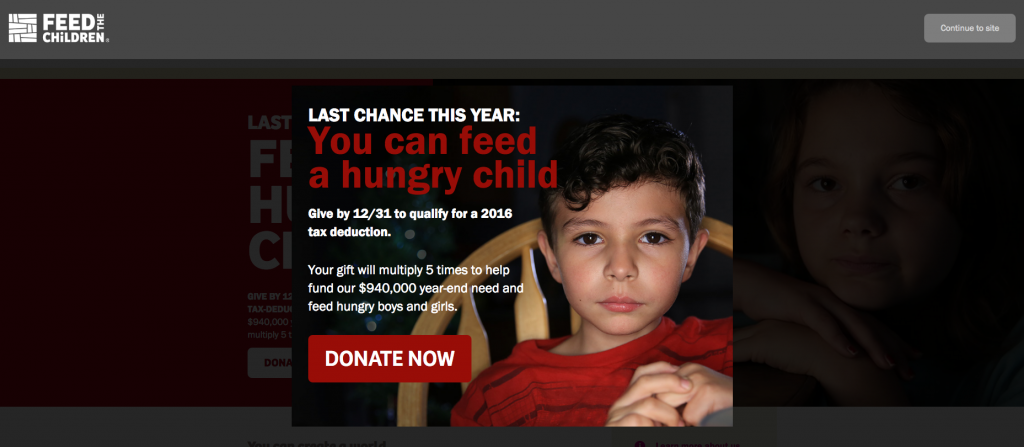 To find out how, have a listen to this Simple Development Systems podcast. Steven Screen of ÜberDirect, an advertising agency specializing in direct response marketing and fundraising for non-profit organizations, explains how your organization can skyrocket your year-end online giving through a "homepage takeover," also known as a lightbox.
Is your webmaster off the grid this week? Get the tech support you need by hiring a freelancer on Fiverr.
2. Redo your thank you email. According to Blackbaud, only around 25% of online donors are retained. Does your thank you email read like a receipt?
The easiest and quickest thing you can do right now is to rewrite your thank you email. What's that? You think your thank you already shines? Take a look at this before and after and take it one step further.
Then ask yourself how you'll you be stewarding and engaging those donors after the gift.
3. Revisit your email series. Studies have shown that using multiple email messages versus a single email message resulted in a 40% increase in giving. You should have two, three, even four emails scheduled to go out this week alone.
You may even want to schedule two email messages on December 31st.
I've seen it play out with my own clients time and time again: they've sent out two, maybe three emails, and they're worried about a lack of response. Then comes December 31 and the flurry of donations!
Remember, your email is important! Don't waste time with small talk. How can your supporters make a difference? It really is that simple. Let them know.
Spend some time on your email subject header. You want your email to get opened! Once you've spent some time writing several, use the Headline Analyzer widget to select your highest scoring subject header!
---
Is that all? Well, no. If your plan was to close the office this week, I highly recommend having a "skeleton crew" on hand throughout the week, including Friday, to respond to last minute donor questions.