You never really understand a person until you consider things from his point of view…until you climb in his skin and walk around in it. -Atticus Finch, To Kill a Mockingbird
I wear my fundraising hat like a good suit; with great pride. But for awhile now, I've occasionally switched it out for my donor hat, and donning a donor hat is certainly different, though just as special. Identifying as both has rewarded me with a lot of insight, and I've been keeping a folder of notable observations that have stuck with me during the donation process.
The process is akin to a journey, and I call this journey, from the first click to the last, not to mention what follows that last click, the Donor Experience. It's a sequence of steps that nonprofits need to be highly aware of, tweaking and optimizing until it's near flawless and as donor-friendly as possible.
So what follows are some particularly notable observations…so take note, and then run with them. If you don't have these on lockdown, chances are, you're missing a little something that can make your Donor Experience a lot better for your supporters. And this can't be underestimated, especially as important as it is to donor relationships and enthusiastic, passionate, repeated giving.
That's what you want, isn't it? So without further ado…
1.) It does my heart good when I arrive at the chance to make a gift straight from an email and the name and address are already filled out. Real good. It's like they already know me! Check out how on-point this form is.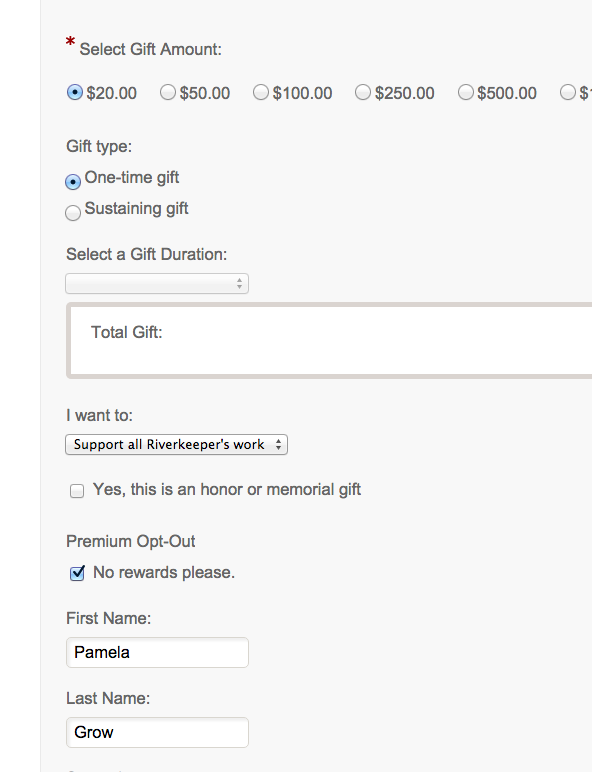 2.) For first time donors, I recommend reaching out with a thank you call. During the chat, be sure to ask your donor what prompted their gift. Document these exchanges, because they'll provide a world of everlasting insight. This short comment box during the donation process invites for donor feedback, and that in itself earns a gold star. If you wanted to, you could also feature something like this on your thank you redirect.

3.) After I made my gift, I was thanked personally. Yes, I understand that it's automated, and that's okay. It's still a nice touch, and nice touches matter, because details matter.

4.) Ask me to share on any social media outlet and chances are, I will. Your donors support you and usually welcome the opportunity to spread the love. Naturally, this action could potentially lead to an increase in donors and donor relationships down the line. It really does go beyond the first gift, or a one-time gift.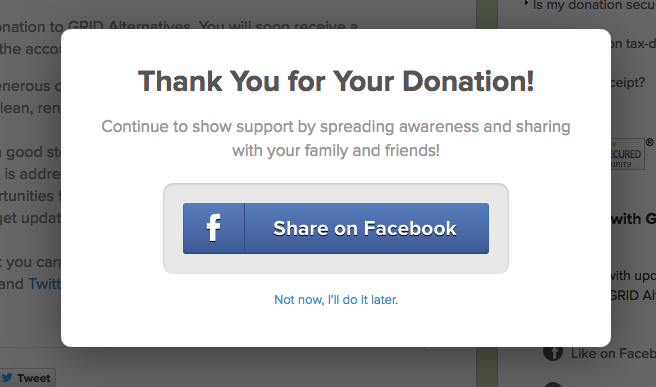 5.) Make the follow up communication count. I've been bombarded by boring receipts in my lifetime and chances are, so have you, whether you're a donor or not. Check out this phenomenal message that I received post-donation from a nonprofit I support dearly, Brittany's Hope. It not only sets the bar by telling me where my money is going, but it informs my expectations, making the "boring financial stuff" a whole 'nother issue. The receipts, while necessary, shouldn't serve as the foundation of your post-donation communication.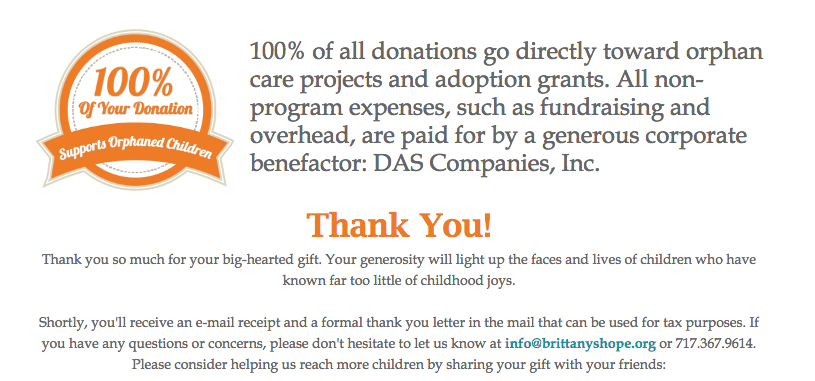 What do you appreciate seeing during the donation process? Do you wear both the hat of fundraiser and donor like yours truly? If you've never taken a good look at your nonprofit's donor journey, I implore you to get on it right now. Experience it, tweak it, and optimize it as needed. Your donors will thank you, and your fundraising will show it.