Whether you're a seasoned storyteller or you're just beginning to test the waters, Julia Campbell's newest book, Storytelling in the Digital Age: A Guide for Nonprofits, is a necessary guide, and it couldn't have arrived at a better time. She delves into the timeless concept of storytelling, an already-invaluable tool for nonprofits from all walks of life, and then adds additional layers of both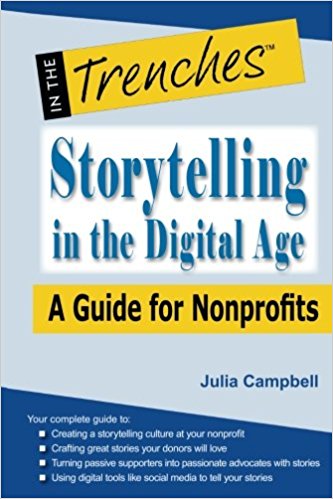 relevancy and usefulness through providing a reasonable roadmap for digital navigation. The plan is easy to understand, and it's easy to act on. Building gradually from the bottom up, Julia begins by offering insight on how to build a storytelling arsenal filled with your nonprofit's strongest narratives and ends with amplifying their power via the visual (images and video).
Regardless of where you are in your storytelling journey, this book is an essential for the nonprofit library, and for any organization serious about maximizing their fundraising potential. This no-fuss guide provides organizations here and now with the tools needed to combat the clutter of surviving and thriving in 2017: you know, social media madness, bright and shiny objects, and numerous other distractions. Yes, social media is important, and it's part of Julia's overall picture, but it doesn't take center stage here, and I'm grateful for that. You'll be, too.
Julia has covered all of the bases, and then some, and she's done it in a very donor-focused way. I can't recommend this one to you highly enough.