Whoever is careless with the truth in small matters cannot be trusted with important matters.
Albert Einstein
Trust. It's one of the most important components of your relationship with the donors who make your very work possible. Trust isn't easy to gain. And it can be destroyed in an instant.
A new survey reports that 51% of fundraisers plan to leave their jobs by 2021.
According to the Cygnus Research Group's Donor-Centered Leadership report, every time a fundraiser leaves, it represents, on average, a $50,000 loss for your nonprofit. Turnover for three consecutive years can spell catastrophe for your nonprofit fundraising., and cost you upwards of $400,000. Conversely, when a good fundraiser stays for 3 years, they can make you upwards of $500,000.  It costs 9% of what they make per year to keep your good fundraiser.
Whenever a nonprofit organization fires a development director, they're eroding their trust factor with the public. Any organization with a revolving door of development staff (I have been development director number five in a span of three years) will have a tough haul growing relationships with donors.
The revolving door affects the bottom line. Not to mention board and staff morale.
And yet situations like this remain common in the nonprofit profession:
"After five months, I was let go from my position as fund development director today because I was told that I wasn't cultivating enough donors. Over the same five month period, also wrote roughly 15 grants, only three of which were rejected while we had received no response yet for the remaining. Oh, also introduced the organization to a funder who ended up giving us a $25,000 grant. Someone please tell me why I remain in the field of fund development."
What does it take to keep strong development staff?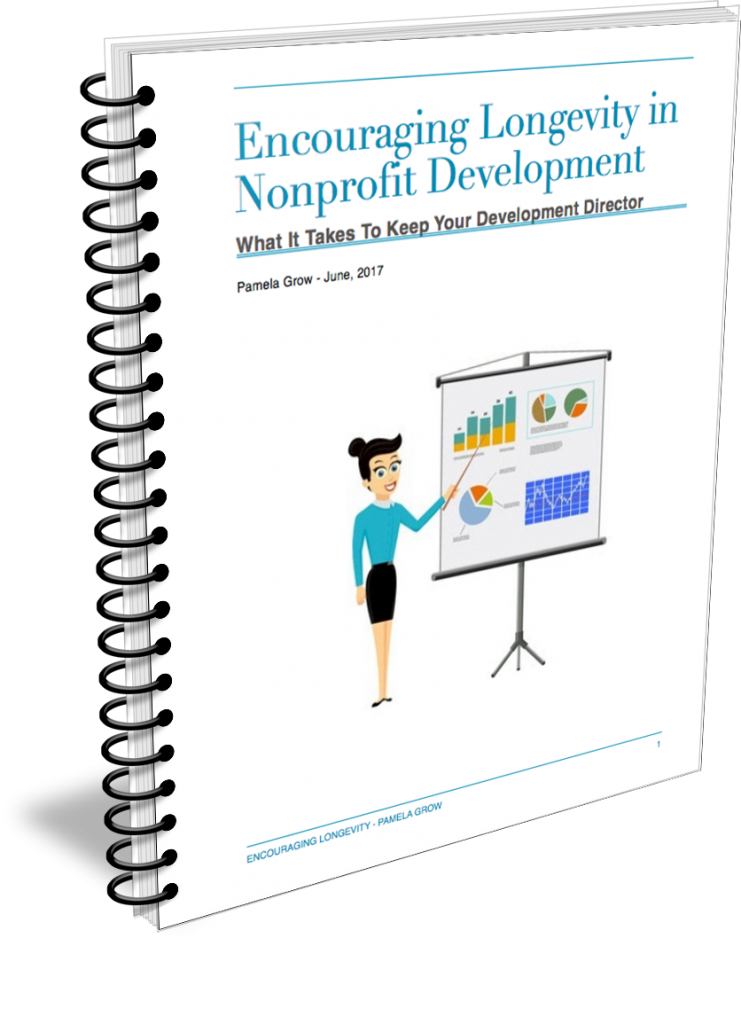 After speaking with dozens of nonprofit professionals and identifying a core group of seven nonprofit professionals who have been in their positions a minimum of three years, we've singled out the following key factors:
Flexibility
Kathleen Kennedy, Development Director with Sonoran Desert Protection Coalition says, "I have always worked for the Coalition part-time (ranging 20-30 hours/week) largely due to my desire to have ample time with my small children…I can't overstate how much this flexibility has contributed to my long tenure."
A great CEO/ED
Sally Zelonis, CFRE, Major Gifts Officer at The Indianapolis Zoo speaks of their President and CEO with wonderful enthusiasm. "He's a visionary," she says. "I love having him be so aware of the future and the past! He is creative and a problem-solver — great characteristics for a leader!" One important question Sally encourages those seeking a prospective long-term fundraising position to ask is, "What about the executive director or CEO — are they visionaries?"
Communication
Debbie Genung, Director of Development at Foster and Adoptive Care Coalition has found that the structure and setup of her workplace discourages strong hierarchies and lends itself to an openness that has become essential to her workplace environment and relationships. She explains, "At first, it was just staff and then ED.  Because of incredible growth and expanded staff, we do have program supervisors but it is a very team-oriented atmosphere. Our work environment reflects that – all wide open – the E's desk too – no offices and no doors.  We have a culture of "rapid response teams" which means that at any moment, we can just spin around and chat with the other team members near us to solve a problem or issue."
The freedom to take risks
Karen Mercier, CFRE, Director of Development at Regina Humane Society recognizes the importance of being able to take risks, as well as the significance of staying current. One piece of advice she offers prospective long-term fundraisers is this: "Ask questions about your ability to take risks, try new strategies, and generally keep up with the best practices in fundraising. I find that having the freedom to be creative and think outside the box is really important to my job satisfaction."
Passion and love for the mission
Passion or professionalism? If it comes down to it, should you hire the CFRE, or the candidate with a passion for your mission?
Not surprisingly, our respondents unanimously declared their passion for their organization and its mission throughout the duration of the survey.
Leslie White Clay, Chief Development Officer at Hope Cottage Pregnancy & Adoption Center notes that passion fuels her work, and her heart and soul are deeply engaged in Hope Cottage's mission. "I love what I do," she says. "I have a tendency to plan too much and probably pay way more attention to the little things than most development directors, but I just can't not do it. I was taught to give my very best – to go the second mile. The thrill of the hunt really drives me — achieving and exceeding set goals, bringing in a donor who hasn't given in 25 years (my personal best)."
And never forget the power of perks!
While Penelope Burk's research found that the top reason fundraisers leave their jobs is to earn more, additional research revealed that feeling appreciated and acknowledged goes beyond salary. Dogs in the workplace? Why not! Keurigs in the office? As David Letterman has said, "If it wasn't for the coffee, I'd have no identifiable personality whatsover."
Download Encouraging Longevity in Nonprofit Development: What It Takes To Keep Your Development Director now. No opt-in required.