What do you get when you bring three of the nonprofit sector's best copywriters together?
Participants in our Year-End Fundraising webinar series found out. Author of How to Turn Your Words into Money and The Fundraiser's Guide to Irresistible Communications; Jeff Brooks, Super-heroine of Colludo; Sheena Greer, and Principal of Hands-On Fundraising; Mary Cahalane, all joined us to lend their fundraising copywriting expertise in the form of some seriously sage wisdom. For the most part, I took a backseat and let these three lead the way. They came, they saw, and they conquered several year-end appeal letters, one at a time.
They left an endless supply of gems in their wake. Here are just a few that have been percolating around in my noggin since our hour and a half came to an end…
Open with a hook to reel your donor in.
A few years ago, I created a Basic Appeal Letter Template. What it lacks in a sassy name it more than makes up for in usefulness if you're in a pinch. #2 is as follows: "Hook your reader right from the start."
Sheena gets that the hook in a fundraising letter is a powerful thing. And upon delving into a letter from an animal-focused nonprofit, Mary suggested making the opening hook the very first thing the reader saw, nixing the greeting entirely. Harness the energy of the hook and make it as compelling as possible. Write a hook that makes the reader feel.
I've got an Indra Sinha quote (tweet this!) hanging above my desk that's pretty apt for our line of work: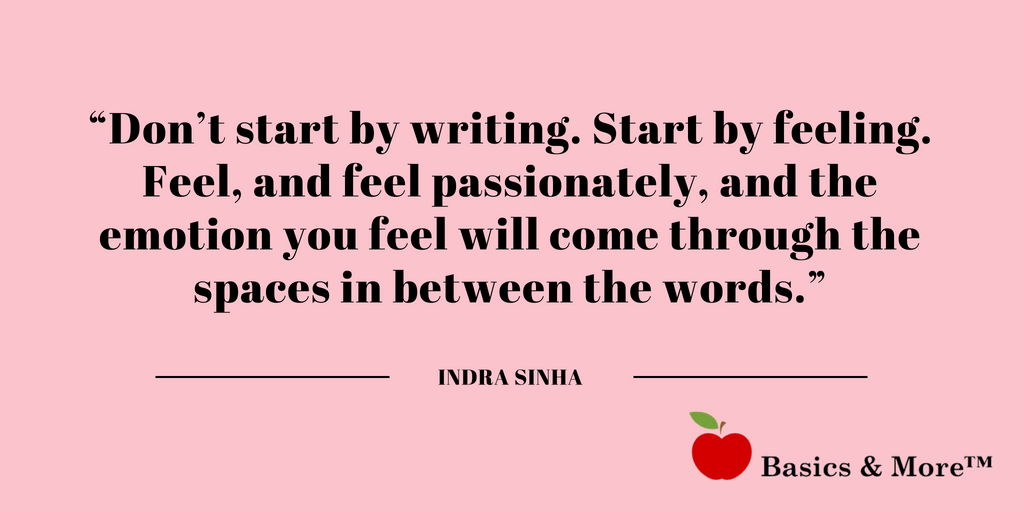 Let that feeling bleed out. It starts with your hook.
Start every DRAFT with "I'm writing to you because…" Make it direct.
"I'm writing to you because…" is exactly how Jeff Brooks recommends you begin each and every DRAFT to get you started writing, and I couldn't agree more. The transparency and directness of this approach is unmistakable, and it also provides a solid launching point. "I'm writing to you because I know you can make a difference" is one example of how you can finish the thought and plant a viable idea in your donor's brain.
Use an app to simplify and humanize the language, and then read the words out loud.
Jeff uses the Hemingway App, and so do I. It's been my go-to for a few years now. So what does it do? If you place a block of text into the field, Hemingway kicks in to make your writing bold and clear. It suggests which sentences could use less words and offers better vocabulary alternatives (two-dollar words, be gone!).
Sheena's go-to is TTS (Text to Speech) Reader, which enables you to read out loud text, PDFs, ebooks in natural-sounding voices. You simply drag what you want read into the text box and pick whichever voice you want. If you want a particular accent or another language, go for it. The possibilities for this one are pretty vast. Sheena knows that if a fundraising letter sounds right at home while being read by a stuffy British man, she probably needs to whip out her red pen.
Regardless of which app you use, reading a letter out loud will provide you with brand new insight, and it's one of the best things you can do. I can't tell you how many times I've caught something as soon as the words have left my mouth.
Nix the abstractions and zero in on the specifics.
Two hallmarks of President Barack Obama's 2008 political campaign were hope and change and back then, those worked really well and served as a platform for him to connect with the people who supported him. My, how times have changed. With so many organizations thoroughly engaged in fighting the good fight, abstractions make less of an impact than they used to. We want legislation passed. We want human rights protected. We want marginalized populations protected from the harms inflicted by the current administration. Buzzwords just don't cut it anymore. And yet I find myself guilty of committing this writerly misdemeanor all too often (I'm going to work on it).
So get to the heart of the matter, like Jeff suggests, and realize people do not *give money* to abstractions. They give money because they believe it will fuel action and get stuff done. You need to communicate effectively what kind of stuff.
Use stories the donor can identify closely with.
By now, hopefully, you've grasped how important storytelling is to fundraising. But it's got to be executed the right way in order to generate impact. Storytelling is an art form. Storytelling is a strategy. Sheena suggests that a compelling story is a narrative donors can find their place in. Something that speaks to the motivations and inspirations behind their giving. Something that aligns with their values. That'll make for a compelling story. And rather than writing in huge, chunky paragraphs, weave it in bits and pieces of the narrative for more impact. It's less intimidating that way, and it also leaves room for you to weave in your asks!
Express the urgency of taking action and making a gift.
What do you want? Donations. When do you want them?
Seriously, when do you want them? Mary made a terrific point about igniting the need to give with urgency by proposing what things would look like if the donor decided to not make a gift. She encourages clearly communicating what can happen if the donor doesn't make a gift. Hint: something bad. Donors need to know why they should give, and why their money is needed right now. Why do you need to meet a $20,000 goal? What does $20,000 look like anyway? What will it do? A number like that needs some explaining. Otherwise, the implication is, "We need 20k because the financial director says so."
Inspiring emotion is great, as long as you inspire emotion for a particular thing.
This goes hand-in-hand with urgency. We have the capacity to create urgency through inspiring emotion. While we were deep into one of the letters, Sheena said, "I want to feel outraged, but I don't know what to feel outraged about." As human beings, we are wired to make decisions based on our emotions. You want your donors to give based on their emotions, but those emotions require direction in order to get anything done. Your donor should be able to say, "I feel upset/outraged/devastated/*some other intense emotion* about *blank* to the point I want to do something about it!" Or, you know. Some variation of that.
This is just a small sample of what we touched on during the webinar. I couldn't imagine a better situation than this Copywriting Cure session. Three amazing experts from the sector, all in the same space at the same time. Neurons were afirin' all over the place, and we've even got it immortalized for posterity and repeated listens (that is, if you signed up for my Year-End Fundraising webinar series).
Watch the video from this session below.