When it comes to lousy nonprofit culture, sometimes I think I've seen it all.
Have you ever…
Been hired to raise major gifts, but been restricted from attending board meetings?
Been hired to grow individual giving — and yet been admonished repeatedly by leadership to "weed out the database" to maintain it's *free* status of less than 500 records?
Paid for your own books and training out of pocket?
I've been there.
Through the course of my nonprofit career, I have:
Created donor databases using Access because my employers were unwilling to commit to the cost of a CRM system (Excel is not a database—and I absolutely refuse to use it as one).
Taught myself HTML coding and Dreamweaver (again, using books I paid for and even my own software) to ensure that the organization had a dynamic website.
Been shot down more often than not on any type of approach that remotely hinted of innovation (even something as basic as creating a targeted mailing using the principles of Mal Warwick's "The Mercifully Brief, Real World Guide to Raising $1,000 Gifts By Mail" or—gasp!—collecting email addresses).
Been derailed from increasing communications from one appeal letter a year to a comprehensive calendar of communications (because of reluctance to spend money on printing and postage).
Had my attempts to create a comprehensive retention and stewardship plan derided by leadership. A pat on the back has never felt so patronizing.
How do you create healthy relationships with your donors if your organization is so dysfunctional?
If any of the above sounds familiar, you owe it to yourself and your organization to download Mark Rovner's and Alia McKee's latest white paper, Inside Out Fundraising: How to Create a Culture of Philanthropy by Treating Systems Instead of Symptoms.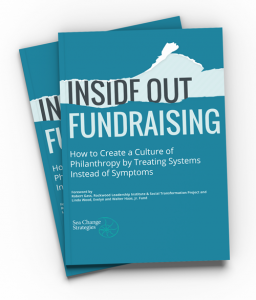 Inside Out is built around the core belief that in "most organizations, fundraising is limited more by organizational culture and structure than by lack of strategic or tactical know-how."
Embracing a healthy organizational culture conducive to gratitude and great fundraising doesn't happen overnight, because things did not become dysfunctional overnight. What it takes is a cultural shift, and naturally, those are rarely easy. Generating a positive culture shift, in this case, often involves an overhaul of current systems and practices, as well as the collective commitment and consistent focus of everyone. Does this kind of transformation sound nothing short of overwhelming to you? Rovner and McKee's insightful Inside Out White Paper is not only a logical starting point, it's an important read for every nonprofit professional or anyone with any degree of interest in sustainable, successful fundraising.
And mark your calendar for Monday, November 27th at 1:00 pm EST. That's when Mark Rovner will be a special Motivate Monday guest to share his tips for creating a healthier fundraising environment.