When did it get to be September?  Can you believe we've only got four more months before 2012 draws to a close?
If your nonprofit organization isn't where you thought you'd be in terms of fundraising, you owe it to yourself to check out 100 Donors in 90 Days, an innovative program created by Movie Mondays for Nonprofits founder Chris Davenport, Fundraising Coach Marc Pitman and yours truly.
In 100 Donors in 90 Days we set out to interview top fundraisers throughout the world to get their tactics and techniques for bringing in new donors.  People like Tom Ahern and Ken Burnett and Andrea Kihlstedt and John Haydon.  So, what happened?
"I found 100 Donors in 90 Days incredible! It helped me think more donor-centrically, and gathered all of the information from industry experts in one place. We've brought in 213 new donors; which is awesome, since we're a small rural hospital!  I'm going to refer back to these videos and workbooks for years to come."

Chelsea McIntyre (Dunn)
Fund Development Associate, Winchester District Memorial Hospital Foundation (Ottawa, ON, Canada)

****************

"Each week offered a new and challenging perspective or idea. I work for a busy summer camp, and was unable to keep up with each week in real-time. However, I am looking forward to going back through each presentation in depth this fall… even with my limited level of involvement we've been able to bring in over 180 new donors since starting this program."

Ben Meyaard
Director of Camper Support, Camp Tecumseh YMCA

****************

"It can be lonely at the top. This program is a partner.  It was very easy, and after 90 days, I felt I had a PHD in fundraising! "
Lyndi Brown
Development Director

****************

"The program was great! It helped me structure how to present our organization to current and future donors. There were great tips to help me speak with new donors as well. The action guides were extremely helpful to get my thoughts in order and to help remind me how to present to new donors.  So far we've been able to bring in 34 new donors, but I know we'll keep getting more!"

Julia Bohnet
Development Manager – Habitat for Humanity of Kitsap County

****************

"We did not use the course to guide our work over 90 days. Instead we have used the course to identify fundraising elements that our current efforts lack or do imperfectly. We have used the course to revise both our fundraising approach and our schedule for the year. "100 Donors" is very practical with specific steps to take to implement specific practices. The chapters that were most useful to us were: Week 1 on building a case. (We're in the pre-planning, anticipation stage of a capital campaign, and this chapter has been useful as we sketch our case.) Weeks 2 & 7 on reengaging donors. (We're planning a lapsed donor appeal for later this fiscal year, using this material.) Week 9, especially the segments on donor profiling and donor surveys, both of which have been incorporated into our fundraising plan for the year. The course is full of good ideas and good recommendations on how to implement them."

James May
Director of Development, The Elizabeth Stone House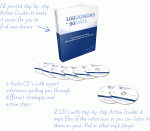 Even better?  100 Donors in 90 Days carries a 100% money-back guarantee (For real?  That's something I never saw in nonprofit fundraising seminars and workshops!).  Check it out and see if 100 Donors in 90 Days is right for you.