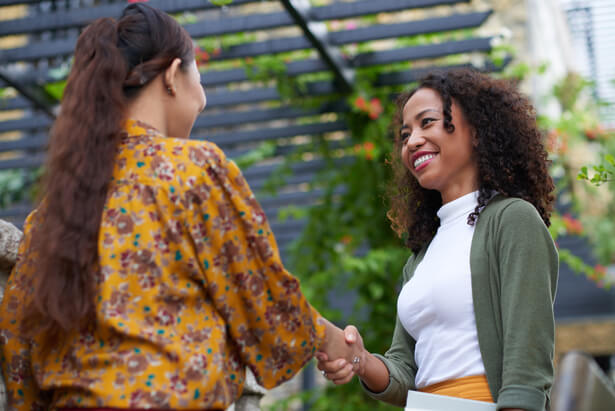 ---
Whether you're planning a 5k fundraiser, dance-a-thon, or social media campaign, you know a lot goes into preparing for a peer-to-peer fundraising initiative. You may have to secure an event venue, recruit sponsors, and spin up a marketing strategy. 
But one of the most challenging aspects of peer-to-peer event planning is recruiting supporters who will act as volunteer fundraisers. Becoming a peer-to-peer fundraiser requires a greater commitment than simply submitting a quick donation to your nonprofit. Participants must ask for donations from their family members and friends to help reach their individual fundraising goals. 
Since peer-to-peer fundraiser recruitment can be tricky, we've compiled our top tips for recruiting more participants to your campaign: 
Create a compelling message. 

Personally reach out to current supporters.

Make it easy to join your campaign.

Offer incentives. 

Show appreciation for fundraisers throughout the campaign. 
Think about peer-to-peer fundraising recruitment like you're gathering new team members to push your nonprofit's mission forward. When you recruit the right fundraisers, you can potentially bring on new long-term supporters that participate in your campaigns for years to come. 
1. Create a compelling message. 
The first step to recruiting more peer-to-peer fundraisers is to develop a motivational marketing strategy to engage supporters online. 
Bloomerang's peer-to-peer fundraising guide recommends presenting your campaign as an opportunity to get more deeply involved in your nonprofit's work and become an ambassador for your cause. Your marketing messages should explain the positive impact that participants can have on your mission by raising funding on behalf of your nonprofit. 
Consider incorporating storytelling into your recruitment campaign. Tell the story of a local college student who was supported by your organization's scholarship program or a long-time community resident who received aid from your nonprofit after a devastating flood. Let potential participants know that they can have a direct positive impact by getting involved in your peer-to-peer fundraiser. 
Be sure to include images and videos of your beneficiaries so prospective participants can get to know the people who they will be supporting. Compelling narratives help potential participants form an emotional bond with your organization and motivate them to get involved. 
2. Personally reach out to current supporters.
Your current supporters already have an affinity for your mission and have supported your campaigns in the past, making them a natural fit for your peer-to-peer fundraising needs. 
On top of deepening their existing connection to your cause, these individuals can help recruit their family members and friends as fundraisers and donors, expanding your reach even further. 
Consider sending emails and letters to the following groups asking them to get involved: 
Past fundraising campaign participants.

If you've held peer-to-peer campaigns in the past, the first place to start looking for new participants is your list of past fundraisers. These supporters already have peer-to-peer fundraising experience, meaning they may feel more comfortable getting involved again. Let them know that you appreciated their former support and wanted to reach out again because they were so helpful in the past.  

Donors and volunteers.

Search your donor and

volunteer management databases

to identify dedicated donors and volunteers. These might include monthly donors or long-time volunteers who have shown a strong commitment to your cause in the past. Let these individuals know that you're reaching out to them because they are among your most passionate supporters and you value their continued involvement. 

Individuals who have received support from your organization.

People who have been supported by your nonprofit in the past likely have a deep personal connection to your organization. Some may feel motivated to give back and help your organization aid others in similar situations. 
The messages you send to your existing supporters will be much more effective when they're personalized. Connect with your audience by sending messages that are personalized with recipients' names and reference their past involvement with your nonprofit, whether through donating, volunteering, or attending events. 
3. Make it easy to join your campaign.
A complex fundraising process could deter people from getting involved and intimidate first-time fundraisers. Supporters should easily be able to fit their fundraising duties into their schedules, even if they're busy. 
Simplify your fundraisers' workloads with the following tips: 
Make it easy and fast to create a personalized campaign page.

Choose a fundraising app

that allows participants to set up their personalized fundraising pages in minutes. They should be able to add their fundraising goal and a few sentences about their connection to your cause. 

Create a peer-to-peer fundraising guide for participants to follow.

Develop a best practices guide with practical tips for fundraisers. For example, it's best practice for fundraisers to make the first donation themselves to get the ball rolling and share their campaign page frequently on social media to widen their reach. Share your guide on your website and send it via email so fundraisers can easily access it. 

Offer support and tips to help participants work toward their goals.

Send emails throughout the campaign with quick tips and progress updates for your overarching fundraising goals. Some fundraisers might struggle to reach their personal goals, so share and comment on their posts from your nonprofit's account to boost visibility. 
When participants have the tools and support they need to successfully reach their personal fundraising goals, they'll feel a much greater sense of fulfillment from participating in your fundraiser. This can increase the chances that they'll participate again in the future. 
4. Offer incentives. 
Many peer-to-peer fundraisers will get involved because of their passion for your mission, but it doesn't hurt to offer a few tangible rewards, too. 
You might offer incentives like: 
Branded merchandise.

Send fundraisers complimentary t-shirts, mugs, hats, tote bags, or other stylish merchandise. Follow

graphic design best practices

like including your organization's brand logo, colors, and fonts to help boost brand awareness. 
Prizes for top fundraisers

. Spark friendly competition among fundraisers by offering prizes for top fundraisers.

eCardWidget's appreciation gift guide

recommends prizes like a themed gift basket, gift cards, or unique items like puzzles. 

Special recognition.

Spotlight your peer-to-peer fundraisers in special ways, such as by creating an online recognition wall that lists all of their names on your website. You can also tag them in social media posts or give them special certificates that dignify them as advocates for your cause. 
Your supporters will also appreciate the opportunity to get to know one another. A strong sense of community can be a great motivating factor, so consider inviting your peer-to-peer fundraisers to join a special Facebook group and host get-togethers.
5. Show appreciation for fundraisers throughout the campaign. 
Showing appreciation for your peer-to-peer fundraisers at every step of the campaign can help you lay the foundation for better peer-to-peer participant retention. 
Plus, when other supporters see how engaging your peer-to-peer campaigns are, they may be more likely to get involved next time. 
Make your campaign an ongoing celebration by taking these steps: 
Thank fundraisers as soon as they sign up.

Promptly send out a thank you message to fundraisers thanking them for their support and providing them with your fundraising best practices guide. 

Share fundraisers' social media posts on your nonprofit's pages.

Show your support for fundraisers by sharing their posts and thanking them for their commitment.

Host a wrap-up event to celebrate your campaign's success.

Invite fundraisers and donors to an event to celebrate the culmination of your campaign. Announce your fundraising total at the event to provide fundraisers with closure. Use this opportunity to also award top participants with a prize or certificate. 
Throughout the fundraising process, make it clear that your organization couldn't have achieved success without the support of your peer-to-peer fundraisers and donors. Make the campaign about their achievements and what they helped your organization accomplish. 
Taking the time to recruit dedicated, passionate peer-to-peer fundraisers will pay off in the long run because they'll be able to raise more for your organization. When you make getting involved simple, fulfilling, and fun, you can provide a positive experience for fundraisers and retain their support.