Looking for a book for the nonprofit professional on your list? You can't go wrong with any one of these…
One reviewer urged everyone to "buy this for "YOUR FAVORITE CHARITIES. If I could wave a magic wand, I'd ask every relief and development organization leader to read Chapter 5,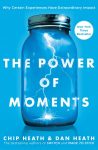 "Trip Over the Truth," about a methodology called Community-Led Total Sanitation (CLTS).
The authors begin with a warning to readers: "The story ahead is full of disgusting images, and it also makes frequent use of the 's-word" for feces." The researcher in this Bangladesh brilliant/brilliant epiphany "believes that it's a mistake to soft-pedal the word using medical terms…or more kid-friendly terms. When he works in new countries, he makes sure to ask for the crude slang… He wants the word to shock."
The researcher's ingenious approach to dramatically improved community health is the polar opposite of the way leaders, teachers, and preachers seek change. Instead of pulpits, podiums, and lecterns, Dr. Kamal Kar used observation, probing (shocking) questions, and demonstrations. Brilliant! (p. 97)" Read my review.
One of the biggest challenges facing the nonprofit sector is their utter failure to grasp permission-based marketing.
Click To Tweet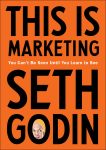 As one reviewer notes: "Thankfully Seth's work, captured in this book, takes a different stance of generosity. "[The best marketing] is the generous act of helping others become who they seek to become. It involves creating honest stories — stories that resonate and spread. Marketers offer solutions, opportunities for humans to solve their problems and move forward."
Many moons ago, when I first met copywriter extraordinaire Lisa Sargent, she recommended picking up this book. I almost let the price deter me, but am now the proud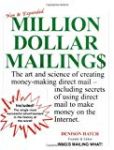 owner (and user) of Million Dollar Mailings. As one reviewer noted: "I can't stop telling my friends in copywriting and marketing how much they're missing by NOT having this book in their collections. Denny has outdone himself with this collection and the reader gets one of the most privileged insider peeks at the industry one hopes to succeed in."
"THE book for board members, fundraisers and executive directors. Ahern and Joyaux have put together a book that addresses a hush hush problem — Why lots of organizations lose their donors. The authors give examples on why it's important to communicate, and ways to communicate in a friendly and appreciated manner. In addition, their writing style is great. AND fun to read! The pages are easy to look at it, with good charts and examples. And, the chapters are short. Each section addresses what we, in the nonprofit world need to do– Focus on the donor as a person. This will be a classic in the field. A great gift. A great reference."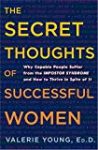 Fundraising is integral to the success of every nonprofit. Yet many women, and some men, feel like "imposters" and aren't leading to their full potential. As one reviewer noted: "Dr. Young has so much wisdom to share. One of the most useful things about this book was that it helped me to identify when I might be unconsciously sabotaging myself, like procrastinating on pursuing challenge or recognition until the deadline had passed, and then using "I was too busy" as an excuse. Because I recognize these tendencies now, I have been able to overcome them. I've also heard the thoughts in this book expressed by friends, and as a result have given a few as gifts, always to rave reviews and appreciation. This book is useful to anyone, male or female, who suspects that they may be holding themselves back in any way, big or small." See our Motivate Monday session featuring Dr. Young.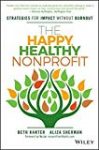 Burnout. If you've been in the field of nonprofit work for any length of time, you no doubt know the feeling of being burnt to a crisp…with nothing left to give. Should you quit? Can you recover? Are there steps that you can take to not only relieve your burnout but lead your entire team towards the creation of a happier, healthier nonprofit life?
Enter Beth Kanter and Aliza Sherman, the dynamic duo behind The Happy, Healthy Nonprofit: Strategies for Impact Without Burnout, where they tackle burnout and its causes, as well as ways to combat it and boost overall performance. What works in life works in the nonprofit workplace, too.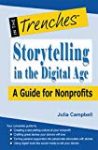 I love storytelling and I love Julia Campbell. Whether you're a seasoned storyteller or you're just beginning to test the waters, Julia Campbell's book, Storytelling in the Digital Age: A Guide for Nonprofits, is a necessary guide. She delves into the timeless concept of storytelling, an already-invaluable tool for nonprofits from all walks of life, and then adds additional layers of both relevancy and usefulness through providing a reasonable roadmap for digital navigation.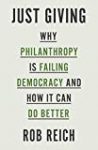 (From Amazon) "Is philanthropy, by its very nature, a threat to today's democracy? Though we may laud wealthy individuals who give away their money for society's benefit, Just Giving shows how such generosity not only isn't the unassailable good we think it to be but might also undermine democratic values and set back aspirations of justice. Big philanthropy is often an exercise of power, the conversion of private assets into public influence. And it is a form of power that is largely unaccountable, often perpetual, and lavishly tax-advantaged."
A must read.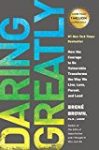 Fundraising is not getting any easier. Even funders will sometimes dismiss fundraising as something *dirty* (lemme tell you about the time the two foundation trustees specifically told me that they "didn't like to talk to fundraising staff because they wanted to know what was really going on in the organization…"). But fundraising is part of your very our mission and fundraising leadership is called for now more than ever.
One reviewer notes: "If you want to step up in some area of your life, or have decided you do want to be seen, or if you are facing a challenge, Brene Brown's book about having the courage to be vulnerable and real will help you! So many people appear strong and sorted but actually it's not true. Read this book and you too will be able to Dare Greatly. I have just stepped up in an area of my life that I found so difficult ( the fear of rejection was huge) and I am so happy to have had the courage to do that from reading this book." Our August Grow Report book drawing.
This is by no means an exhaustive list — and some books are even repeats. Following are a few additional resources:
Best Books for Nonprofit Fundraisers
Five Great Non-Fundraising Fundraising Books