On Twitter recently, I was asking around for some examples of stellar donor thank you redirect pages.
The thank you redirect page, also called the confirmation page, is the page on your website where a donor is sent immediately after making an online donation.
Since it's #GivingTuesday and year-end giving season, nonprofits are looking to improve the experience of their online donors.
While overall online giving only made up 12.1% of giving in 2017, it has seen consistent year-over-year growth. #GivingTuesday especially is an online giving powerhouse, with $274 million dollars raised online last year, and an average online gift of $134. For many nonprofits, it's their first venture into digital fundraising.
If you're raising money from donors on your website, you need to pay special attention to your thank you redirect page.
In the worst case scenario, your online donor would get a message like this page that I was redirected to after making a gift on behalf of a friend to a local nonprofit.
Yikes! Nothing quite like falling into a black hole. In this case, the donor wouldn't even know if the gift had been processed! Even more dismaying? When I called the organization to let them know, they were totally unconcerned.
In the okay-but-not-best case scenario, you quickly set up a thank you page, but it's mostly used as a bland placeholder or a place to put your tax receipt information. Blah.
Not sure what we mean? Take a tip from the brilliant Lauren Girardin – Conduct your own search of donor thank you pages by typing in the URL site:!.org "thank you for your donation and viola.
You now have dozens of sample thank you pages at your fingertips!
Unfortunately, but maybe not surprisingly, many of these aren't terribly inspiring.
As Lauren observed on Twitter: "Where's the creativity? Where's the emotion? Where's the next step in their new journey with the nonprofit? Where's the donor LVE?"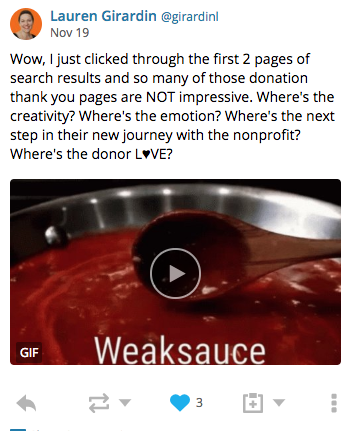 Nonprofits, we can do better.
Let's talk about the best case scenario, where the donor thank you page is used as an opportunity to make a deeper connection and to make the donor feel GREAT about giving.
Remember the two main reasons donors don't give again:
They don't feel like their donation made a difference.
They haven't seen meaningful communication about the impact of their gift.
Why not get the relationship started on the right foot with a thoughtful and well-crafted Thank You for Donating page?
Here are four simple ways that you can improve your donor thank you page immediately – in time for the #GivingTuesday and year-end giving push!
1.Genuinely thank the donor.
This is the very first and most important thing that your Thank You page should do.
It should not only let your donor know that their donation went through successfully, it should serve as a place to make a deeper connection with someone who cares about your work.
The message on the page should be clear, focused, and genuinely appreciative.
Don't fill up this page with a million other asks, such as event announcements, social media links, and other clutter.
Focus on donor-centric language when saying than you:
"We could not do this work without you."
"Thank you for your partnership."
"Thank you for your investment."
"We are building something big together."
"Our work isn't done yet, but with your help, we have accomplished a lot."
2. Incorporate video.
Video is so easy to do and so powerful!
A simple, personal, short video thank you on this page can inspire donors to deepen their relationship with you and stay invested for the long-haul
This video from Doctors Without Borders comes up on the Thank You page immediately following a donation:
You can choose to feature a testimonial and a story of our impact, or a heartfelt thank you from a staff member or volunteer.
Use great visuals.
Video is the most engaging type of content, but the next best is an eye-catching visual. Of course, you can always use both!
Check out this great #GivingTuesday thank you from Collective Action for Safe Spaces.
3) Tell donors what comes next.
After genuinely thanking donors for their gift, let them know what their support goes toward.
The Water Project has a feature on their donor confirmation page answering this question – What Happens Next?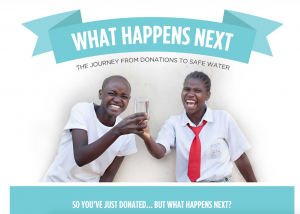 It leads to a beautifully designed graphic, describing the path of the donation.
This page could be even more powerful if it featured a video or photos with a personal story of a person who has benefited from the work of The Water Project.
4) Personalize the Thank You Redirect
In addition to the the personalized thank you email and thank you letter, could you personalize your thank you redirect page? This example, from Brittany's Hope Foundation, packs a punch through the sheer power of personalization.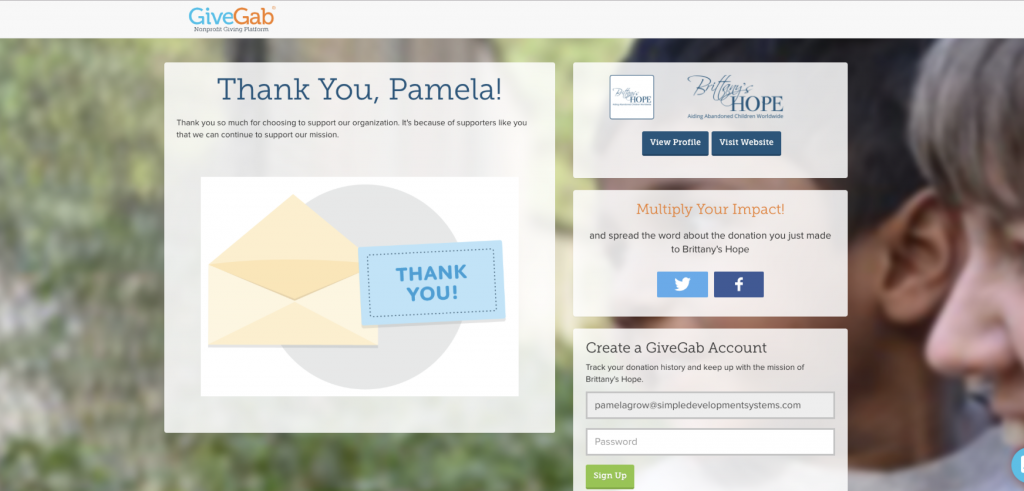 More Ways to Retain Your Online Donors
In a recent Motivate Monday session, I outlined a plan to retain your GivingTuesday/digital donors, including:
Send your donors immediately to a branded thank you redirect page…
Followed immediately by a personalized thank you email, oozing gratitude… Click Here for a thank you email template. Click here for an example.
For an extra punch, include a thank you call…Click Here for a thank you call script from Karen Osborne
Or a personalized thank you video…
Send a snail mail thank you letter…Click Here for a Thank You Letter Template. Click here to see an already good thank you letter transformed to brilliant.
---
This post was jointly produced by Julia Campbell and Pamela Grow.