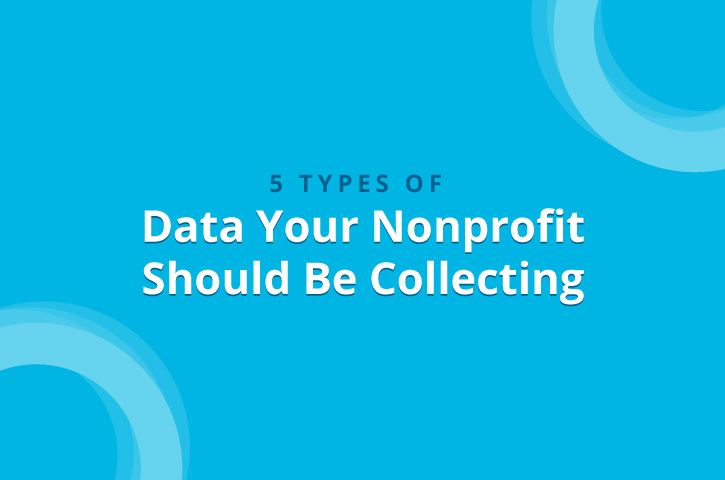 ---
You spend countless hours and put so much effort into creating fundraising campaigns, communicating with donors, and simply running your nonprofit. But do you actually know if your efforts are effective?
If you're not tracking data, you can't know if your methods are aligning with your donors' needs or how you should improve going forward. When it comes to ensuring donor engagement, data is the holy grail. In this quick guide, we'll help you understand what types of data you should be collecting and how you can use that information to improve your strategies. We'll discuss these five types of data: 
Donor Data

Fundraising Campaign Data

Event Data

Engagement Data

Website Traffic Data
From improving the online donation experience for donors to planning more exciting events, data opens the door to better-performing, more engaging, and more cost-effective nonprofit activities. Let's get started. 
1. Donor Data
Donor data is essential for getting to know your donors better and tailoring your fundraising efforts to their preferences and needs. After all, you wouldn't want to send a new donation solicitation email to someone who just made a donation! This type of data allows you to better target your solicitations and adjust your communication strategy. The following types of data can help you have a clear picture of each of your donors: 
Name

Demographics

Contact info

Employment 

Giving history

Advocacy involvement 

Business affiliations 
In addition to simply knowing what data you need to be collecting, it's essential that you follow good donor data management strategies, like NPOinfo's recommendations. Data is only useful when it is properly organized and stored in your CRM or database!
2. Fundraising Campaign Data
Besides knowing you reached your fundraising goal, do you have any other data about your last fundraising campaign? Campaign success has to do with so much more than just fundraising totals. It's crucial to have deeper objectives than simply reaching your fundraising goals. Here are a few example metrics to track and why they're important: 
Campaign conversions.

This will tell you how many people actually took the action you wanted versus the total number of people who were asked/landed on the relevant page. This shows you how effective your appeals are and how effectively you're building targeted mailing lists for campaigns.

Donor Acquisition Cost (DAC).

Reaching your fundraising goal is great, but there are associated costs. Having this number allows you to begin identifying what is costing you the most so that you can lower your DAC while improving your fundraising. 

Volunteer retention rates.

The national average volunteer retention rate is about 65%. If you're not tracking your retention rate, you'll never know if you need to be improving your volunteer and

donor retention

efforts. 
If your data shows you that despite great retention and conversion rates you're still struggling to meet your campaign goals, your organization can explore ways to better focus your campaigns on specific donor segments or improve your overall fundraising efficiency through increased revenue and decreased costs. One example might be corporate matching gifts. Using employer appends, you can make it easy for your nonprofit to quickly screen for donors who are match-eligible to reach out to after they make a donation
3. Event Data
While your events may already be successful, it never hurts to improve. And, if your organization has faced any difficulties with virtual fundraising events, like virtual auctions, over the past couple of years, data insights will be even more important. At the minimum, make sure you're tracking these event metrics: 
Event attendance.

How many people are attending, how many are repeat attendees of other events, and how many said they would attend and didn't show up? 

Donations during and after the event.

This will help you understand which donation solicitation methods are most effective. 

Event satisfaction.

Qualitative data from surveys can be just as valuable as numbers for helping you improve your events.
Events are a great way to get donors to support your cause and to become more engaged. That's why it's important to use your data to plan the most successful and engaging events for your donors. Your data can help give you insights into their preferences and desires when it comes to fundraising events.
4. Engagement Data
You spend so much time planning your fundraisers and events — not tracking data to learn how your marketing is doing is like shooting yourself in the foot! Snowball's guide to nonprofit marketing recommends analyzing your performance as you go for maximum success. Understanding where, how, and when your supporters are engaging with your marketing efforts is crucial for ensuring your strategy is effective. 
Here are just a few metrics you should be paying attention to:
Email open rates.

This can help you understand if your subject line is engaging and if you're reaching the right donors who are actively engaged.

Email clicks.

Once they've opened your email, do the contents actually make them want to click any of your links? If not, you may need to make your emails more engaging.

Social media followers.

While this number alone is not indicative of people's level of engagement, you don't want to see it stagnating. 

Social media interactions.

Are people liking, commenting, sharing, or saving your posts? Make your posts more informative and useful to encourage people to interact. 
Whether you're advertising your events by email or through social media posts, you need to know how your efforts are doing in order to make sure you're reaching your target audience. 
5. Website Traffic Data
Your website is one of the most important tools that your nonprofit has. It's where your donors learn about your cause, get updates on events, and donate. That's why it's necessary to collect data about how your website is performing and how donors interact with it so that you can consistently improve the quality of your website. 
Here are a few types of data you can collect: 
Traffic sources.

Are people typing in your website URL or are they accessing your site from a Google search? This helps show you where to focus on trying to entice people to visit your site. 

Bounce rate.

This is essentially the number of people who quickly exit without interacting with the site. The lower this is, the better! 

Click-through rate (CTR).

Whether they're accessing your website through a link in an email, in a social media bio, or on a Google search page, you want people to be clicking through to your website as much as possible. 

Exit page

. If there is one page that people commonly stop browsing your site at, it may be worth examining if that page is having technical issues or is simply not engaging. 
Using this information, you can start making small changes to give your site visitors a better experience and to get them to stick around longer. 
Bonus tip: It's often most useful (and less overwhelming) to track these metrics for individual landing pages on your site. New campaigns and the specific marketing outlets you use to promote them should have dedicated landing pages – a central campaign landing page, one that's used in emails, one that's used in social posts, etc. This makes it much easier to correlate conversion, performance, and web engagement with the specific strategies you've used on those pages.
Data can be a powerful way to get insights into your donors' behaviors, preferences, and needs to help your nonprofit do its work more effectively. However, data is only useful when it is well organized and clean. As you embark on your nonprofit data journey, make sure you edit and tidy your data to avoid duplicate entries, incorrect information, and other errors. With clean data, you'll be ready to move your nonprofit forward with new data-informed strategies!