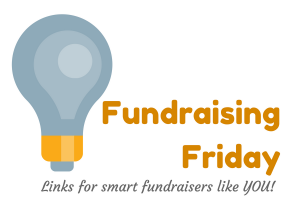 ---
How are you bringing your organization's founding story to life? Here's a stellar example from The Andrew Goodman Foundation. This week's Power of Storytelling.
Can a deodorant company's story warm your heart? Surprisingly yes! Check out this story in this week's What's in My Inbox. And, if you're looking for an aluminum free deodorant that actually WORKS, check out Lume.
Richard Turner with an intriguing question: Do the words we use to describe fundraising matter?
Are you looking for the The Ultimate Guide On Donor Experience? Mary Cahalane and Tim Sarrantonio have got you covered.
This guy didn't understand how sexism could affect somebody's productivity… until he experienced it for himself.
Communicating With Donors in Multiple Ways Boosts Retention, Study Says. And I say "no duh" where's the eyeball emoji?
It's our 50th anniversary! Everyone must be THRILLED for us! Not so fast. The Veritus Group with What's Wrong With Those Special Days.
Sometimes we make assumptions about wealthy people.  What It's Like to Grow Up With More Money Than You'll Ever Spend.
Learning Opportunities
What happens next? When your donor makes an online gift. When someone makes an in-memoriam gift. Following an event. With Power of Thank You | Basics & More, you'll create your systems for happier, more committed, more generous donors. Guaranteed.  Learn more and register.
And be sure to save your seat for next Monday's Motivate Monday when The Agitator's Nick Ellinger joins us to talk donor acquisition. 1 pm EST. Click here.