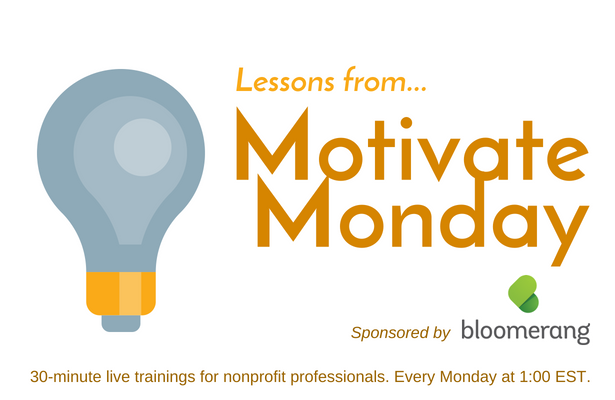 ---
Each donor is different. How can you use data to show all your donors love, while still being strategic? During a Motivate Monday from earlier this year, T. Clay Buck, CFRE, joined us to present Focus on What Matters (A data-inspired look at setting fundraising priorities), where he provided some insight on data, an invaluable segmentation tool.  Once you discover the power of deep segmentation, you'll want to go on and on. In Clay's work, his focus is on "donor-centered, relationship-driven fundraising with individuals, grounded in solid data techniques," so we were happy to have him on board to talk segmentation.
Here's the thing: when it comes to your fundraising plan, numbers matter. Bad data can be your downfall, even if all other systems are in place. When equipped with the right data, you have an idea of where to put your focus, and you can create a plan to match. Clay uses a valuable model, the Donor Pyramid, which follows the 80/20 principle. Here, 20% are major and higher-level midrange gifts, while 80% are midrange entry-level and "low-end" giving. Take a look at the model, which is revealed early on in the presentation. You'll notice that it's broken down even further, into donors and dollars.
Be sure to check out the campaign gift chart in the presentation, too. It's often used for capital campaigns, but Clay suggests using campaign gift chart for annual goals, specific program goals, or even a special event. You can plug in your numbers and, through a formula, get your results. The data you generate can be used to zero in on your top priorities, and believe it or not, major gifts shouldn't always be your top concern.
Carve away a half an hour of your day, grab your beverage (or snack!) of choice, and get ready to further explore how data can make your fundraising easier. You'll gain additional insight into these models and how they can help you put your focus in the right places. Clay covers probability, too. How likely is it that a donor will make a gift at the projected (or requested) level, let alone make a gift at all? He covers how to determine the probability, and unsurprisingly, instinct actually plays a role!
Check it out.